18 December, 2019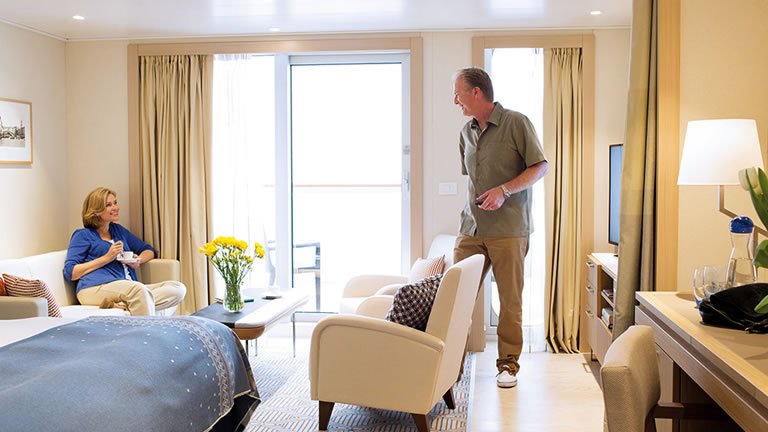 You're about to book your first cruise and realise that in that process you'll also need to choose your cabin. This might have caused you to press pause – what do you need to consider when choosing your home away from home on board?
Aside from the category of cabin, and the cost, there are several factors to consider such as the difference in being at the front (forward) or the back (aft) of the ship. You might want to consider the size of your cabin or stateroom, and whether your rest will be impacted by the amenities that might be nearby or on the deck above or below. You may have heard that the location of your cabin may be impacted by the movement of the ship, the vibration of engines or the direction of the ocean breezes. Is a room with a view really going to deliver the views you imagine? Can it be that complex?
Let's help you unravel everything you need to consider so you choose the cabin or stateroom that's right for you.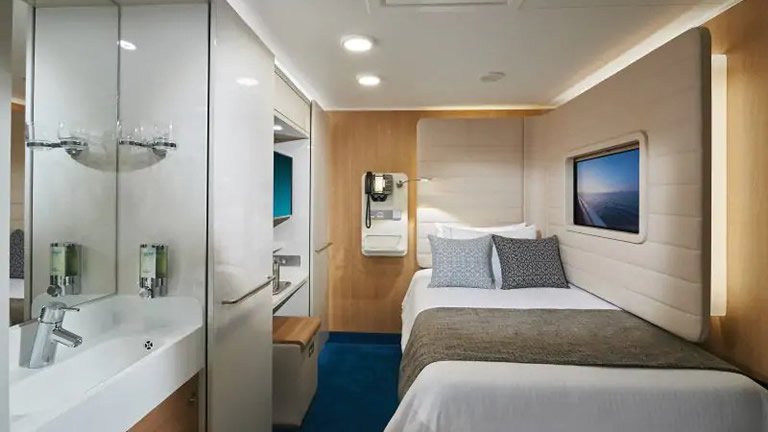 What do you need from your stateroom?
Your cabin – or stateroom as they are often referred to - might be an oasis you retreat to from time to time for some quiet time away from other guests and activities. It may be a place where you simply return briefly for a shower and change of clothes between onboard adventures and just a place to rest your head when the evening's fun is over.
It may be the family home, where young children and exhausted parents need to unwind, take a daily nap and have space to play a quiet game. You might need interconnecting cabins to gain the space you need. Alternatively you might be cruising solo and not need a lot of space.

Knowing how you will use your cabin and anticipating your needs is an important aspect of your cruise planning. Each cruise line will have its array of cabin categories and suite classes but essentially you will find that there are four types of cabins.
A Quick Guide - Cabin Types
Inside or Interior – located in the ship's interior and generally have no window.
Outside or Ocean view – cabins that feature a porthole or window to let in natural light.
Balcony – cabins featuring full size door opening onto a private balcony.
Suite – bigger and possibly more luxurious than a balcony cabin and often with perks such as concierge or exclusive access to certain areas or amenities on the ship.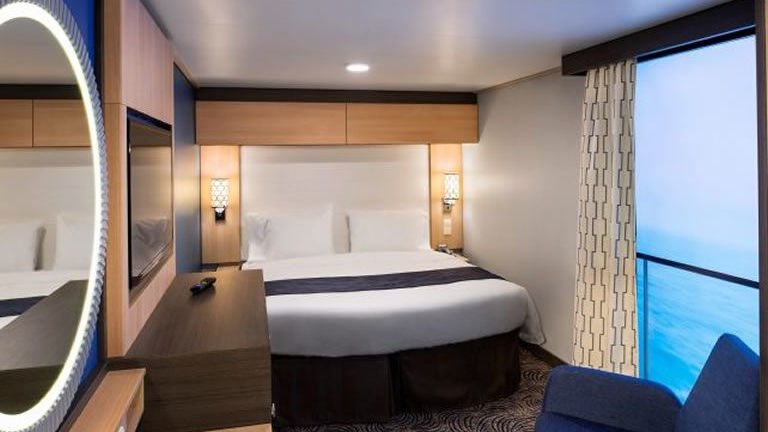 Inside Cabins
The inside cabins are located in the interior of the ship, with no window to the outside. They are the smallest of all cabins and as a result are typically also the cheapest cabins. With no natural light, you need to think about whether you might feel confined. If you suffer motion sickness, will an enclosed space with no window be the best place to be if you become seasick?
A windowless room may initially seem unappealing, but there are some solid arguments to support an interior cabin. The most persuasive being budget. Interior rooms are the most budget friendly cabin type available on a cruise ship. Inside cabins have the same facilities and are likely to be the same size as other cabin types – the only thing missing is the window. If you're on a tight budget, the decision might be simple but either way it's a good idea to consider how much time you're likely to spend in your room.
If you know that the focus of your cruise will be maximising onboard activities, relaxing by the pool, socialising with other passengers in the lounges and enjoying the evening entertainment until the early hours of the morning then it might be a false economy to spend a big portion of your cruise budget on a cabin that you literally just sleep in. You could otherwise allocate that money to other things, such as a spa package or shore excursions.
If you need complete darkness to get your best rest, then an inside cabin may work for you. With the light off, they are dark at any time of the day. This can also be a consideration if you are cruising those northern regions that only have a few hours of darkness during their summer months. Not all inside rooms are created equal however, so it pays to check the details of the particular cruise lines and/or ship that interests you.
Cruise lines such as Royal Caribbean have taken inside rooms to the next level by offering a window that faces inwards on the ship, a virtual balcony which is an LED screen that streams real time views and sounds of the ocean or ports outside. Apparently, this may help to reduce seasickness as the brain can both see and feel the movement of the ship.
Inside rooms can also cater well for solo travellers with many cruise lines including single or studio rooms in their inside cabin collection – designed for sole occupancy with no single supplement.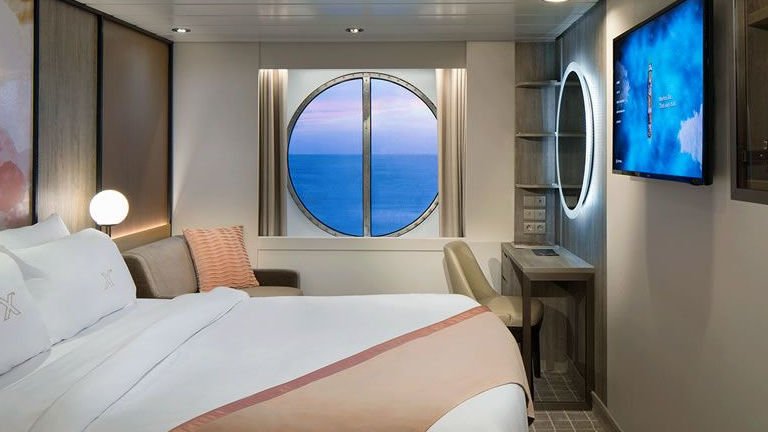 Outside Cabins
Outside or ocean view cabins are generally very similar in size and layout to inside cabins but feature a porthole or a window to let in natural light. The price point is slightly higher for an outside cabin, so again it is important to think about your personal requirements. If you think you would feel claustrophobic without a window or you like to wake to natural light then this may be the solution.
It is worth noting however, that the windows don't open, so the emphasis really is on getting natural light into the room rather than fresh air. Window size varies from ship to ship and requires further investigation - there is also the possibility that you won't be able to see out of the window without standing on your bed! Some ocean view rooms can be bigger than average as they can follow the same layout as balcony rooms, but the balcony space is incorporated into the cabin instead.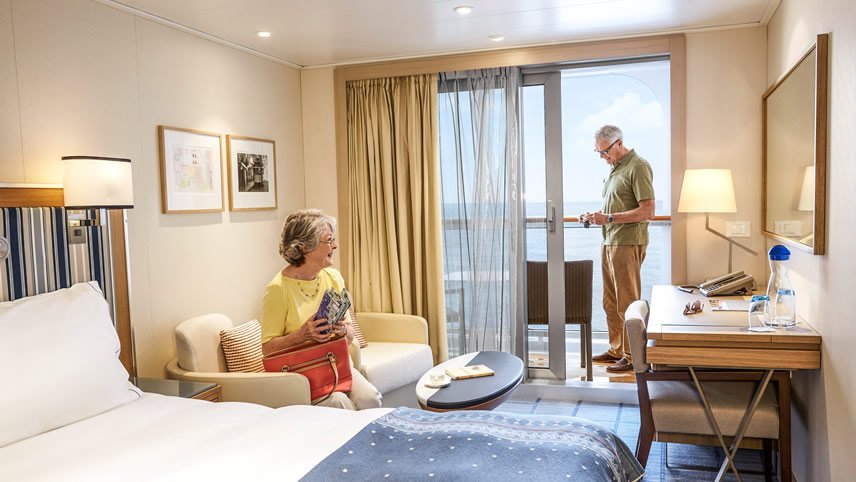 Balcony Cabins
As the name suggests, balcony cabins have their own private balcony – usually with a table and two chairs – enabling you to step outside for fresh air without going out onto one of the public decks. Balcony cabins often have sliding or French doors so you can see outside from anywhere in the cabin (except perhaps the bathroom!).
There is a jump in price for balcony cabins so your personal requirements are important to consider, but they are also the most popular cabin type and are often the first to sell out. For some passengers, a bit of private outside space is all part of what makes the perfect cruise holiday.
Another consideration may be the time of year and type of cruise you are planning to do. If you are cruising during the winter months or on a cruise with multiple day excursions, it may not seem like money well spent if you don't really get a chance to use the fabulous balcony you have paid for.
Suites
Suites come in many shapes and sizes but the main points of difference from balcony cabins are the price, the size of the accommodation and those extra benefits such as private lounge access, luxury toiletries, concierge service, priority booking for specialist dining, shore excursions, seats in the theatre and boarding, to name a few. If you have decided that you want to splash out on your dream cruise, then booking a suite will ensure the best locations on the ship and the most extras.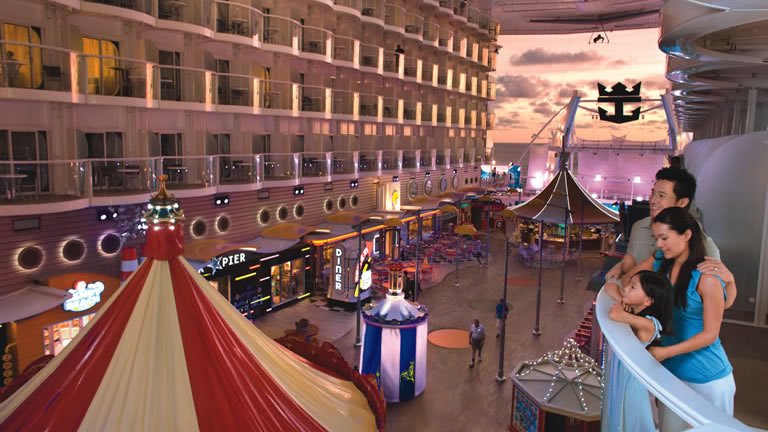 Room with a view?
The reality is having an outside or balcony cabin doesn't always mean you will have ocean views. Your view might be obstructed by the ship's structure – particularly around pool areas, where the lifeboats or tender boats are stored or by the Bridge. Obstructed view staterooms are usually offered at a lower cost than those with open views (and sometimes the obstruction isn't that bad!).
Further, you might want to consider the impact of sea breezes. Will your balcony be the sunny warm spot you are imagining, or will it be overshadowed by the balcony above it or windswept by ocean breezes?
The Oasis Class of ships in the Royal Caribbean fleet offer balcony rooms with a different view altogether, overlooking one of two neighbourhoods in the ship's interior. These locations come with added perks and the benefit of having the size and space of a balcony cabin at a more affordable cost than its ocean side neighbour.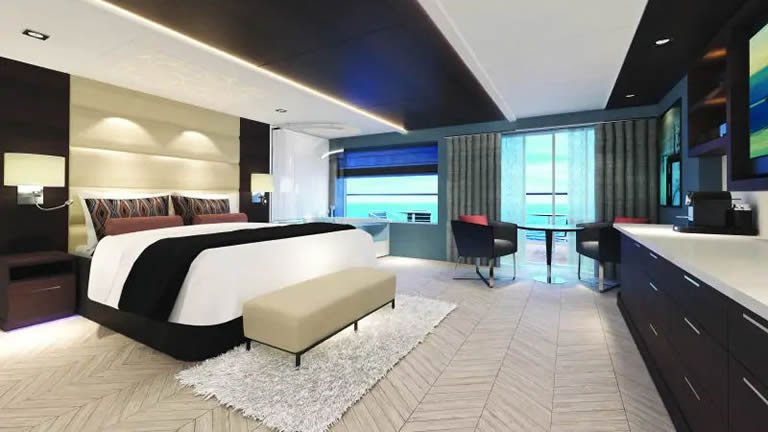 Forward or Aft?
Is it better to have your stateroom located forward (front) or aft (back) on your cruise ship? Seasoned cruisers may tell you this is another consideration in choosing your cabin and many are loyal to one location over the other.
Balcony cabins positioned near the stern (back) of the ship or aft, can be highly coveted by seasoned cruisers for the endless ocean views they offer over the ship's wake, not to mention the last view of the port you have just explored. On some cruise lines, these staterooms are a larger than normal, and on some ships the balcony will wrap around the corner of the ship giving you both a side and rear view.
Downsides to an aft cabin can be the occasional vibrations from the ship's propellers and the winds can sometimes send fumes and soot from the ship's exhaust back onto the stern. On some ships, it can be a long way from the aft staterooms to where the activities occur. This can offer a mixed blessing as there may be less noise, and you might like to walk off your dinner! Aft balconies may be stepped in, meaning guests on the balcony above may be able to look over your balcony.

Forward suites and staterooms are often preferred by guests who like only having one direction in the ship to contend with. They are always walking forward to their cabin and back to the ship's amenities. For some, this is considered an easier orientation. (In fact, this is the same, but opposite for aft cabins).On some cruise lines the main attractions, such as the theatre for shows or onboard lectures are located forward, or at the ship's bow.Some passengers like to be located close to these amenities.
Be mindful if you are prone to seasickness however, the front (bow) of the ship pitches more as it cuts through the waves in rough seas and the propulsion of the ship that occurs on the front can also add to the movement at the bow. The midship area is considered the most stable and the best place to book your cabin if you are prone to seasickness.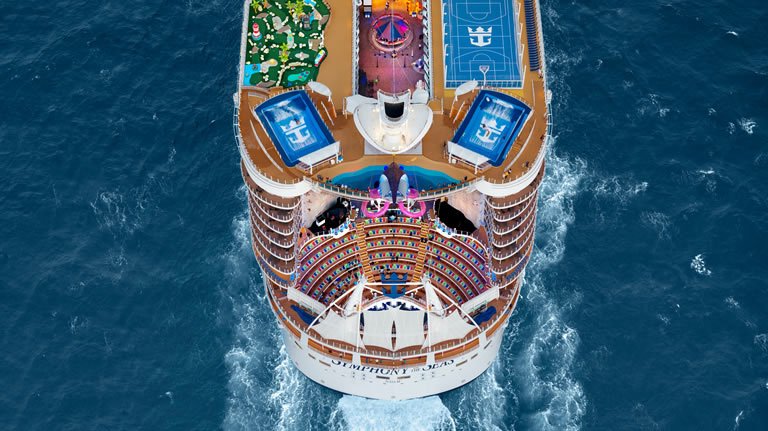 If You Suffer Seasickness
If you suffer motion sickness on land or on small boats you are probably asking yourself, will I get seasick on a cruise ship? It doesn't always follow that other forms of motion sickness will mean that you will suffer from seasickness, but the risk is that you may. The location of your cabin can help in the prevention of seasickness.
While all ocean cruise ships have stabilisers that manage the side to side roll of the ship you can still experience the sway of the ocean in the aft cabins and the pitch or impact of the waves in the forward cabins where the bow of the ship is cutting through the water. If seasickness might detract from your enjoyment of your cruise holiday, your cabin or state room is best located in the middle of the ship, where there is less motion.
Can You Sleep Through Ambient Noise?
Until you are on board, perusing the deck plans of your ship is the only way to identify the location of your cabin. When you are choosing location it also pays to have a look at what is around you, on the same level, the deck above and the deck below. If ambient noise and passing traffic from onboard life will disturb you, then there are probably some areas to avoid. You may want to avoid major traffic areas such as the main dining room, theatre or the pool deck, onboard adventure activities and large public areas. It's worthwhile knowing what will be around you and anticipating how ambient noise will impact your pleasure.
When and where are you cruising?
Where you are cruising and the time of year you are cruising may also bear on the type of cabin you might request. An inside cabin with no balcony or views might work well if you are going to spend your shipboard life up on deck, in the pools, lounging in the warmth of the South Pacific, Caribbean or Mediterranean sun.
If you are cruising Alaska however, your needs for indoor space may be different. You will spend a lot more time indoors due to the cold. Will you develop cabin fever if your onboard accommodation is limited to the space around the bed and the bathroom and the public spaces are your only other option?
While booking balcony space for a cold climate can seem excessive, if you are cruising for the dramatic scenery you might want to see it from the privacy (and warmth) of your own room. You also might want to avoid jostling for position on the decks as those glaciers come into sight.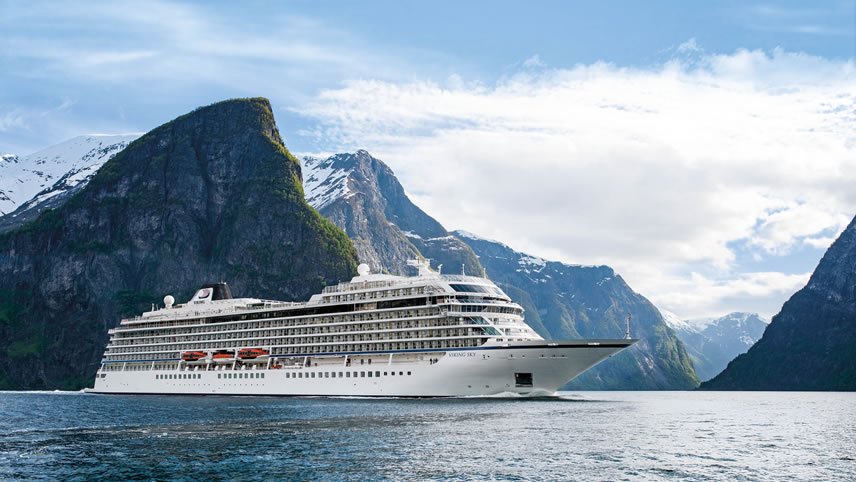 Guaranteed or Allocated?
Last but not least, your only other consideration in choosing a cabin is whether you book a Guaranteed cabin or book an allocated cabin. A Guaranteed cabin means you select the cruise cabin category, but let the cruise-line select your cabin – or you can request the exact cabin you want to stay in.
Guaranteed cabins tend to be cheaper and you may be upgraded. So, if you book a Guaranteed outside cabin you may find you are upgraded to an outside balcony cabin. The only real guarantee however is that you are guaranteed a cabin (at least) in the category you have selected, so you should always choose a cabin category you will be happy with for the duration of your cruise. It's important to know the pros and cons of booking a guaranteed cabin.
There can be a lot to consider when you are booking a cabin for the first time, but don't let that detract from the fabulous voyage you are going to have once you have booked your cruise holiday. Your Global Journeys Cruise Advisor will be able to help you with their expertise.