Kimberley Tours & Cruises
Embark on a cruise along the Kimberley coast where untouched wilderness and natural wonders await. Pindan cliffs frame turquoise water that teems with marine life and towering sandstone facades are a canvas for picture perfect cascading waterfalls. Take it in from the water on a cruise of the Kimberley, or choose a tour and cruise combo to explore Australia's north west by land and sea.    
Popular Kimberley Tours & Cruises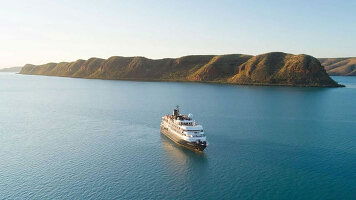 10 Days Broome to Darwin
Operated By:
APT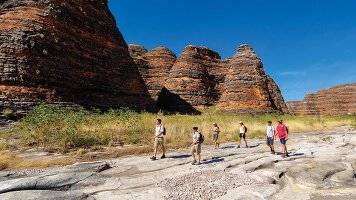 12 Days Broome to Kununurra
Operated By:
APT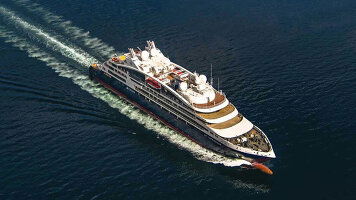 11 Days Broome to Darwin
Operated By:
APT
View all Kimberley Tours & Cruises
Discover
Must do experiences and highlights on a cruise of the Kimberley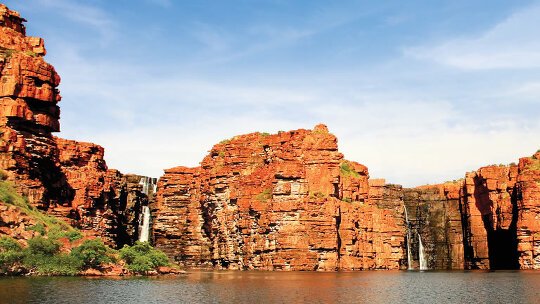 King George Falls
Wind between the red cliffs that frame King George River to King George Falls, where an 80m (262ft) wall of water cascades over towering sandstone facades.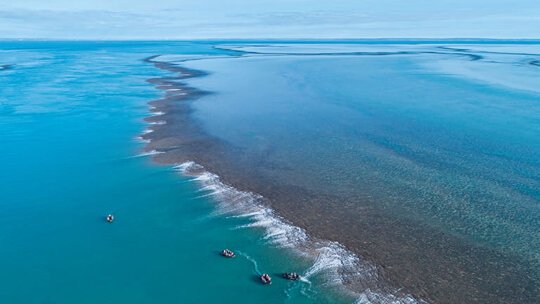 Montgomery Reef
An underwater world is exposed by the tides as the sea drains off the reef, giving you a rare insight into the coral systems and the marine life that flits around them.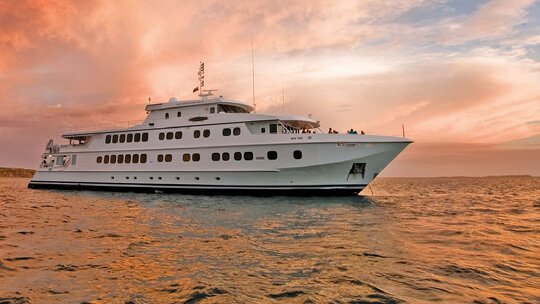 Sundowners on the Deck
Enjoy the spectacular west coast sunsets on the deck as the sky throws colourful hues across the water. The perfect end to a day of exploring in the Kimberley.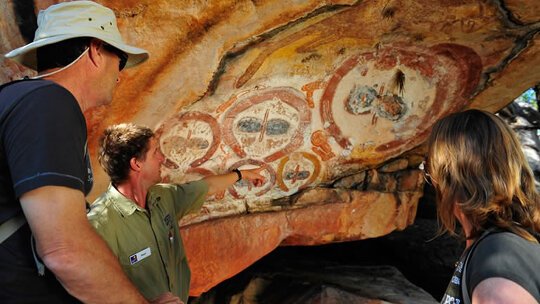 Indigenous Rock Art
Wandjina rock art is characteristic of the Kimberley where these illustrations adorn rock faces and caves across the region. Traditionally repainted, you'll find well preserved representations of artwork dating back some 5,000 years.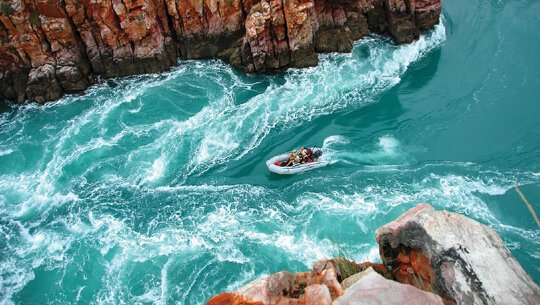 Cruise Horizontal Falls
Surging tides bring about this impressive natural phenomenon as a barrage of water forces its way between two narrow gorges. Take to the swirling water and get up close to this extraordinary display by fast boat.
Kimberley Cruising Brochures
54 Kimberley tours and cruises sourced from 15 Operator brochures
Recent Reviews
What our clients are saying about their tours and cruises of the Kimberley
Very enjoyable trip. The itinerary is excellent with signature visits to Bungle Bungle and Mitchell Falls. Accommodation and meals are both very good. Our tour leader is generally good, but can allow more time for activities in particular at Mitchell Falls and the gorges.
Comfortable trip - accommodation and food excellent (had to stop eating breakfasts) - tour director (Cam) and driver (John) were first class always on hand to help the tourists. Highlights were the day trip to the Bungle Bungles and the fast cruise with the crazy Alaskan chick. We probably expected a slightly more adventurous trip a la Gibb River road but still very enjoyable. All the passengers got on well which is important with a trip like this.
"Kimberley by coach and ship with TravelMarvel"
This TravelMarvel tour was booked through Global Journeys, Noosa Heads; and was a trip that had been deferred due to COVID. The Kimberley itself is beautiful. Not much to see by coach and quite a lot of hours gazing out the window at termite mounds, red dirt and boab trees, but guide Wally and driver John made the trip a lot of fun with their knowledge of the geological history and people of the Kimberley, and with their constant anecdotes. The boat trips on the gorges and narration by local
...read more
guides was fascinating. There are optional extras such as helicopter tours. The accommodation was better than expected, having regard to the remoteness of the towns and the COVID issues. All the included meals were very good. There were plenty of bathroom stops and even though some of the facilities were rudimentary, they were all clean. It was a fun trip. The ship part of the tour was excellent. We were aboard the Coral Adventurer which is part of the Coral Expeditions Fleet. Just under 100 passengers and about 35 crew. The passengers all got on well and the crew were fabulous. The ship is modern and 1st class. Beautiful staterooms, clean and modern facilities throughout with a very good dining area. There is plenty of food and the menu is set. So much of it is seafood and there is always 2 choices for each course. My small criticism of the food is that there was not much variety for those who don't eat seafood, and sometimes the meals were not as hot as they could have been. The servers and kitchen staff (as with the rest of the crew) were all very friendly and worked so hard to please. Every day on the ship was another adventure as we were put in the 2 tenders and taken to islands, waterfalls and other features. Each boat had an expert guide on board and their knowledge of the indigenous peoples, fauna, and flora was amazing. These 2 guides would also give lectures at night. We had the run of the ship and were permitted to enter the engine room and bridge (escorted). We wandered past the bridge one night and we were called in and sat in the captain's and chief mate's seats and shown how to sail the ship. Unfortunately, we had to disembark when our cruise ended. We originally booked the tour for travel in August 2020 but due to COVID we could not travel until May 2021. Global Journeys, Noosa Heads were very good. Their communication and attention to detail from when we first booked in 2019 to when we finished our tour was first class and we would have no hesitation in recommending them. We would not book another TravelMarvel tour. I found their communication was poor (even allowing for COVID), and they had never advised our coach guide (their employee) that we would have to have a COVID test three days prior to boarding the ship. He was surprised when we told him and he had to ring TravelMarvel for instructions. Even then we nearly missed out on our cruise because they stuffed that up as well. It was only by the grace of our guide and Sullivan Nicolaides in Darwin that we finally made it. All in all, a great tour.
"15 Day APT Kimberley Complete"
I enjoyed my trip, although 2 excursions on Ord River in Kununurra were a bit much on the same day. Global Journeys & APT both have very good customer service.