Alaska Cruises
Glide through the Inside Passage and Glacier Bay on an Alaskan cruise and visit unique coastal cities and charming towns along the way. Get up close and personal to the wildlife and marine life on an ocean or small ship cruise, learn from local rangers, partake in mesmerising shore excursions, and draw back your curtains to get lost in the natural beauty outside your window.
Top Selling Alaskan Cruises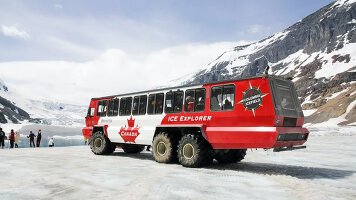 16 Days Vancouver to Calgary
Operated By:
Trafalgar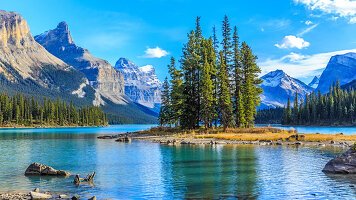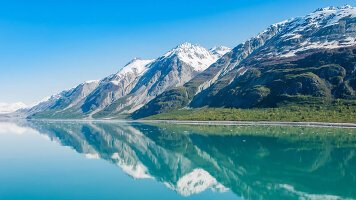 View all Alaska Cruises
Alaskan Cruise Options
Popular Cruise Ports
Discover
Must do experiences and highlights cruising the Inside Passage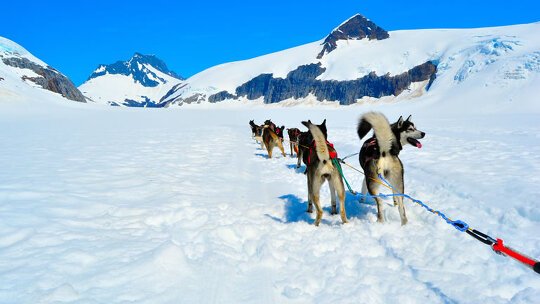 Dog Sledding in Juneau
Take to the glaciers near Juneau for an exhilarating dog sled ride where gorgeous Alaskan huskies showcase the equally beautiful scenery vying for your attention.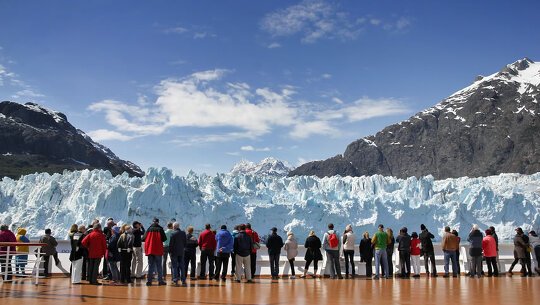 Ranger Guided Glacier Bay
Listen to informative commentary from a local ranger as you cruise Glacier Bay, watching huge chunks of ice calve and plummet into the waters below.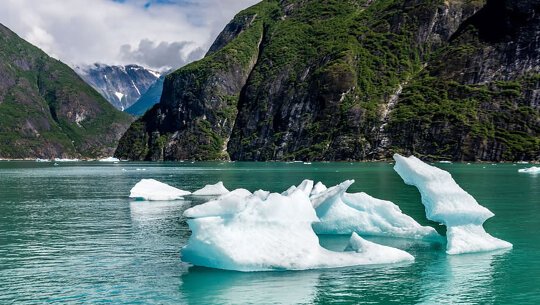 Cruise Tracy Arm Fjord
Sheer facades and tumbling waterfalls will leave you in awe, particularly when you sight the Sawyer Glaciers and the floating ice sculptures calved from them.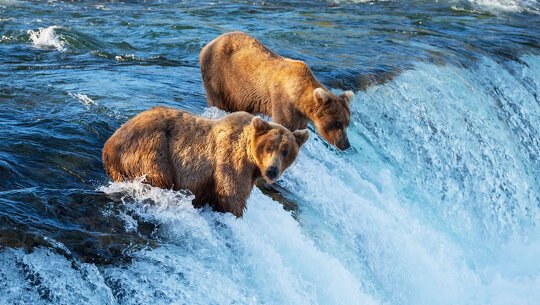 Wildlife Viewing
Wildlife and marine life are abundant during cruise season and depending on when you travel you may share the waterways with orcas, humpbacks and dolphins, while ashore the salmon season draws bears to the river mouths.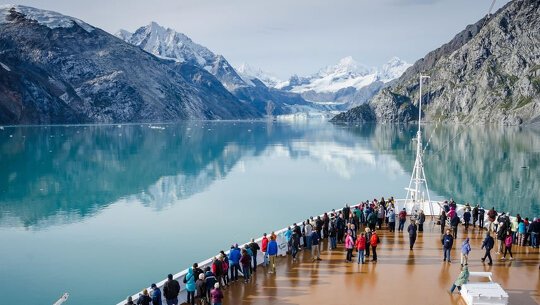 All Aboard for the Inside Passage
Breathe in the crisp air on the viewing deck as enormous glaciers creak and groan and humpbacks breach off the bow or cosy up in your cabin watching the natural wonders glide by your window.
Alaska Cruising Brochures
225 Alaskan cruises sourced from 25 Operator brochures
Recent Alaska Cruise Reviews
What our clients are saying about their journeys through the Inside Passage
"Enchanting Rockies & Alaska Cruise "
My friend and I have just come back from an amazing tour of Canada and Alaska. Can highly recommend this tour and our Travelmarvel guide Jaqi was amazing and the most organised person I have ever met. Our driver Al was just as amazing manoeuvring the coach around tight areas with ease and always getting us to our destination. This tour will give you a taste of what there is in this part of Canada - with its beautiful scenery, wildlife and people. Would recommend arriving a day earlier as this tour
...read more
is on the go for much of the time, but it's okay because you have the opportunity to rest up on the cruise if you wish. Thank you Georgie for organising us and answering all our questions. We had a wonderful time.
The hotels were fabulous. The tour guide we had Michelle was absolutely fabulous would recommend her very highly. Nothing was too much gave a lot of information. The whole tour was wonderful. Rocky Mountain excellent silver class. Was great I thought even better than gold class, food fantastic all the crew in our carriage went out of they way to make us have a good time. Unfortunately we didn't see and bears which was disappointing. On the Volendam on the second night on the ship the crew noticed
...read more
that the spare bed slats were broken. Two nights later during the night water started leaking from the ceiling above my bed. So the next day I couldn't go in my room most of the day due to having repairs done. The stewards where fabulous apart from that everything else was good.
"Beautiful Canada / Alaska"
The Rocky Mountaineer, Gold Leaf, journey was sensational, very well organised & run. Our tour director, Doug, was excellent, very personable and knowledgeable of the areas travelled. Trip ran very smoothly even with several early starts. Could probably have done with a couple of extra days along the way. The weather was not particularly good but the scenery was still spectacular.
"Trip of a lifetime - was all that and more"
Myself and my travel buddy had the best time on our trip and even a couple of days bad weather couldn't put a dampener on the overall trip. So many highlights made all the better by Cheryl our land director and Bernie our coach driver. I highly recommend the Rocky Mountaineer (SliverLeaf) so many beautiful lakes, glaciers and wildlife just too many to list, every day was a highlight. Would happily revisit any of the hotels we stayed at but being able to fully unpack for a full 7 days was wonderful
...read more
and after experiencing so many wonderful sights on the land leg was happily surprised that the cruise was full of just as many wonders.