West Coast Canada Tours
Tour the West Coast of Canada on one of our 123 guided holidays and cruise itineraries. Experience some of Canada's most spectacular scenery including Canada's famous National Parks and mountain resorts in Whistler, Banff, and Jasper. Marvel at the crystal clear lakes, explore the beautiful Rockies and perhaps top off your tour of Canada's West Coast with an Alaskan cruise through the awe-inspiring Inside Passage!
Popular West Coast Canada Tours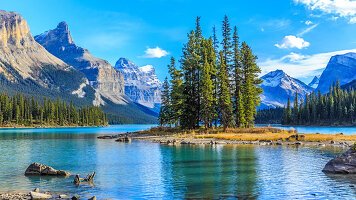 20 Days Vancouver to Vancouver
Operated By:
Cosmos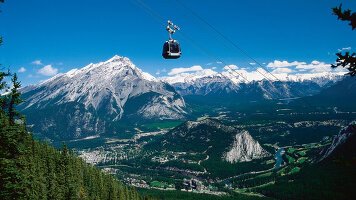 22 Days Victoria to Vancouver
Operated By:
Scenic
View all West Coast Canada Tours
Discover
Must do experiences and highlights on a tour of Canada's West Coast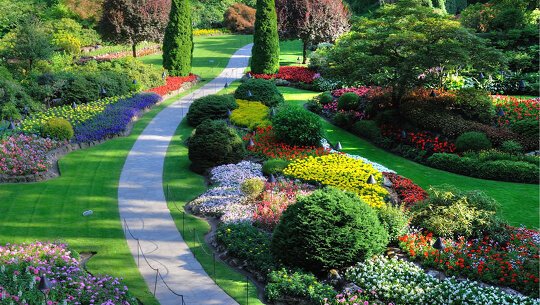 Stroll Butchart Gardens
Home to 55 acres of gardens and 26 greenhouses, this oasis on Vancouver Island is the perfect place to relax and indulge your inner green thumb.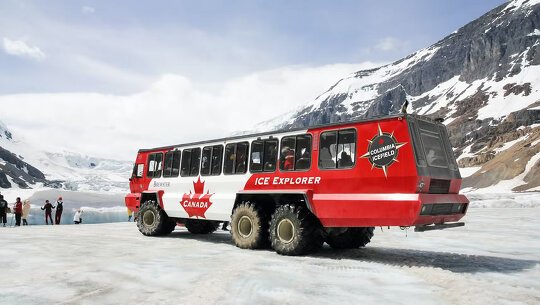 Ride the Ice Explorer
At the Columbia Icefield, ride the Ice Explorer along Athabasca Glacier. Feel the ice crunch underfoot as you step out onto this incredible terrain.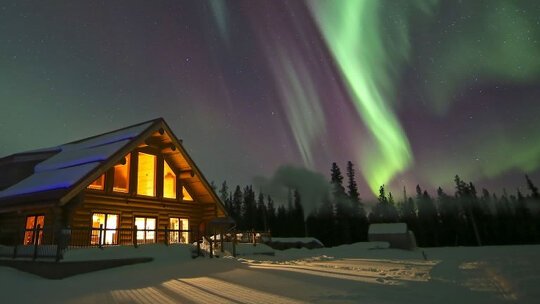 Winter in Whitehorse
A winter wonderland where you can dog sled and snow shoe by day and cosy up in your cabin to await the incredible Northern Lights by night.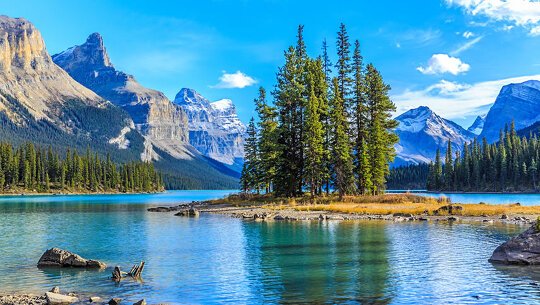 Cruise Jasper's Maligne Lake
Take a cruise atop the turquoise water of Maligne Lake, one of the most beautiful in the park, across to Spirit Island. Here a backdrop of towering peaks and gleaming glaciers are a photographer's dream.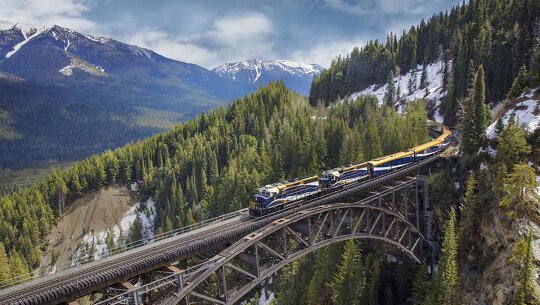 Ride the Rocky Mountaineer
Watch breathtaking scenery unfold outside the panoramic windows of your carriage as you wind your way through the Rockies on this iconic rail journey. A truly special way to experience this incredible landscape.
Brochures Featuring Canada's West Coast
123 West Coast Canada trips sourced from 29 Operator brochures
Recent Reviews
What our clients are saying about their journeys through Western Canada
"Endless natural beauty of the Canadian Rockies"
This was our 7th Cosmos tour and the 6th we have booked through Global Journeys. Again another great experience booking with Global Journeys who have always provided excellent service and this holiday booking with Tracey was no exception. Firstly, our bus driver Doug was excellent and kept our coach perfectly clean inside and out, and kept us and our every growing luggage safe. We would like to praise our tour director, Caterina Armeni who was the most amazing, enthusiastic, knowledgeable, helpful
...read more
and friendly person we have ever experienced on a Cosmos tour. Even if we had rain, Caterina brought sunshine with her every morning as we got onto our coach. The actual tour itself was wonderful and we got to visit so many places we had only seen in pictures but in real life, the magnificence of the Canadian Rockies is breathtaking. We had the bonus of early snow falls which did not cause any problems with our travelling, but added even more beauty if that was even possible. Day to day travelling on this tour was not long and we were able to enjoy each destination on arrival, with plenty of time to explore beautiful towns like Banff, Jasper and Whistler. Some of the included excursions were a tour of the Summerhill Winery in Kelowna, the beautiful Lake Louise, an explorer shuttle onto the Athabasca Glacier and time at Butchart Gardens in Victoria. There were many optional tours to choose from and it was hard to decide which ones to take but our favourite would have to have been a Seaplane Glacier flight in Whistler. For excellent value for money its hard to look beyond Cosmos and booking with Global Journeys is a no brainer, they always do a perfect job of organising every tour we have taken with them and we can't thank them enough.
"Wonderful Canadian Rockies Tour"
We had a wonderful trip doing the Canadian Rockies and Glacier National Park with Globus. The hotels were first class and very comfortable and the included meals were also very good. Our tour guide Neela was excellent as was our bus driver. I would highly recommend this trip to others and Globus as well.
Thank you Jemma you did a great job of organising our trip! Absolutely dazzling! Highlight was definitely the Rockies, however I would omit the Okanagan Valley and the stay in Kelowna in favour of an additional night in Lake Louise or Banff! Tour pace was hectic but it ensured we saw everything! The Optional Excursions were all flight related and were cancelled due to weather conditions so our rating is not really a reflection of the quality! Our tour guide Nancy and driver Owen were wonderful
...read more
!
"Enchanting Rockies & Alaska Cruise "
My friend and I have just come back from an amazing tour of Canada and Alaska. Can highly recommend this tour and our Travelmarvel guide Jaqi was amazing and the most organised person I have ever met. Our driver Al was just as amazing manoeuvring the coach around tight areas with ease and always getting us to our destination. This tour will give you a taste of what there is in this part of Canada - with its beautiful scenery, wildlife and people. Would recommend arriving a day earlier as this tour
...read more
is on the go for much of the time, but it's okay because you have the opportunity to rest up on the cruise if you wish. Thank you Georgie for organising us and answering all our questions. We had a wonderful time.
Explore More
Your guide to travelling the West Coast of Canada
03 September, 2018
Canada Tours from Vancouver
Vancouver is one of the most liveable cities in the world and it is easy to see why. It has leafy parks, eclectic streets, a beautiful harbour full of waterfront cafes, lively outdoor markets and food that will leave your mouth watering. It is the perfect place to start a tour of Canada and..