South East Asia Tours
Marvel at ancient ruins as you tour Cambodia, cruise the Mekong River, sail between the islands in Thailand, relax onboard your junk boat in Halong Bay or cycle through this mesmerising region to experience the local culture in a way that wouldn't otherwise be possible. Eat your fill of pho in Vietnam and visit virtually untouched villages in Myanmar as you explore South East Asia on a tour or river cruise.
Popular South East Asia Tours
14 Days Ho Chi Minh City to Siem Reap
Operated By:
APT
13 Days Ho Chi Minh City to Siem Reap
Operated By:
APT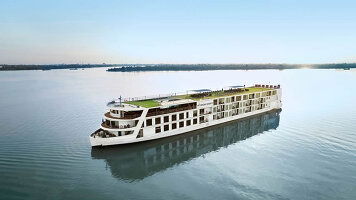 13 Days Siem Reap to Ho Chi Minh City
Operated By:
APT
View all South East Asia Tours
Explore By Region
Discover
Must do experiences and highlights in South East Asia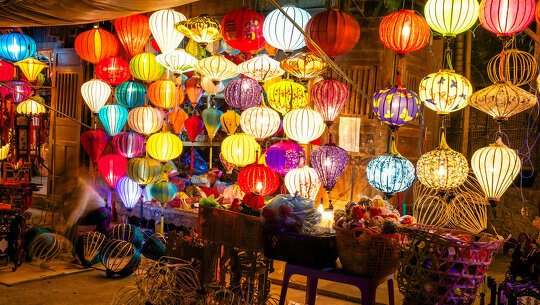 Hoi An Ancient Town
An old trading port, this enchanting town is infused with Chinese, Japanese and European influences, still visible along the pretty lantern lined streets.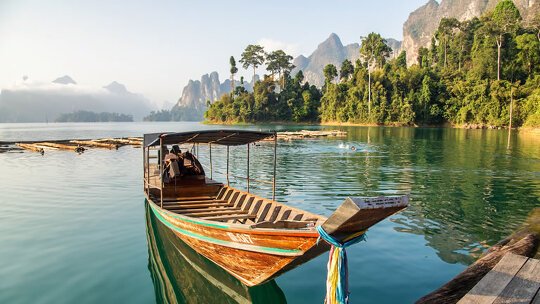 Khao Sok National Park
Home to one of the world's oldest evergreen forests, limestone rock formations, bubbling waterfalls and abundant wildlife including elephants, monkeys, and tigers.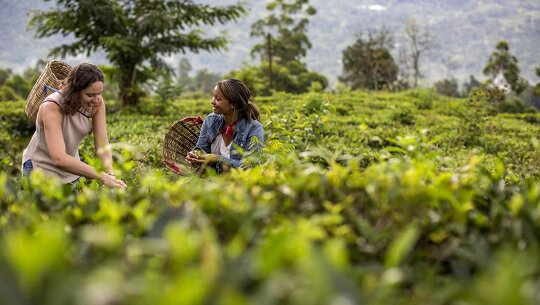 Bagan by Balloon
If the temple town of Bagan is incredible at eye level, then picture drifting gently over its intricately designed stupas by hot air balloon.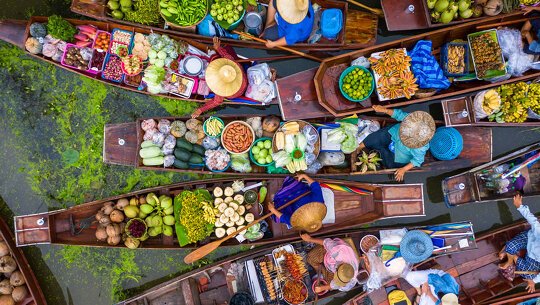 Bangkok Canal Cruise
Swap tuk-tuks for a traditional long tail boat as you glide along the khlongs of Bangkok, past families going about their business in stilted houses and shopping for produce at the colourful floating markets.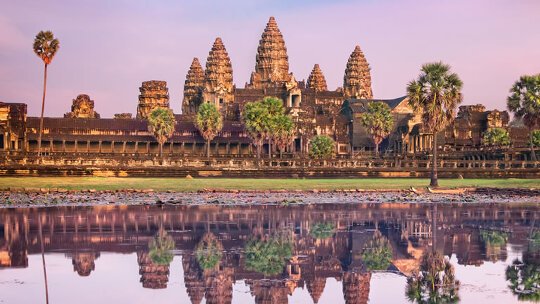 Angkor Wat Sunrise
Catch the Temples of Angkor at sunrise, as the first light illuminates the iconic monuments and throws their reflections into the still ponds. Watch for the unique detail on the 3000 aspara carvings. Bucket list this!
South East Asia Brochures
432 South East Asia trips sourced from 40 Operator brochures
Recent Reviews
What our clients are saying about their journeys to South East Asia
As usual we found this Cosmos tour excellent value for money. Our tour leader Viet was knowledgeable and made the tour easy and stress free. We were amazed at the little cultural extras that were arranged for the group that weren't on the itinerary. Highlights for us were the Ha Long Bay cruise, the Dragon Bridge at Da Nang and the fabulous food. A chance drop in to a Vietnamese wedding was an unexpected delight and was apparently culturally acceptable and gave the bride and groom good luck. We learnt
...read more
a lot about the Vietnamese people and culture from Viet. He went out of his way to make the holiday fun and enjoyable. Booking with Global Journeys was easy even though we were a late booking. Overall this tour is highly recommended.
"Great taste of a beautiful country"
Laos was unexpectedly surprising and we were very impressed with this tour. The people are very laid back and Vang Vieng and Luang Prabang are both incredible places. Great tour overall and Georgie was fantastic as always. Highly recommend.
"Nice small group cruise"
This cruise is really well organised and goes where a lot of the bigger cruise boats do not go. G Adventures supports small local operators for their day trips and this was evident in a number of places as other tourists were not to be seen e.g. brick making, mule ride, hand made pottery, lunch at training restaurant, etc. Tour Leader (or Chief Experience Officer, CEO, as they are officially called) was very helpful and efficient especially when I had an unexpected trip to hospital. The cabins are
...read more
a reasonable size for a small boat and there is a great sun deck upstairs which could be used anytime. Staff were helpful and most spoke enough English to be understood. Food was simple, varied and plentiful. Dinner was 4 course and special diets catered for, breakfast was a hot and cold buffet with your choice of cooked eggs, so plenty of options. Omelettes were best I've had. Would certainly travel with them again.
"Mekong River Cruise with Travelmarvel"
The whole trip was a very enjoyable experience - there is no better way to explore Cambodia and Vietnam than by river boat! Global Journeys made the whole booking process simple and stress free - all information was readily available and any questions I had were answered promptly and professionally by Hannah. I will definitely book future trips through Global Journeys. Travelmarvel exceeded my expectations. The pre and post accommodation was of a high standard and the cruise itself outstanding.
...read more
The cabins on La Marguerite were larger than expected and the included excursions extensive. The highlight of the trip was the amazing tour director, guides and crew - all locals with their own stories to tell. We had many opportunities to visit local communities and explore places outside the normal tourist sites. The tour group (79 people, mainly from Australia and Britain) was divided into three smaller groups for each excursion which made disembarking and embarking the river boat a very organised process. We look forward to future trips with Travelmarvel.
Explore More
Your guide to travelling through South East Asia
21 May, 2019
Natasha's Take on Independent Travel vs Guided Touring in Cambodia
I've always wanted to visit Cambodia, I mean, who doesn't want to see the silhouette of Angkor Wat against a backdrop of an epic sunrise? So, when I saw the opportunity to take some leave and set off on a quick adventure (inspired by a string of public holidays), Cambodia shot straight to the..