Thailand Tours
Immerse yourself in the bright lights and iconic sights of Bangkok. Island hop the best of Thailand's islands, drift down the River Kwai and visit colourful hilltribe villages as you hike northern Thailand. Tour the Golden Triangle, try your hand at Thai specialties during a cooking class, and glide through the floating markets. Incredible experiences await on our 126 sailing trips and guided tours of Thailand.
Popular Thailand Tours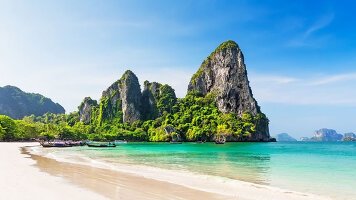 8 Days Phuket to Phuket
Operated By:
Contiki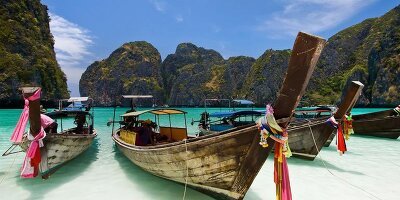 View all Thailand Tours
Popular Travel Styles
Discover
Must do Thailand experiences and highlights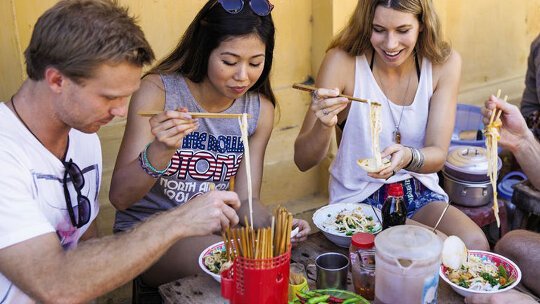 Bangkok Street Food
Take a tuk-tuk through the streets lined with fragrant stalls serving everything from grilled pork skewers to bowls of steaming noodle soup.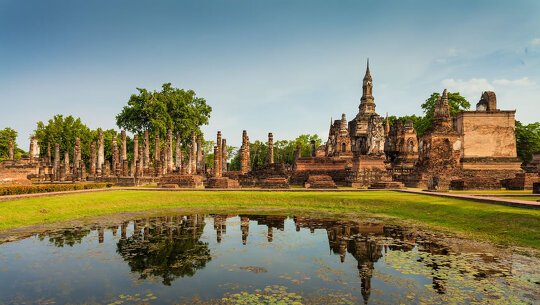 Sukhothai Historical Park
This expansive World heritage-listed site is home to the remnants of the royal palace and 26 temples of the capital of the first Kingdom of Siam.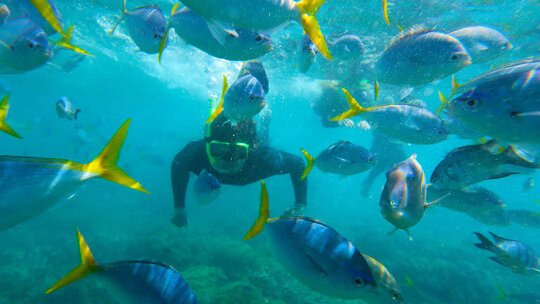 Snorkel Ko Tao
Explore the bays and beautiful reefs off Ko Tao, paddling in the warm water and watching the marine life flit between the rainbows of coral.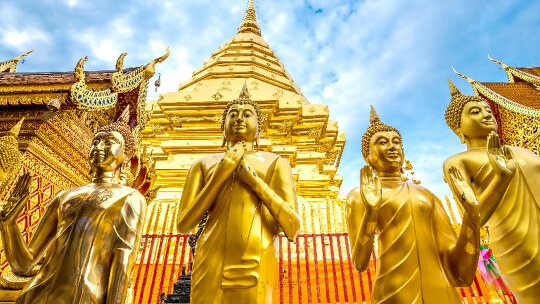 Doi Suthep Temple
Enjoy the view from Wat Phra That Doi Suthep perched in the mountains above Chiang Mai. Climb over 300 stairs (or take the cable car) to explore this stunning temple with a golden stupa at its heart.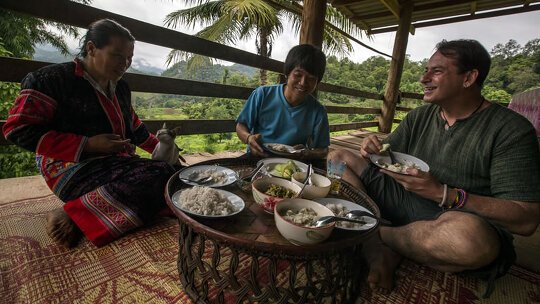 Hilltribe Homestay
Trek through the forests of Northern Thailand and get to know the hilltribes of the region, each with unique traditions that you'll get to know as you are welcomed into their homes and their lives.
Thailand Brochures
126 Thailand trips sourced from 31 Operator brochures
Recent Reviews
What our clients are saying about their journeys in and around Thailand
"Great taste of a beautiful country"
Laos was unexpectedly surprising and we were very impressed with this tour. The people are very laid back and Vang Vieng and Luang Prabang are both incredible places. Great tour overall and Georgie was fantastic as always. Highly recommend.
"Another great G Adventures tour"
This was our 4th G Adventures tour and our second National Geographic style tour. What I really enjoy about these is being able to stay for a number of days in most locations giving more time to soak up the local atmosphere and to look around. Our tour leader, a local Thai who we called Su for short was fabulous, very helpful with lots of local knowledge. To visit the railway war museum and cemetery and then travel on the railway the POW's built was a highlight. The visit to Chiang Mai where we stayed
...read more
3 nights with the meal with a local family and also the market visit and cooking class were also highlights.
"Well paced, interesting cross section of Thailand, south to north"
This small group tour, led by a delightful, kind local woman, was well paced with plenty of varied activities. The war museums and memorials at Kanchanaburi and Hellfire Pass were thoughtfully presented and very worthwhile experiences. The cycling tour around the historic UNESCO park in Sukhothai was fun, but tuk tuks provided another option for those who preferred to be driven. The Elephant Nature Park was impressive, as was the cultural evening at the Hmong Lodge. Delicious home cooked meals provided
...read more
insights into regional cuisine. Hotels were mostly of a high standard and we felt comfortable and safe during the entire trip.
"Saigon to Bangkok Explorer"
The Phnom Penh - Siem Reap trip could be replaced with a flight. Loved the food but would have appreciated a couple of more upmarket recommended options to try out modern local cuisine too. Binh, our guide in Vietnam and Cambodia, was exceptionally good. (Review provided by Explore Worldwide.)
Explore More
Your guide to travelling through Thailand
06 November, 2018
8 of the Best Places to Visit in Thailand
Thailand is varied and striking, with everything from ancient ruins and busy cities to sandy coastlines and dense forests. Get to know the traditions and cultures of this interesting country and its people, from the hill tribes of the north to the Monks gathering at the Buddhist temples around..