Switzerland Tours
Switzerland has it all - snow covered mountain ranges, medieval castles, glacial lakes, the charming cities of Lucerne, Geneva and St Moritz, oh... and don't forget the Swiss chocolate! Cute chalet-style buildings dot the valleys and breathtaking mountain passes are cut with railways that offer incredible vistas. Get to know this enchanting destination on a train journey, guided coach or small group tour of Switzerland.
Popular Switzerland Tours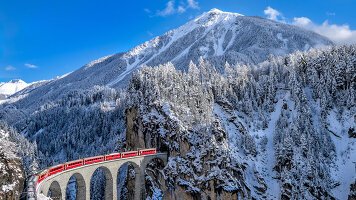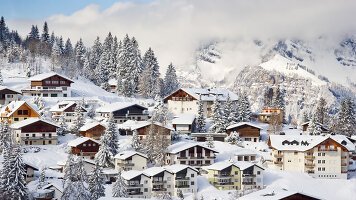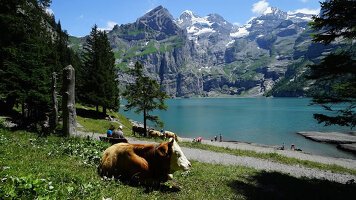 View all Switzerland Tours
Discover
Must do experiences and highlights on a tour of Switzerland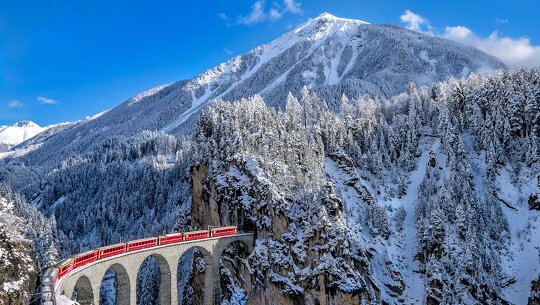 All Aboard the Glacier Express
Be thrilled by dramatic mountain passes and criss crossing viaducts as you travel on a breathtaking rail journey between St Moritz and Zermatt.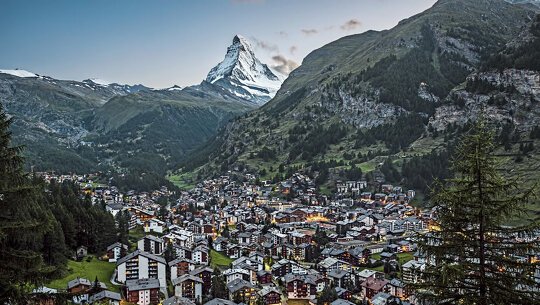 The Crown of Zermatt
Admire the snow capped peak of the Matterhorn protruding from the Alps, then warm up in the lounge bars of Zermatt at its base.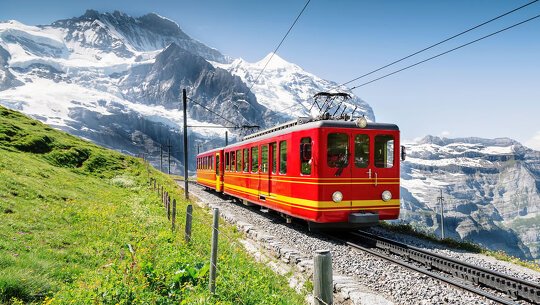 Climb to the 'Top of Europe'
Ride to the highest railway station in Europe, Jungfraujoch, for a stunning snowy panorama. The view, and the crisp air, will take your breath away.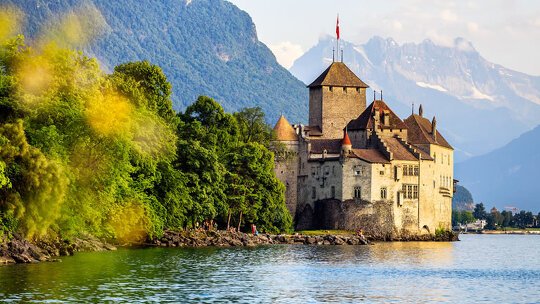 Discover Lake Geneva
This alpine lake is hugged by vineyards spilling down its banks, storybook Chillon Castle, the charming town of Montreux, and its namesake city. In Geneva check out the Floral Clock, Reformation Monument and Jet d'Eau.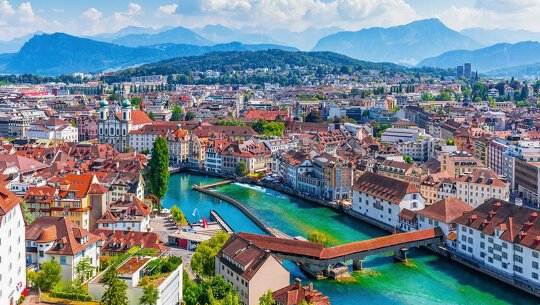 Lakeside Lucerne
Sandwiched between a lake and mountainous peaks, lovely Lucerne boasts waterways punctuated by charming wooden bridges and a well preserved medieval Old Town. Don't miss the Lion Monument and the baroque Jesuit Church.
Switzerland Brochures
91 Switzerland tours sourced from 32 Operator brochures
Recent Reviews
What our clients are saying about travelling in and around Switzerland
Started well then deviated off the itinerary, sleigh ride was a carriage ride, misleading advertising. We only did a short leg of the Glacier Express then hopped onto local trains with long stop overs, bit bewildering. Didn't do the Matterhorn as promised but a smaller mountain, overall a bit of a patchy tour, good then the bad. Tour leader didn't correspond well.
"Incredible journey through the Country Roads of Germany, Austria & Switzerland"
I had a wonderful, very well organised trip. Our tour director was a local Austrian full of interesting history, tip bits, and humour. Our coach driver was excellent, punctual and helpful. It was the best way to travel not having to worry about getting from A to B, our bags magically arrived up in our rooms while we were out sightseeing. I liked the balance on this trip between free time and organised outings. They covered all the major attractions I wanted to see and, unlike other tours, you
...read more
never felt they were taking you somewhere to get a deal or push you into buying things. They were very very professional at Insight Vacations.
Loved our trip and will be booking again in next 12 -18 months for another Cosmos tour. Most hotels were great. Could only find fault with one hotel which wasn't that great. Tour Director, Daniela was great, fun and very informative. Our driver, Lorenzo was fantastic. He was very friendly and a good safe driver. We felt very comfortable with his driving. We had a great bunch of people on the tour and had a lot of fun together. Only one person on the tour that spoilt things for others as she was never
...read more
happy with anything and complained constantly about everything. In the end no one could please her so it was best just to ignore the comments and have a good time.
Our APT Swiss Rail adventure was a truly great adventure. The organisation went like clock work, the scenery was spectacular, the accommodation was excellent plus. Our guide Colin was entertaining, informative and went out of his way to ensure the tour went without a hitch. Thank you Yvonne for your assistance as always.