Galapagos Tours & Cruises
Embark on a once in a lifetime journey to the Galápagos where dramatic terrain, clear waters, and incredible wildlife encounters await. Learn about this remarkable chain of islands and observe the creatures of the sea, land and sky that call them home. Choose from 85 cruises and guided tours to the Galápagos or combine your adventure through this archipelago with a longer tour of South America.
Popular Galapagos Tours & Cruises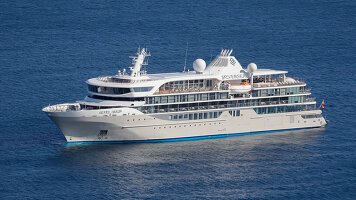 8 Days Baltra Island to San Cristobal Island
Operated By:
Silversea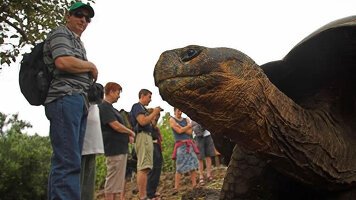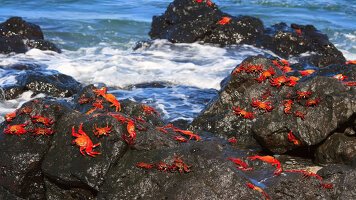 View all Galapagos Tours & Cruises
Discover
Must do experiences and highlights throughout the Galápagos Islands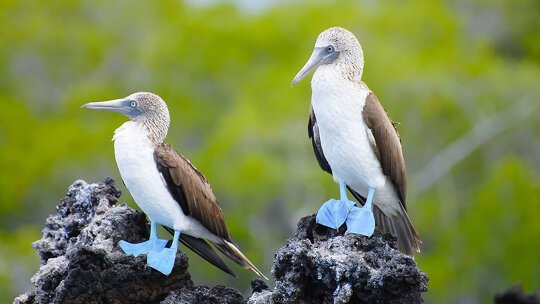 Unrivalled Bird Watching
Keep your eyes peeled for an array of birdlife including brown pelicans, the Galápagos hawk, frigate birds, flamingos and the iconic blue footed booby (just to name a few!).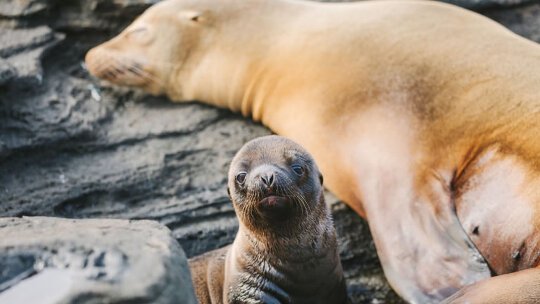 Unique Wildlife Encounters
Spot wildlife that exists nowhere else in the world, with some 97% of land mammals and reptiles, 80% of land birds, and 20% of marine species endemic to the Galápagos.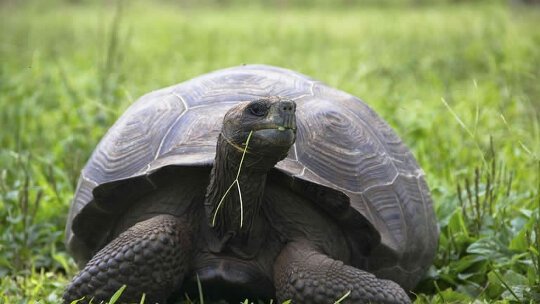 Charles Darwin Research Station
Get an insight into the scientific research and vital conservation work done here and enjoy a unique encounter with the giant tortoise that are cared for by the program.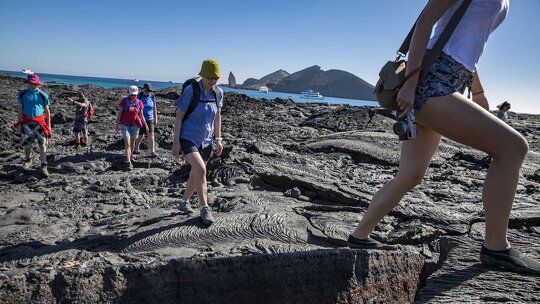 Hike the Volcanoes
An archipelago born of volcanic activity and shaped by the sea, the topography of the Galápagos is perfect for taking to the trails. Check out the vast craters, lava flows, and sprawling vistas on a guided hike.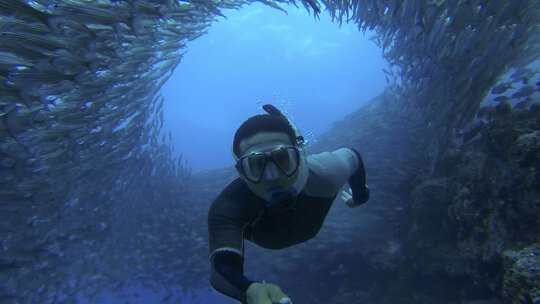 Snorkel with Sea Life
Don a snorkel and venture into this underwater world where you can swim with sea turtles, manta rays, reef sharks, schools of fish, playful sea lions and many more beautiful creatures that call the waters of this archipelago home.
Galapagos Brochures
85 Galapagos tours and cruises sourced from 22 Operator brochures
Recent Reviews
What our clients are saying about island hopping the Galapagos
"Good Galapagos Tour but Guides could be better"
Seeing all the unique animals such as giant tortoises, marine iguanas, penguins etc was fantastic. The tour was well organised and run fairly smoothly. However, our various daily guides could have been more enthusiastic and knowledgeable. They showed us everything we expected (except the volcano on Isabella) and provided basic information. Some friends on a similar tour with a different company had guides who were genuinely interested and excited to be talking about "their" home and its animals,
...read more
as well as stories and details about the history of the islands and the culture. We enjoyed the trip, but they had a great "experience"! Our tour also needed to offer more optional excursions. We had too many "free half days" with nothing really offered to fill the time, yet we found out later there could have been various activities available.
"Inspiring trip to the Galapagos"
It was a fun, inspiring trip. Actually 1 day in a hotel on the islands and 3 days on a boat. The food was very good. The CEOs were amazing.
Excellent trip of a lifetime. The wildlife is amazing and we would recommend it to anybody who loves seeing new and interesting wildlife, snorkelling and adventure. The Daphne was a great boat with excellent crew who looked after us very well. Our guide Jose was very passionate, entertaining (especially reinacting the mating ritual of the Blue Footed Boobie bird) and approachable. It was great being onboard with a small group of fellow travellers (12 in our group) which allowed for good conversa
...read more
tion.
Fantastic trip, accommodation was really good - small family operated hotel so got a real feel of staying local instead of big city hotel. The boat Daphne was excellent, best decision to go for a small number tour, other travel guests were great, easy going, and well matched age bracket. Food on board was beautiful if anything there was way too much. Cabin size yes they are small and a bit cosy but you are only in there to sleep. Boat was spotlessly clean, crew brilliant, helpful, funny, take pride
...read more
in their work, and safety was always top priority. Guide - Jose - this man was one of the best guides we have ever had in our travels. He was passionate about his islands and his knowledge on wildlife, history, and the environment was remarkable. Was never phased when asked one of those stupid questions that other travellers eye roll at. Great tour - highly recommend, but due to physical activity of shore landings, walking, it is not for elderly travellers.