Coast to Coast USA Tours
Embark on a Trans-American road trip across the USA and discover the treasures of this mighty continent. From cityscapes and country towns to prairie lands and national parks, experience classic Americana in all her glory. Travel along Route 66 or choose another incredible itinerary from our 7 guided tours and rail journeys across the USA. Buckle up, a coast to coast adventure of America awaits.
Popular Coast to Coast USA Tours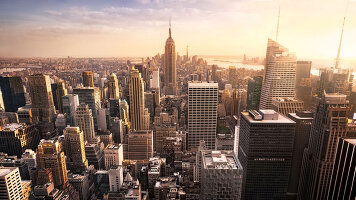 24 Days New York to Los Angeles
Operated By:
Cosmos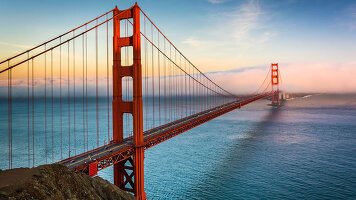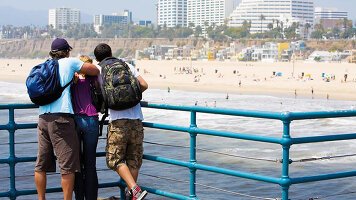 12 Days Los Angeles to Dallas
Operated By:
Contiki
View all Coast to Coast USA Tours
Discover
Must do experiences and highlights when you travel across America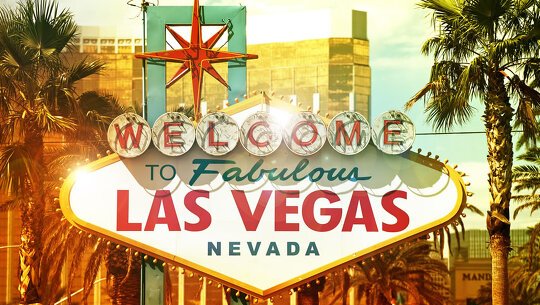 Hypnotic Las Vegas
Surrender to the allure of Vegas' dazzling lights and lively entertainment. Stroll The Strip, try your luck at the casinos and soak up the vivacious atmosphere.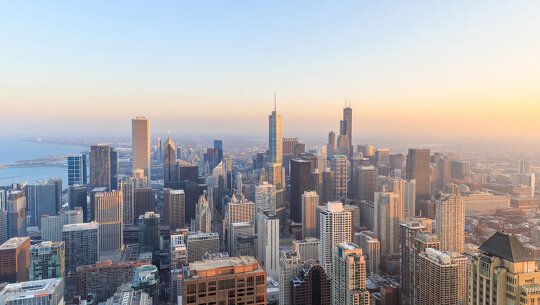 Chicago from the Sky
Ascend Willis Tower and, if you're brave, step out onto the glass balcony of 'the Ledge' where you'll be blown away by views of the Windy City below.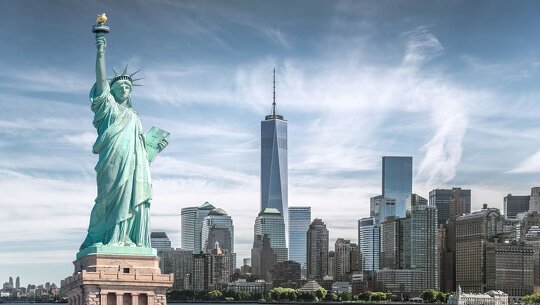 New York from the Water
Embark on a harbour cruise around Manhattan to take in the cityscape from the water and glide past the iconic Statue of Liberty presiding over it.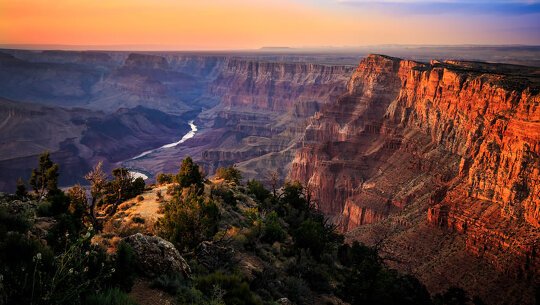 Grand Canyon National Park
Truly grand, this highlight of the USA lives up to the hype. With its layered cliffs dancing in the light and the striking landscape stretching into the distance, you'll be in awe of its splendour and size.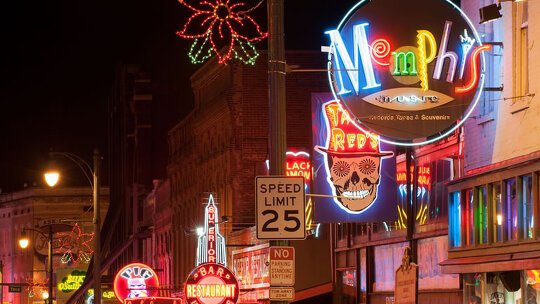 Blues and Barbecue in Memphis
Toe tap your way down Beale Street checking out the blues clubs and restaurants that waft the smell of barbecue into the air. While you're in Memphis pay tribute to a music legend, Elvis Presley, with a visit to Graceland.
Brochures Featuring USA Coast to Coast Tours
7 Coast to Coast tours of America sourced from 5 Operator brochures
Recent Reviews
What our clients are saying about their journeys across the USA
"Fantastic and relaxing tour that covers all those original places on Route 66"
This is the best trip we have ever done. We went to all the little places still on the route for stops and meals, pace was just right, tour director John was fantastic as was the driver Wayne. I can't recommend this tour enough for anyone interested in Route 66. Far exceeded my expectations based on other bus tours which we have always enjoyed. The additional balloon and Route 66 festivals helped to make this just that bit better. Rate this 10 out of 10.
"Crossed off the bucket list now "
This was a bucket list tour and we were very pleased to have completed it. The tour was good, the tour director was great and we had a great group of fellow travellers. The optional excursions were all well worth while. The dinner and show in Branson; the dinner and Sandia Tramway in Albuquerque; and the St Louis Arch ride to the top were all exceptional. Hotels were mostly very good with one or two exceptions. As always, Hannah from Global Journeys did an outstanding job with our booking and
...read more
we will continue to use Global Journeys for all our bookings.
"Wonderful Tour Across America"
I thoroughly enjoyed this tour ! I can't begin to explain the many wonderful sights we saw, just amazing!! A beautiful bunch of people on the coach, who became like long lost friends very early on in the tour. Accommodation was great . The only small complaint was that it was all a bit rushed, but given the distance we travelled and the many amazing things we saw, that was totally understandable. Would do it all again in a heartbeat. Jemma from Global Journeys was always on hand to answer my MANY
...read more
questions prior to the trip. She showed extreme patience to my ignorance, given it was my first time traveling . One word of advice - always watch where your walking! Especially in Chicago, sidewalks very dodgy............ Overall the BEST travel experience I have ever had and will be very hard to top.
"Great trip along Route 66"
Great trip through 8 states, lots of American history as well as the Route 66 was a pleasant surprise. Steve the tour guide was fantastic, accommodation lovely. Highly recommend this trip.