30 July, 2020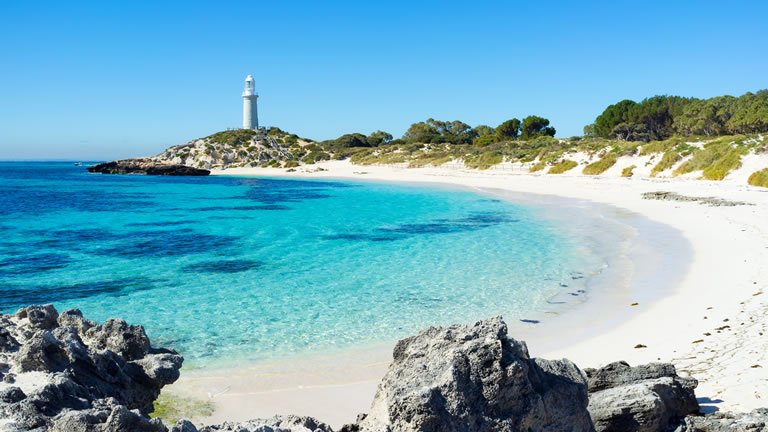 It is no secret that every corner of Australia is packed with incredible experiences. However, when you tour with Trafalgar, it is not just your days that are filled with memorable moments. Handpicked accommodation means that evenings are an experience in their own right, and are simply an extension of the days' special events.
Connect with your surrounds at these incredible venues, featuring on a selection of Trafalgar's Australian Journeys.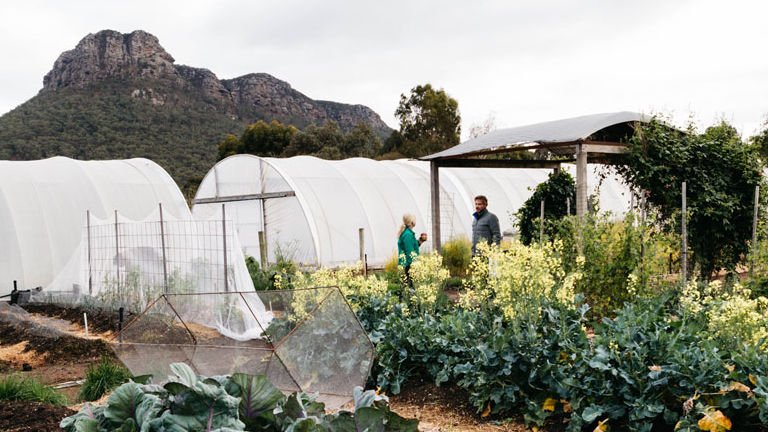 The Royal Mail Hotel, Dunkeld
Nestled at the foot of the Grampian Mountains in Victoria in the humble town of Dunkeld, The Royal Mail Hotel is more than just a place to lay your head. This unique property offers unrivalled destination dining and brings together a celebration of food, wine, location, and good company.
Keeping in theme with its stunning natural surrounds, The Royal Mail Hotel is home to Australia's largest working restaurant kitchen garden. This organically grown produce supplies the onsite restaurants and chefs can be seen foraging for fresh elements to add to their dishes. Roughly 80% of the produce featured on The Royal Mail Hotel menus is nurtured in the kitchen garden, while beef and lamb is sourced from neighbouring farms.
A daily harvest sees vegetables of all shapes and sizes gathered from the rich earth and transformed into delicious dishes that showcase their depth of flavour. The on site Parker Street Project offers a casual style menu featuring such seasonal dishes, delivering on a well-regarded reputation time and time again.
Visitors can accompany their meal with cocktails inspired by the garden, specialty beers on tap, or opt for a glass of wine from the renowned wine list. With a 250,000 bottle wine cellar that has earned The Royal Mail Hotel a series of accolades, there's sure to be a drop to perfectly pair with the delicious menu on offer.
Find the experience: Victoria's Hidden Gems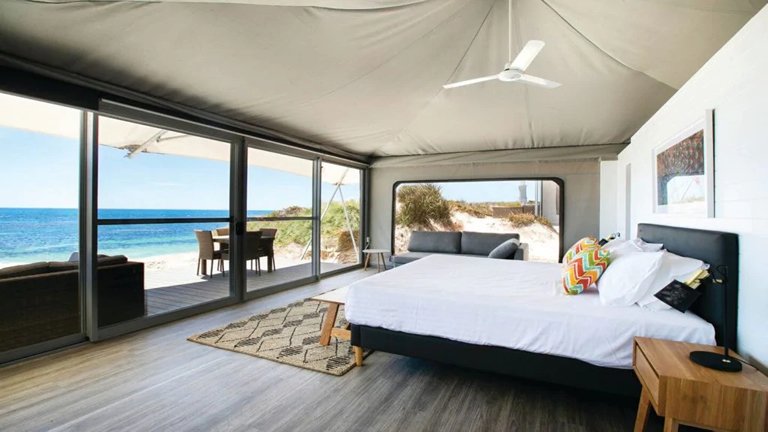 Discovery Rottnest Island
Set off WA's coast lies Rottnest Island, a pristine nature reserve home to the world's happiest resident – the quokka. These little marsupials are 'smiley' and very friendly, gladly posing so you can snap some happy memories of this incredible destination.
There is plenty for nature lovers to enjoy on Rottnest, with sprawling white sand beaches and ample trails to hike and bike your way around the island. With no cars on the island, you'll have the relatively untouched tracks all to yourself and your fellow travellers.
How better to immerse yourself in this natural wonderland than to stay in an eco-glamping tent with minimal impact on your surrounds. Disconnect from the world, listening to the sounds of nature around you as you sleep (almost) under the stars and wake up in paradise.
This low impact glamping venue is set back from the dunes of the iconic Pinky Beach, so you'll have some of the most incredible coastal scenery on your doorstep. Relax in your home away from home at Discovery Rottnest Island and simply soak up the natural beauty of this Western Australian treasure.
Find the experience: A Journey to the West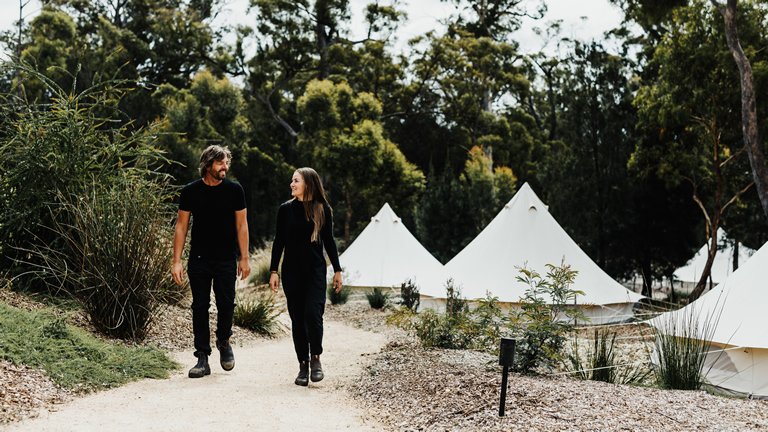 Bay of Fires Bush Retreat
Many of the best Tasmanian experiences are synonymous with pristine wilderness and delectable cuisine. A stay at the Bay of Fires Bush Retreat is no different, uniting the elements that make Tassie so special. Set at the southern entrance to the Bay of Fires on Tasmania's East Coast, this family run retreat has all the warmth of home with little touches that encourage you to disconnect with the outside world, and connect with your surrounds.
Hosts Anna and Tom welcome salty hair and sandy feet and foster a convivial atmosphere for guests to enjoy. Nothing beats kicking back with your newfound friends by the campfire. Evenings can be spent around the camp kitchen while Tom draws on his time as a head chef of two acclaimed restaurants and prepares a delicious meal cooked with love (and quality Tasmanian produce).
With a full belly you can retire to your beautifully appointed Bell Tent and fall asleep under the white canvas and vast Tasmanian night sky. Accommodation is relaxed and stylish, and a great way to experience this beautiful pocket of Tasmania.
Nearby guests can explore the spectacular coastline where white sand, turquoise water and orange lichen covered granite boulders come together in an iconic Tasmanian scene. The Bay of Fires is celebrated for its raw natural beauty, and from your base at the Bay of Fires Bush Retreat, you can soak up the scenery at your leisure.
Find the experience: Majestic Tasmania