It's never too soon to start thinking about your next getaway and there is no more relaxing way to travel and discover new places than with experts. A guided holiday is the perfect way to explore and with all the logistics taken care of for you, all you have to do is pack your bags and enjoy a wonderful journey. Trafalgar have dozens of handcrafted trips to choose from for your travel in 2021. Here are six that are popular with Trafalgar's guests, that you might enjoy too!
1. Britain and Ireland Highlights
Discover the rich culture and history on an 8 day guided tour across Britain and Ireland. Explore iconic London, Edinburgh, Dublin and Cardiff, take in the picturesque Yorkshire Dales and the spectacular vistas of the rugged Ayrshire Coast.

Savour a Be My Guest experience when you share a hearty Welsh dinner with a farming family on their vineyard in Wales. A workshop tour uncovers how the famous Irish crystal is crafted at the House of Waterford Crystal. You cannot help but feel immersed in centuries-old history, from Cardiff Castle to the Roman Baths. Top it all off with a visit to the mysterious Stonehenge and Shakespeare's Birthplace in Stratford-upon-Avon.
Learn more: Britain and Ireland Highlights
What our Guests Thought: Just loved this tour. The UK has such an amazing…
2. Grand European
Take an epic round trip journey from London across the European continent. Uncover the highlights of all the icons, including London, Amsterdam, Vienna, Rome and Paris. This trip reveals the unexpected, from the enchanting Black Forest to the fairytale streets of Innsbruck.

Sample delectable cheeses on the Pauw family farm in the Netherlands on a popular Be My Guest experience and visit a 17th-century monastery in medieval Bruges. You can even witness the delicate Venetian tradition of glass blowing on Giudecca Island. From cruising the Rhine River to the Isle of Capri, the Grand European is filled with an abundance of pinch-me moments.
Learn more: Grand European
What our Guests Thought: This was the trip of a lifetime!...
3. Prague, Vienna and Budapest
The slower pace of Trafalgar's At Leisure trips allows you to gain a deeper connection to the cities you will visit on this 10 day exploration of Prague, Vienna and Budapest. With time to explore each city in-depth, you'll delve beyond the icons to find the hidden gems that make these destinations unique.
Known as the "City of a Hundred Spires," Prague offers inspiring architectural masterpieces around every corner. In Vienna, immerse yourself in a Baroque fantasy, with evenings filled with delicious local dinners and live classical music performances. A 3-night stay in Budapest, gives you all the time you need to take in the views from the ornate arched lookouts at Fisherman's Bastion in Buda. Across the Danube River, the Dohány Street Synagogue ( the Great Synagogue) awaits to amaze as you discover Pest.
Learn More: Prague, Vienna and Budapest
What our guests thought: A most enjoyable ten days, thanks for the memories...
4. Scenic Scandinavia and its Fjords
When it comes to stunning scenery, Scandinavia is at the top of the list, so it's no wonder this is a popular Trafalgar trip. Witness the deep fjords, sparkling glaciers and lush islands along the Scandinavian coastline. You'll also get to discover the incredible cultures of Denmark, Norway and Sweden.

Share dinner with the fifth generation Øvre-Eide family on their centuries-old livestock farm in Norway. Experience one of Trafalgar's Stays with Stories on the waterfront of the breathtaking Geirangerfjord. Ride the thrilling Flam Railway, past soaring mountains and waterfalls to the stunning Norwegian village of Flåm. Top it all off with local sightseeing tours in the exciting cities of Copenhagen, Oslo and Stockholm.
Learn more: Scenic Scandinavia and its Fjords
What our guests thought: This was a really great tour, one of the best we have done...
5. Spain, Morocco and Portugal
You'll explore three spectacular countries on this favourite Trafalgar trip, including lively cities and the picture perfect countryside. Highlights include the Belém Tower in Lisbon, the vibrant streets of Madrid, and a traditional Sevillano dinner on a horse ranch in Andalusia.

You'll see the whitewashed village of Gerida and the invincible swords of Toledo that have defended the city for centuries. Explore the Royal Palace of Rabat and the ornate mosques of Casablanca. Or visit a local Moroccan pharmacy to learn about healing medicines made with regional ingredients.
Learn More: Spain, Morocco and Portugal
What our guests thought: Wonderful trip through three countries...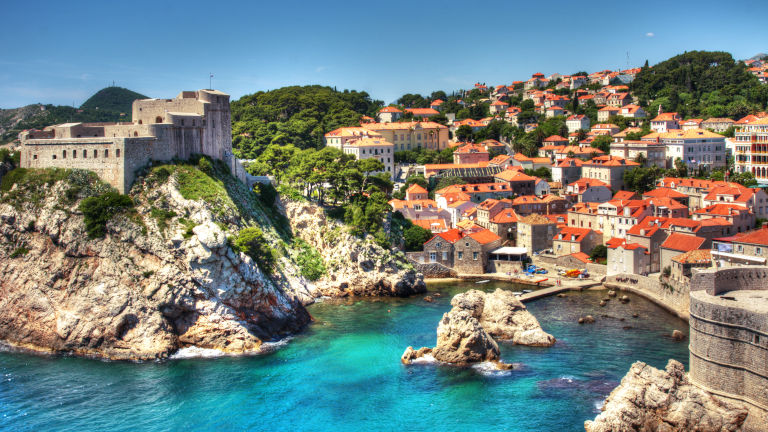 6. Best of Croatia and Slovenia

If you venture off the well worn path, you'll soon discover that Europe has an incredibly diverse range of countries to explore. Increasingly popular are Croatia and Slovenia, two neighbouring countries were long overlooked but are now rightfully claiming their spot in the limelight. Croatia's islands are renowned for their postcard perfect coastline, sheltered beaches and charming small fishing villages.
The summer brings visitors from all over the world and turquoise harbours fill with luxury yachts. In contrast, Slovenia overflows with dramatic mountains, serene lakes, mysterious castles and leafy green cities. Effortlessly photogenic and oozing cultural charm and outdoor pursuits, Slovenia could easily win your heart on your next tour of Europe.

Learn more: Best of Croatia and Slovenia
What our guests thought: From the very beginning to the end it was a dream come true...