21 September, 2018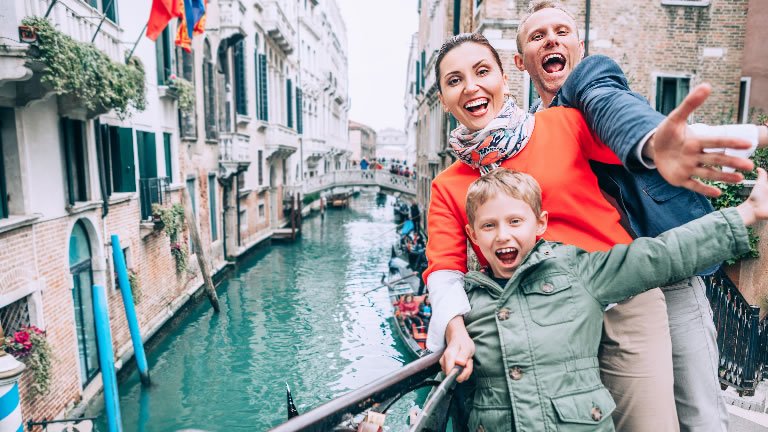 What better destination to take the family on holiday than Italy. Everyone loves gelato, pasta in hundreds of different shapes and colours and real pizza that will taste better than you have ever had before. So, food is easy! Attractions are plenty, from ruins, volcanoes, islands, dramatic coastlines to galleries and museums. There is something new and interesting every day, after all each region of Italy offers something different.
Explore cities for history and fashion, outdoor monuments and renowned museums while the rural regions offer open spaces, mountains and lakes. The coast throws up colourful villages and drama at every turn as well as beaches to swim at and play on. Restaurants and osteria are usually family run and so it follows that they are family friendly.
Your greatest challenge in planning a family holiday to Italy is the logistics. It can be tricky to plan your own itinerary and sort out the plethora of detail for a family holiday. You might find going on a family tour ticks all the boxes and saves you a lot of time on top of your already busy schedule that includes organising tonight's meal! Let someone else look after you all for a change of pace. While Italy might be at the top of your list for now, there are a range of family tours that are also worth considering.
If you are travelling with children it is ideal to be on a trip that has been curated with families, teens and children in mind but you aren't limited to a just a family tour. Each Italy tour will have information on suitability for family travel, and your consultant can guide you also. Several well known and reputable tour operators curate family tours in Italy. Have a look at these trips.
Travel from Rome to Venice with Trafalgar Tours on this 10 day family trip that gives you three nights in Rome, Florence and Venice to allow you to see the sights and attractions of each and also have some free days to explore at your own pace.
You will take in the Vatican, the Sistine Chapel, St Peter's Basilica and the Colosseum in Rome, where you will also become a gladiator for a day. Climb the Spanish steps, throw a coin in the Trevi Fountain and learn to make your own authentic Italian pizza. Travel through Tuscany to the Leaning Tower of Pisa, enjoy a special gelato in Florence, and join the welcoming warmth of an Italian family for dinner.
A private canal cruise, glass blowing and mask making await in Venice as well as a walking tour to uncover this island city's secrets and ancient food markets.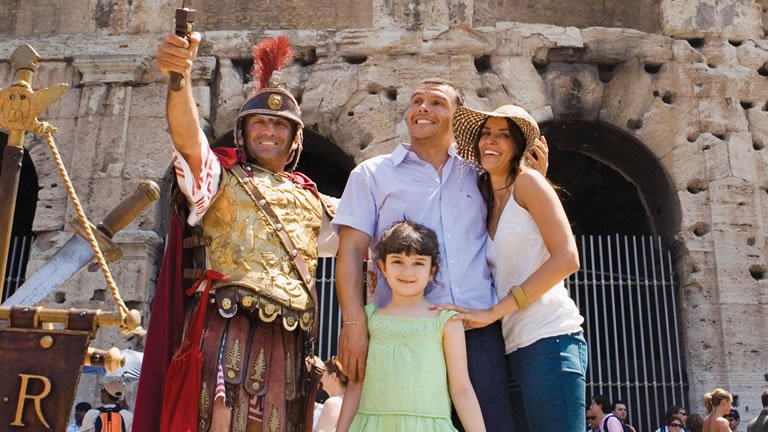 Consider taking your family on a river cruise through Italy's north. It's an ideal family holiday because you unpack once, and your river cruise stateroom becomes a comfortable home away from home, complete with all inclusive excursions, on board entertainment and meals.
Uniworld offer specific family departures in June and July for an exciting family river cruise program that takes you from Milan to Venice. Explore the many facets of Milan and pass by the balcony where Juliet called out for Romeo before you arrive in Venice to board your river cruise boat. Start your exploration of all that this water bound city and surrounds offer with an exclusive excursion of St Mark's Basilica.
Cruise the Venice Lagoon to Chioggia and learn to make pasta and Bolognese sauce in the home of Italian cuisine, as you know it, in Bologna.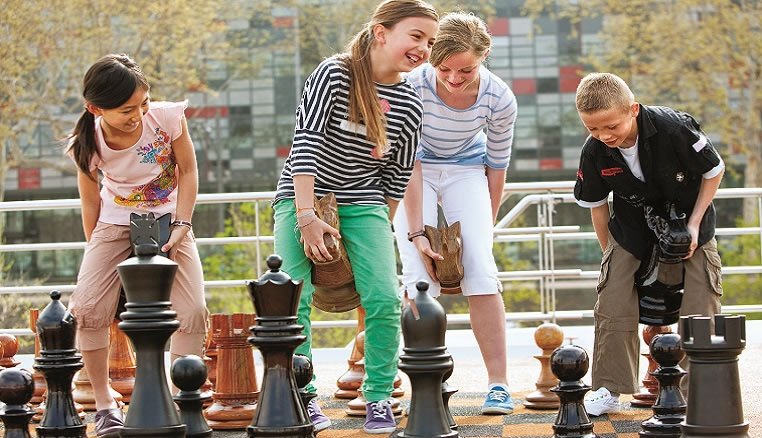 This Tauck Bridges itinerary is curated with families in mind and offers something for everyone, including multi-generational families holidaying together. Take a premium tour from Rome to Venice via Florence. Travelling by coach and in first class on the high speed train from Florence to Venice you will stay three nights in Rome and three nights in Florence followed by a final two nights in Venice.
Visit the real life relics of ancient Rome, enjoy a guided visit to St. Peter's Basilica in Vatican City, and an after-hours Tauck visit to the Vatican Museums, where you can observe the artworks with only the other families on your tour! In Florence, visit the Museum D'Academia to marvel at the famed Statue of David and the Leaning Tower of Pisa.
Introduce your family to masterpieces by Botticelli, Michelangelo, Caravaggio, Fra Angelico and more. Paint your own masterpiece, learn the art of pizza making and enjoy the reward of a gelato. After your first class trip by high-speed train to Venice, you will explore the iconic Doge's Palace and St Mark's Basilica, make your own Venetian mask in traditional style, and of course tour the city's canals by gondola.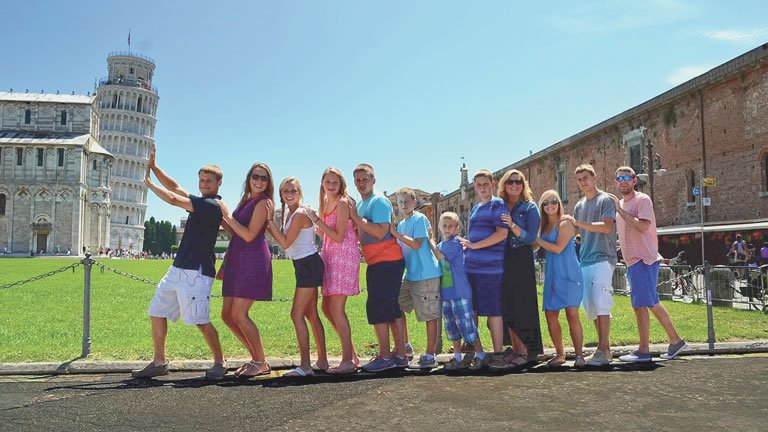 Intrepid family holidays are created with family, adventure and affordability in mind. This small group tour has a maximum of 16 guests as it takes you from Venice to Rome via the Ligurian coast where you will visit colourful Cinque Terra before you head into the Tuscan Hills to explore Pisa and enjoy a traditional meal in a local trattoria.
In Rome, take part in an exciting art safari, navigating your way through a series of clues as you explore the Villa Borghese. It's an art filled adventure made fun for the whole family. On this tour you travel through Italy via train, spending two nights in Venice, Cinque Terre, a night in Tuscany and two nights in Rome. View more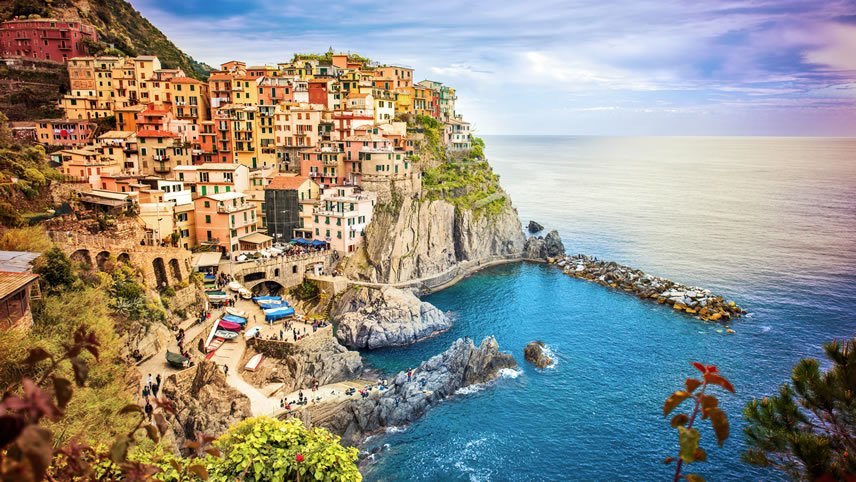 Take a different route with Intrepid to spend 4 nights in Sorrento, the gateway to the stunning Amalfi Coast, followed by 3 nights in World Heritage Listed Minori. These seaside towns are surrounded by orange and lemon groves, dramatic cliffs, contrasting the life of the local fishermen with the palatial hotels, the charm of local trattoria and the opulent ancient history of this popular coastal area.
Explore the island of Capri, see ancient life captured in the finely preserved villas in Pompeii from the eruption of Mt Vesuvius, before you climb to the summit. Explore the fishing village of Minori and enjoy time on the beach. Take a family kayaking adventure to explore a local waterfall. Enjoy a free day to explore the Roman Villa or walk through the lemon groves to the beautiful beach at Maiori. This is coastal tour offers a different aspect of Italy for your family to enjoy. View more