Tuscany Tours
Discover Tuscany on a guided tour or self-guided holiday through rolling green landscapes steeped in olive groves, vineyards, and terracotta rooftops. A hub of art and gastronomy, here you can marvel at famous works in the galleries of Florence or venture into the countryside to devour regional produce under the Tuscan sun. Explore this delightful region by foot, bike, or coach on one of 29 tours through Tuscany.


Popular Tuscany Tours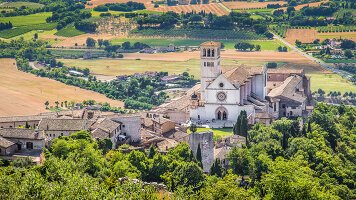 9 Days Rome to Rome
Operated By:
Cosmos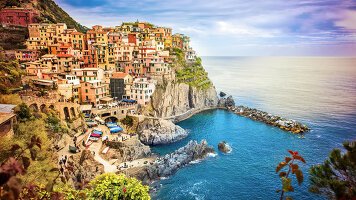 11 Days Stresa to Venice
Operated By:
Collette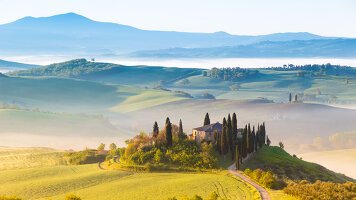 10 Days Rome to Tuscany
Operated By:
Collette
View all Tuscany Tours
Discover
Popular experiences and highlights of Tuscany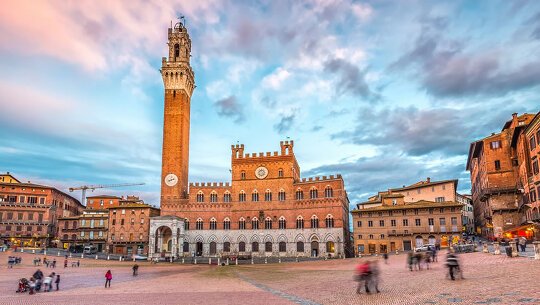 The Piazzas of Siena
Siena is reminiscent of a vast open-air museum. The city is home to a treasure trove of architectural marvels and charming outdoor spaces from the striking cathedrals to the bustling central piazza.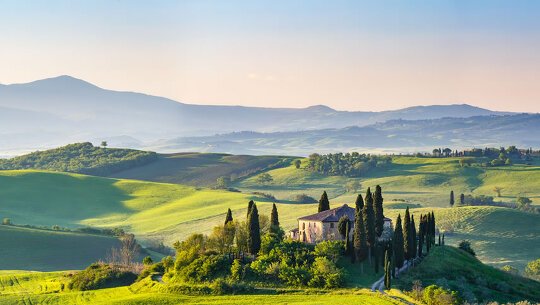 Cycle & Walk the Tuscan Hills
Explore the quiet back roads and hidden trails of Tuscany on a walking or cycling holiday. Admire the scenic rolling hills and refuel with the regional delicacies they produce.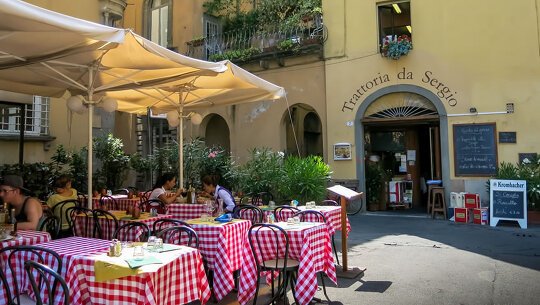 The Walled City of Lucca
Hugged by Renaissance walls and interlaced with cobbled streets, Lucca is a Tuscan treasure. Stroll the squares, sightsee Romanesque churches or simply sit and watch the world go by.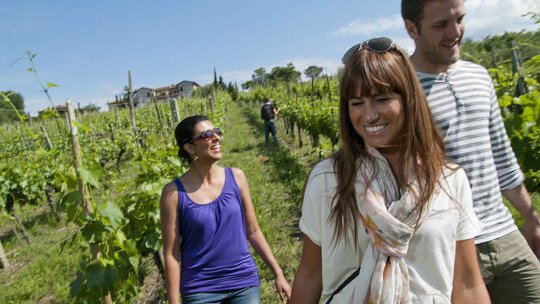 Live the Local Life at an Agriturismo
Experience the real Tuscany with the people who call this region home. Enjoy slow food, join a cooking class, sip local wine, and truly immerse yourself in the region with an 'Agriturismo' stay at a locally owned and operated farm.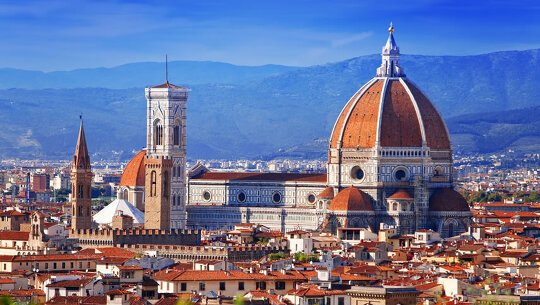 Art & Architecture in Florence
Florence and the arts are inextricably linked. Marvel at the city's masterpieces including an impressive collection at the Uffizi Gallery, Michelangelo's David at Accademia Gallery, and the architectural triumph of the Doumo.
Tuscany Brochures
29 Tuscany trips sourced from 18 Operator brochures
Recent Reviews
What our clients are saying about their journeys through Tuscany
"Not your typical Tuscany tour"
If you enjoy hiking into the mountains and are reasonably fit with a head for heights then you'll love this tour. The farm stay accommodation was excellent. The home-cooking was a gastronomic delight accompanied each night by locally produced red wine. Generous and varied buffet breakfasts were a great way to fuel up for the day's hiking. We made up our own lunches from the previous night's dinner leftovers. The Garfagnana Valley where our farm stay was located, is away from the tourist trail. The
...read more
local towns are authentic and unspoiled by commercialism. Being a centre-based tour required some driving to reach each days hike. The local mountain roads are narrow, winding and steep in places so you'll need to be OK with the swaying motion of the minibus. The trails are generally well formed, easy to follow and not too steep. We've hiked to much higher altitudes on other trips but the views on this trip were still stunning and unforgettable. Complimentary transfers from and to Pisa airport were a bonus for Australian travellers. The 12 travellers comprising our group were a mix of Australians, English and Scottish aged 34 to 72, average age about 60. They were a friendly bunch, just big enough to get to know a few over a week of hiking. Our English guide resides at the farm for the hiking season and is part of the "family". Sara is the absolute best guide you could hope to have. She is caring, super organised, bilingual, very fit and has a deep knowledge of local trails, weather, flora, fauna and geology. We highly recommend the Exodus Walking in Tuscany trip. It's excellent value in a great location with a great guide, great accommodation and great food.
This trip worked seamlessly, from booking with Hannah at Global Journeys to the tour itself. The tour guide was funny but informative - it is a holiday after all, and the coach driver was very good at getting through tight spaces when necessary. The Rome component concentrated on the Vatican and St Peters, rather than the Colosseum and Forum, and there was little time to do independent sightseeing, but that said, the included and optional excursions were well run.
"Enjoyable tour of Tuscany"
The hotel we were based in was well-positioned but we would class it as ordinary. Cleaning of room was not the best and often bathroom items (esp. floor mat) were not replaced. We asked for a new room because the shower cubicle was very small. Breakfast was an adequate buffet. Excursions were excellent with knowledgeable local guides but we were often left with too much free time - not enough to see major sites like the Uffizi Museum in Florence, and not enough information to visit smaller attractions.
...read more
(We're not into shopping and don't buy souvenirs.) The tour director, Sergio, was fantastic. He dealt with anything thrown at him with professionalism. He could also tell very funny stories. I think we will stick with Australian companies in the future.
"Lovely and relaxed trip around Tuscany"
Despite it being a slow paced tour there were some early starts and there is a lot of walking. There were a few on the tour who could not cope with the amount of walking (which was compounded by the August heat). For the price of the tour and length there should not have been two full days that Trafalgar did not include some sort of sightseeing as part of the day, you were expected to go to on the optionals. On the last day in Montecatini there should have been an included excursion up to Montecatini
...read more
Alto and therefore you had the choice of also going to Lucca in the afternoon as an optional. I was surprised the amount of people on the tour who chose this for their first trip to Italy. The included tour of Rome missed many sights such as the Trevi Fountain, the Pantheon, Piazza Navona and many more. Trafalgar should not use such a small hotel for the first night in Rome having two large groups stay causing chaos in the morning for breakfast. Also the last hotel used was in the middle of nowhere (it was chosen for proximity to the airport) which did not allow travellers the option of sightseeing some more on their own during any free time.