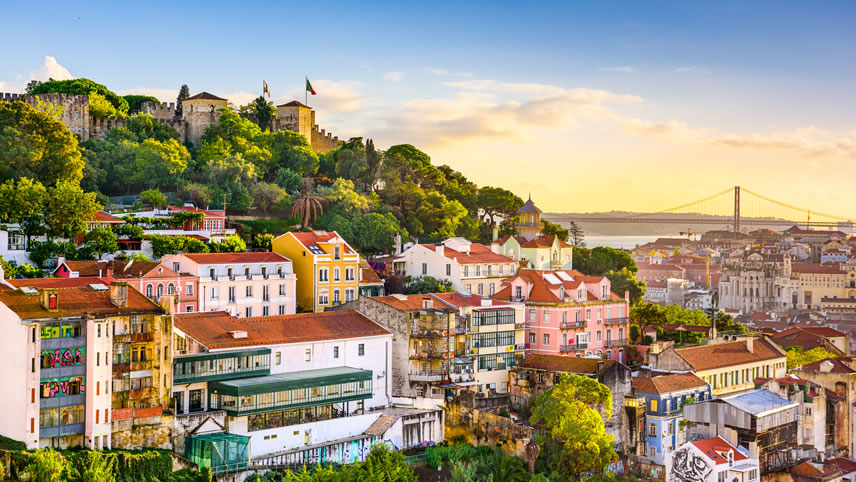 Portugal's capital is aflutter with incredible sights, eateries, and atmosphere. If you are heading to Lisbon on your tour of Portugal, then here are some experiences that you won't want to miss.
Visit Castelo de São Jorge
Overlooking Lisbon, the walls of São Jorge Castle have stories to tell. Walk in the footsteps of Visigoths, Moors, Christians and Royals who have etched their mark on the castle and its place in history. Learn about times gone by and gaze out over Lisbon as it now stands, basked in the beautiful light that reflects from whitewashed walls and red roofs. It is one of the best places to take in the views of this charming city, although given its topography there are plenty of incredible vantage points around – look out for the word 'Miradouro' and you're in for a treat no matter where you are in Lisbon.  
Wander the Alfama District
Characterised by its labyrinth of narrow streets oozing charm and character, the Alfama district is definitely one to put on your list during your time in Lisbon. Steep streets reward with views over a sea of terracotta rooftops that meet the mighty Rio Tejo. Rising up from the cobblestones are aged buildings, some adorned in traditional tiles (azulejos) and others showcasing street art or iron balconies overflowing with pot plants. It is worth spending some time pounding the pavement around this area before you reach the walls of Castelo de São Jorge.
Take a Ride to see the City
There are many ways to take in the cityscape of Lisbon, and while much of it is certainly walkable, it can be a little hilly to do it all on foot. If you want to see the city from a different angle, and with a little less huffing and puffing, then jump aboard one of the trams that make their way through the winding lanes. Watching the drivers manoeuvre these old trams through the narrow streets is an experience in itself, along with the sights along the way (Tram 28 is a popular route to take in some highlights). For another iconic ride, take the unique Santa Justa Elevator up above the city and drink in the sweeping scenes that sprawl out below.
Explore Historic Belém
With one of the richest concentrations of sights, Belém is a must visit during your time in Lisbon. Here you'll find the Torre de Belém nestled on the banks of the Rio Tejo offering spectacular views, the Monument of Discoveries (Padrão dos Descobrimentos) honouring explorers and other prominent Portuguese, and the Jerónimos Monastery adorned with incredible detail. You'll work up an appetite as you discover all that Belém has to offer, so stop by the patisserie that has been making the iconic Pasteis de Belém since 1837.
Take a Trip to Sintra
Sitting outside of Lisbon are the alluring gardens, palaces and pastels of Sintra. Nestled in the mountains this little gem is a palette of colour, from mossy green gardens that feel like they might just be inhabited by fairies, to the soft hues of the elegant residences and the vibrant yellows and reds of the Pena Palace. An idyllic day trip from Lisbon, where you can lose yourself in this postcard that is everything you dreamed Portugal to be.   
Relax in the Squares
There are plenty of squares in Lisbon with black and white cobblestones underfoot laid in pretty patterns and presided over by historic statues. These open squares are the perfect place to soak up some sunshine and people watch, perhaps with a café and Pastel de Nata in hand. Traditional buildings flank these iconic squares, some home to patisseries lined with an array of delicious looking goodies that you won't be able to resist – the perfect way to refuel for further exploration.
Visit Seaside Cascais
Cascais has come a long way from the little fishing village that it once was. Now a bustling summer playground, it offers popular sandy stretches that meet the clear Atlantic waters. Bars, cafes and restaurants call to you from the shoreline and the sundrenched outdoor eateries tantalise your tastebuds with drool-worthy menus and equally impressive al fresco areas. Like the rest of Portugal, Cascais is still infused with plenty of history, from its traditional streets to the fort which overlooks the now-modern marina. A worthy day trip from Lisbon.