Portugal Tours
Set off on an exploration of Portugal, from the sunny beaches of the Algarve to the vineyards of the Douro Valley. Enjoy city stays in Lisbon and Porto, meandering the cobblestone streets and indulging your palate with mouth watering cuisine. Discover world famous pilgrimage sites, wind through countryside lined with cork trees and get to know the locals on a coach tour or small group tour of Portugal.
Popular Portugal Tours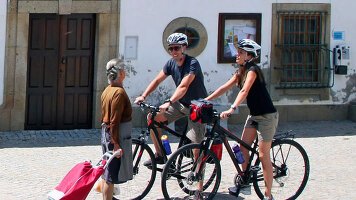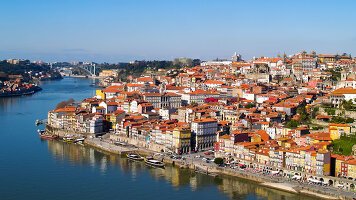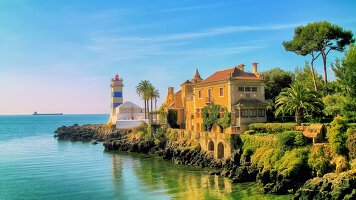 9 Days Cascais to Lisbon
Operated By:
Collette
View all Portugal Tours
Discover
Must do experiences and highlights on your tour of Portugal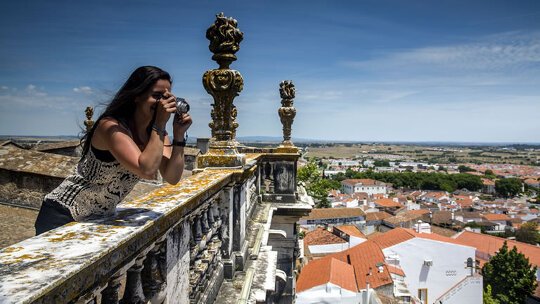 Enchanting Évora
Check out the medieval centre, admiring the impressive architecture of Évora. Walk in the footsteps of kings, who once ambled these streets which are now a UNESCO World Heritage Site.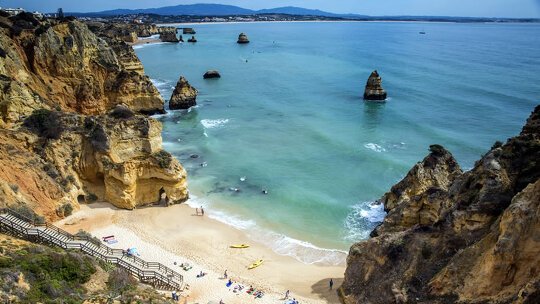 Sardines and Sunshine
Spend some time sunning yourself in the Algarve - a mecca of beautiful beaches, charming coastal towns, and delicious fresh seafood served beachside against a backdrop of the Atlantic.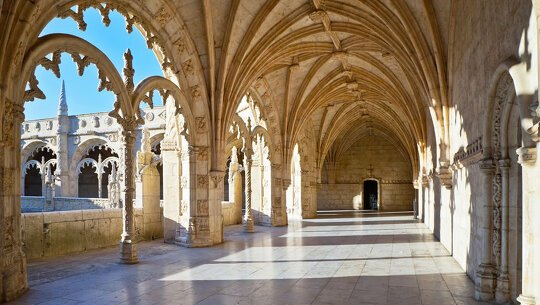 Lisbon's Old World Charm
Visit the historic sites, from the 500-year old intricate arches of Jerónimos Monastery to the patisserie that has perfected making pasties de nata for over 200 years.
Fairy Tale Sintra
Home to pastel coloured buildings and mossy gardens, Sintra is like something out of a storybook. The forest clad landscape is crowned by the colourful Palácio Nacional da Pena, where the sweeping views are sure to impress.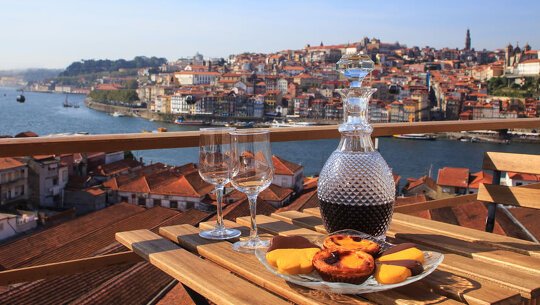 Porto's Cellar Doors
Immerse yourself in the allure of Porto, where cobblestone streets guide you to the cellar doors of Vila Nova de Gaia (don't miss a port tasting!) and past facades adorned with blue and white glazed tiles.
Portugal Brochures
135 Portugal tours sourced from 40 Operator brochures
Recent Reviews
What our clients are saying about their journeys through Portugal
"Spain, Morocco and Portugal for Christmas with Trafalgar "
Just completed a dream Christmas holiday in winter! The weather was perfect in Spain, Portugal and Morocco. Our booking with Global Journeys was easy peasy and the staff very quick to respond to our questions and to help us out. Everything went so smoothly.
"Tour through Spain, Portugal and Morocco"
Overall, a great experience, and all of us had a lot of fun. The tour director and driver were both excellent. There was lots to see and do, and expert guides to explain the significance of various landmarks. On the flip side, several days had only half-day activities, leaving us to fend for ourselves for the remainder of the day. The drive through the High Atlas Mountains was cancelled, ostensibly because of bad weather. On my previous Cosmos tour, they cancelled the Rhine cruise. In my opinion,
...read more
if they cancel something, the customers need to get some money back. Finally, there was too much time spent with vendors trying to sell us something... Argan oil, leather goods, textiles, carpets, herbal medications, etc.
"What a wonderful fun and cultural experience "
We thoroughly enjoyed our tour in Spain, Portugal and Morocco... it started on the first night meeting our tour guide Julian who welcomed us all and ensured we mixed with our other travellers. Julian was very informative, organised and made sure we were all enjoying ourselves in a safe environment. Our local tour guides were knowledgeable, well informed with current environments. This tour was all about having a great time in a safe, well informative environment. Julian deserves "employee of the
...read more
year". Thank you Julian, local guides, clean and safe accommodation. Our bus driver was excellent... we never needed to "close our eyes" haha.
"Great guide and driver, just too many cathedrals"
I have used Global Journeys before and will use them again. Just don't think Trafalgar is for me. Would have liked more variety in sights. Optional dinners quite expensive. I didn't do many of them thankfully, but others that did were unimpressed.
Explore More
Your guide to travelling through Portugal
03 October, 2019
5 Foods Your Palate Will Thank You for Trying in Portugal
In Portugal, culture is inextricably linked to food. You'll hear locals in the street discussing what they are having for lunch, people travel far and wide to eat local specialties, and dinner parties are a formidable affair. Trust me, my Portuguese heritage and regular visits are responsible..