26 August, 2019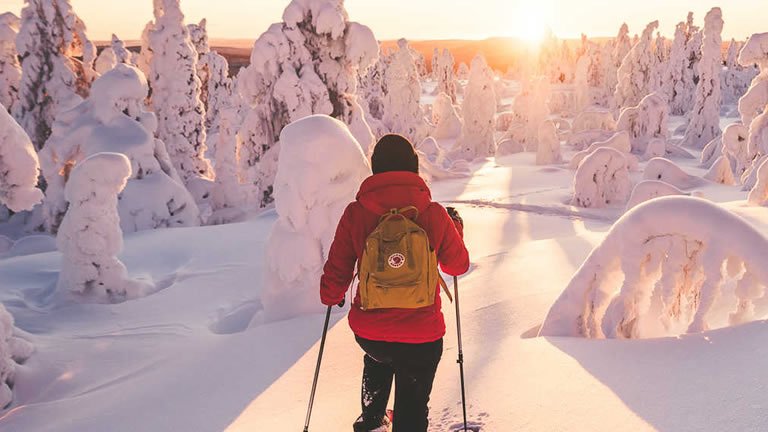 Picture the peaceful charm of cross-country skiing, uncrowded pristine flat trails offering stunning snow blanketed views all around. If you are seeking a skiing holiday but the speed of downhill is daunting, then cross-country skiing might be an appealing alternative. Rather than racing at top speed, immerse yourself in the serenity and vast expanse of snowbound alpine landscapes.
You don't need prior experience, cross-country skiing is easy to learn, so even if you are a beginner who wants to explore a winter wonderland differently, you can join a guided cross-country skiing tour to fulfil the adventure of a lifetime.
How exhilarating would it be to simply enjoy the peace and tranquillity of a natural, snow covered landscape, and glide across flat trails at your own pace, the logistics and your accommodation pre-arranged. Experienced cross-country skiers may be interested in a self-guided adventure.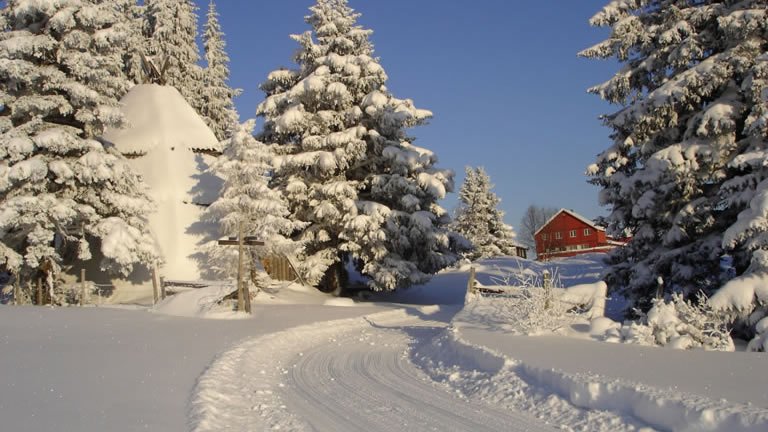 Guided Cross-Country Skiing  
Unless you are a cross-country skiing enthusiast, heading out onto the alpine trails with an experienced tour leader who knows the landscape you are gliding across, will give you confidence to take on an adventure that you might otherwise keep on your wish list.  
You can join a small group tour and share the experience with others, who will also have varying levels of experience. There is no need to be concerned about speed, you can go at your own pace. If this is a new experience or it has been a long time between trails, you need to give yourself time to get into the rhythm of how to move your arms and legs. So you will start off slow, as will most of your group.
When you cross-country ski in Kamben, Norway, your tour leader will start the group off slowly for the first few days before taking you further afield. The Golsfjellet is a popular cross-country skiing destination with well marked trails, including the nursery trails, perfect for skiers of all levels.
Cross-country skiing is more social than you might envisage. As you glide along the trails you can have a chat and share a laugh, support each other and share the wonder of the breathtaking scenery you are travelling through.
If you are an experienced cross-country skier you might be interested to take an off track adventure in Mosstrond, Norway. Here you will set off across the frozen lake to explore the serene snowbound beauty of the Hardangervidda National Park on six days of guided skiing.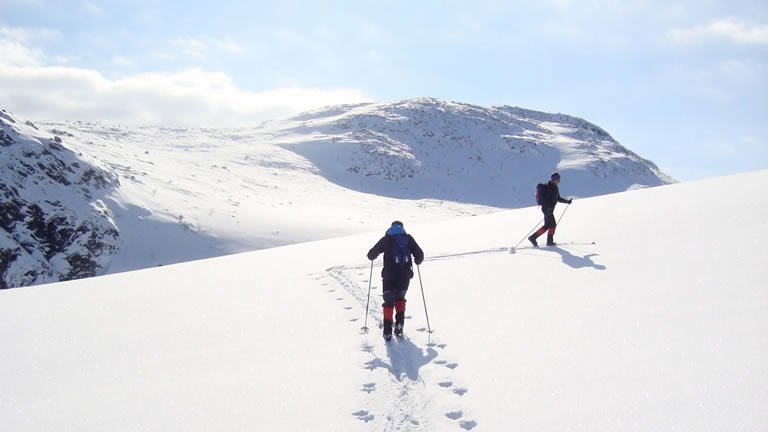 Self-Guided Experiences
If you have participated in cross-country skiing adventures before, you and your travel buddies might feel confident to take a self-guided cross-country skiing adventure. From your hotel base you can choose which trail to follow, considering the weather conditions and your ski ability, and independently explore the snow covered landscapes at your own pace.
Cross-country skiing in Lapland is perfect for self-guided adventurers. With your base in Akaslompolo, above the Arctic Circle, you can explore over 300 kilometres of trails through peaceful ancient forests and unspoilt nature, from easy to more challenging. Trails are accessed directly from your hotel and you can trek the illuminated trails at night under the Northern Lights. Well established for self-guided travellers, the trails interconnect, are well signposted and you can stop along the way to rest and revive in Finnish kotas - small wigwam shaped huts.
In the Norwegian hamlet of Venabu you can take a self-guided cross-country skiing tour that includes two days tuition before heading out with a guide on the first trek of the tour. You have the choice to continue to head out as a group or to strike out on your own as your confidence and technique increases.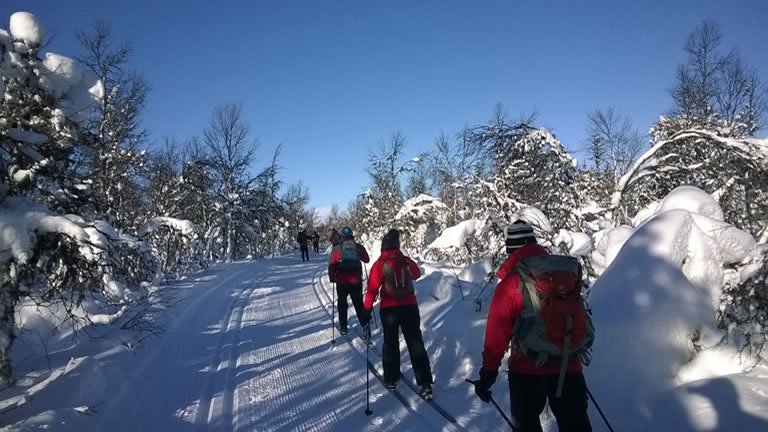 Consider your Fitness
While the experts say cross-country skiing is a sport for people of all ages and that you only need to be reasonably fit, it is tough work on the trails. You will be using both your arms and legs to propel yourself through blanketed meadows, and sometimes over hills and down again. While it's not a speed driven activity, cross-country skiing will give you a good cardio workout and tire both your upper and lower body. It is said you burn over 500 calories in one hour!
It is a good idea to be reasonably fit and perhaps give cross-country skiing a go in local snowfields before you head away. It is an endurance activity and will be a more enjoyable holiday if you spend a few months getting fit before you leave. Swimming, cycling, running and some strength exercises will get you there.
Have Some Lessons
Whether you are going to try cross-country skiing for the first time or have experience but will be coming straight out of the warmer Australian climate into the Arctic Circle, there is often an option to start your tour with a lesson from a local instructor. 
Cross-country skiing is slower and less risky than other alpine sports but learning or refreshing the basics will skill you with the right technique for pushing off, gliding, getting up rises without sliding backwards, slowing down and braking as well as knowing how to fall. It doesn't take long to get the hang of it and will give you confidence for striking out on the trails – especially on a self-guided trek.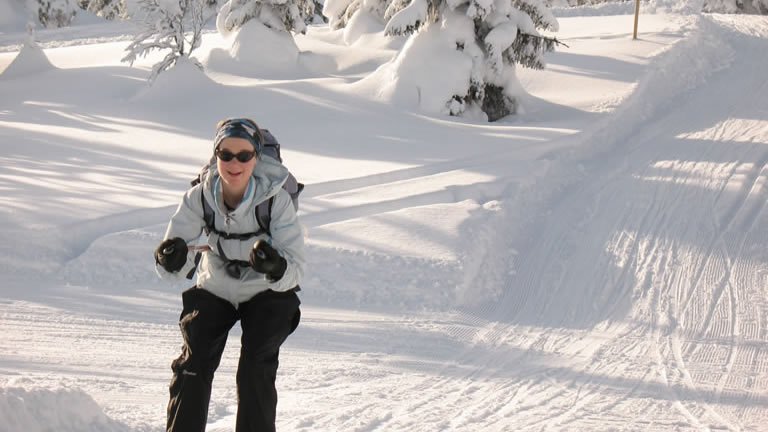 Layer up for the Cold
Even though you are heading into a cold climate and will be outdoors, you won't need a lot of heavy winter gear. On the trails you will need to wear lots of thin layers. Different to downhill skiing, you are constantly moving when you cross-country ski, so you will get warm quite quickly and stay warm until you stop.
On the trails you only need to dress in warm wool socks with moisture wicking long ski underwear and relatively tight moisture wicking clothing on top. Waterproof snow pants, a fleece pullover and a wind breaker or lightweight jacket over that keep out the elements. A warm hat, sunscreen, ski glasses and mittens and you are ready to strap on your boots and clip onto your cross-country skis.
Out on the trails you will need to carry a lightweight backpack filled with essentials: a spare jumper, sunscreen, water, thermos, snacks to replace those burned calories, perhaps your GoPro or camera and some room for the layers you may need remove along the way as you warm up.
With your skis, boots and poles provided and fitted for you on the trip you are ready to start planning for a very special winter alpine adventure.