28 August, 2019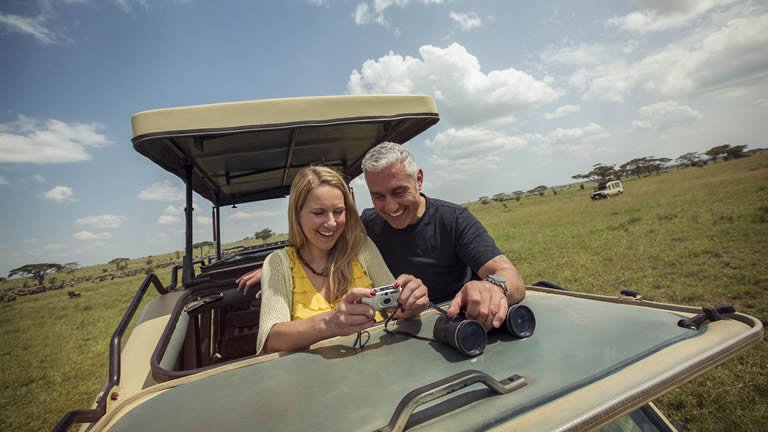 The thought of camping in the African wilderness is exhilarating but can also be unnerving, particularly if you are not used to 'roughing it'. A camping tour may be a style of travel that you have never experienced and may find a little daunting, or perhaps you're an experienced camper who is a bit apprehensive about what to expect in an environment so different to your own.
Feeling nervous is completely natural given that camping in Africa is a pretty big departure from what most of us are used to. But isn't that what you're chasing? A new type of expedition, one that will stay with you for the rest of your life.
Camping in Africa is just that. It will let you interact with the natural environment, the wildlife, and your fellow travellers in a whole new way. You'll venture further, delve deeper, and linger longer. You'll blend into the fabric of the landscape and fall asleep to the calls of the wild. You'll have an adventure.
Here's what to expect on a small group camping tour through Africa.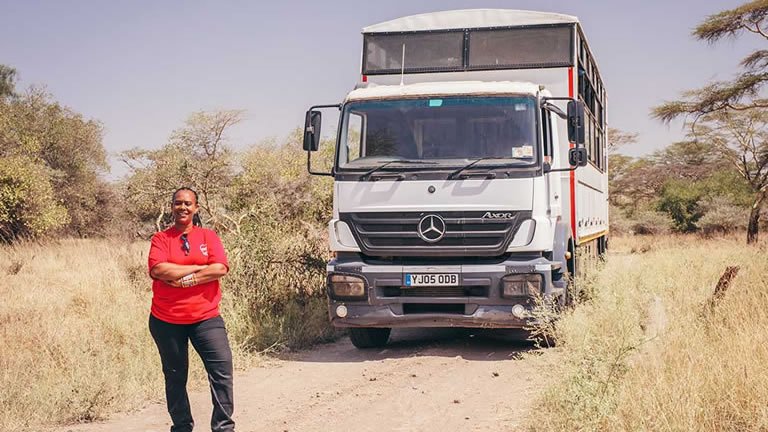 Transport & Days on the Road
Overland camping tours in Africa are operated in small groups to truly immerse travellers in each destination. As well as enhancing the experience by keeping group numbers down, it just isn't feasible to have big groups and large coaches traversing this often-rough terrain.
Traveller numbers are usually capped at 12 to 18 passengers depending on the tour operator and the journey, so you'll travel in a custom-built truck that fits you all comfortably along with your luggage and camping gear, from tents to cooking utensils. Usually this customised vehicle will also be used for your game drives, although in some cases you may take safari drives in smaller 4X4 vehicles for more intimate viewing opportunities, where the terrain permits.
You can expect to have some long travel days as you move from one camp to the next, with toilet and meal breaks along the way. Often there will be no facilities, so be prepared to get acquainted with the 'bush toilet'. The roads can be quite bumpy, but luckily the trucks are designed for the terrain and you can kick back comfortably watching the vast savannah and varied landscapes unfolding beyond your window.
While it is hard to tire of the scenery it can be worth packing your headphones and music or podcasts if you are so inclined. WiFi may be intermittent or non-existent on your trip, so download anything you may need beforehand. Alternatively, perhaps simply enjoy a digital detox - daydreaming and knowing you are doing exactly what you should be – absorbing Africa. Your main bag will be stored in the luggage compartment, but you'll be able to carry a day pack in the truck with you – be sure to swap anything you'll need day to day into your smaller pack.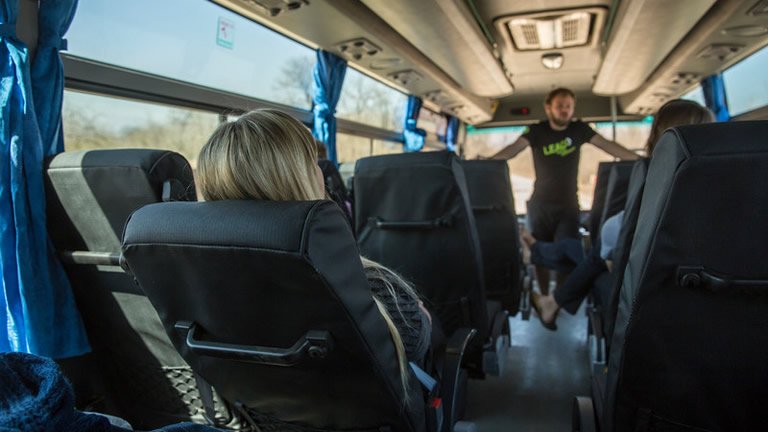 Campsites & Facilities
Campsites are usually of a high quality, however, don't expect Western standards. Depending on the itinerary you may find anything from a very basic bush camp to a site with hot showers, a bar and even a swimming pool to enjoy at the end of a day of wildlife spotting. If your tour camps within safari lodge grounds you will generally be able to share the facilities of the site, and if there is availability, you can sometimes upgrade to a room locally should you choose.
Often campsites will have no fences and you'll need to remember that you are in the wilds of Africa. Wildlife may find its way into camp or nearby, and while this is a cause for caution, not concern, it is part of what makes the experience so special. Sit back in your camp chair watching elephants lumbering by in the distance, or wildebeest kicking up dust on the horizon.
Camping is generally in two man tents (complete with insect netting) which will travel with you and be erected each day upon arrival at camp. However, on some itineraries you may also stay at permanent tented camps where they are already set up and waiting for you. If you are travelling solo, you will usually have the option to share with another same sex solo passenger at no additional cost or pay a single supplement to have a tent to yourself throughout the journey.
Most operators will provide all the equipment necessary for your camping experience, including a camp mattress or sleeping mat. These are generally quite comfortable, however, if you have a bad back it might be a good idea to bring along your own for some extra comfort. To save space it is advisable to invest in a lightweight inflatable mattress.
Similarly, if you need to bring along your own pillow (you'll find this in your trip notes or operator packing list if required) then an inflatable one is the way to go – this can also come in handy for long travel days in the truck. Always consult the trip notes for the tour you are considering, to check for the essentials that you need to bring along (this may include a sleeping bag or bed sheet) to make sure you are equipped for a comfortable journey.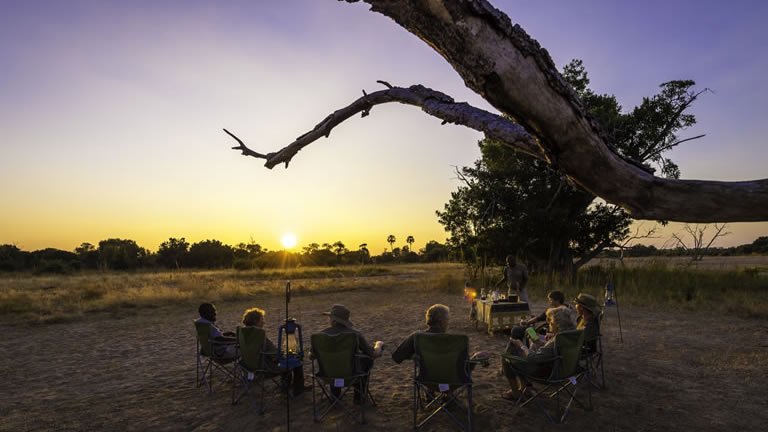 Participatory vs Full Service Camping
Depending on the style of your camping tour, you may find terms like 'participatory camping' and 'full service camping'. Every overland tour operator runs their camping trips slightly differently. On some you will be expected to participate in every element of the experience including all the chores around camp. This will mean unloading the truck, putting up and taking down your own tent, helping to prepare and cook meals, and washing up after mealtimes.
On other trips you might be expected to take care of your own gear – handling your own luggage and assembling your own tent – but chores around camp like cooking and cleaning are done for you. Some operators refer to this as full service, although you are expected to manage your own luggage and tents. For others, full service or fully supported trips even take care of that for you. The support team will carry your gear to camp and pitch the tents for you, cook and clean and manage all the camp chores, so all you need to do is enjoy your surrounds.
You'll find the participation requirements of your tour detailed in the trip notes so you can choose the style that suits you. Don't be deterred by the everyday jobs around camp – often chopping up ingredients on a camp table in the middle of the Serengeti or cooking over a campfire with your fellow travellers is all part of the fun. However, if you'd rather leave the chores at home, there are still plenty of overland camping tours in Africa where you won't have to lift a finger except to point out a big cat on the horizon.   
Early Starts & Incredible Days
If you aren't usually an early bird and envision lounging around the camp enjoying a morning coffee, then get ready to embrace the coming of dawn. You'll have early starts most days, whether this is to make tracks on a long travel day or to spot the wildlife stirring on a dawn game drive. Each evening, your tour leader will give the group a briefing and keep you posted about what is required the following day – sometimes it will mean being up well before sunrise with breakfast in your belly and tent neatly packed away.
This is the best way to get the most out of your small group African safari. There is usually plenty of time for sleeping in the truck to catch up on any lost zzz's and you'll be glad you used every second of your time in the wilds of Africa exploring all it has to offer. 
Daily excursions will vary depending on your itinerary and where you are travelling in Africa but expect to be in complete awe of the landscape, the wildlife experiences that need to be seen to be believed, and the cultural encounters that you'll have along the way. Each day will be different and while you're itinerary is a good guide, every day on tour can be full of unexpected wonders.
This guide to overland camping tours in Africa might take some of the mystery out of these small group tours, but hopefully it will assist you to prepare, make the best choice of camping tour for your needs and to encourage you to take each moment as it comes. Give yourself over to the wonderous surprises that await.