18 October, 2019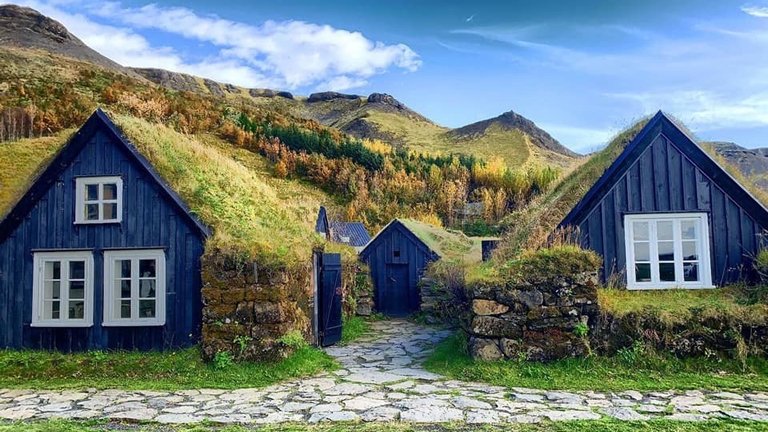 I have recently had the privilege, thanks to Collette, to travel to the majestic wonder that is Iceland and wow did this tour exceed my already high expectations!
I could tell this story in pictures only, no words required! You would not be disappointed in the slightest but let me tell you a little about my fabulous itinerary – a slight variation of Iceland: Land of Fire & Ice.
Day 1 - Arrive Reykjavik
What a diverse and culturally immersive place! This city prides itself on celebrating diversity and difference. Albeit a major city, this is a small town in the grand scale of cities. However, it does not disappoint.
Collette stays in a very central and convenient location in Old Town. From here you can walk to many major attractions and it is also located very close to shuttle services if required. Not far from the famous Icelandic Hotdog stand, which is a must try if you ask any Icelandic person! (It is important to order the Hotdog with the lot, do not question it!).
In the afternoon we did a walking city tour which was great for getting an introduction to Reykjavik and to the local history and important landmarks.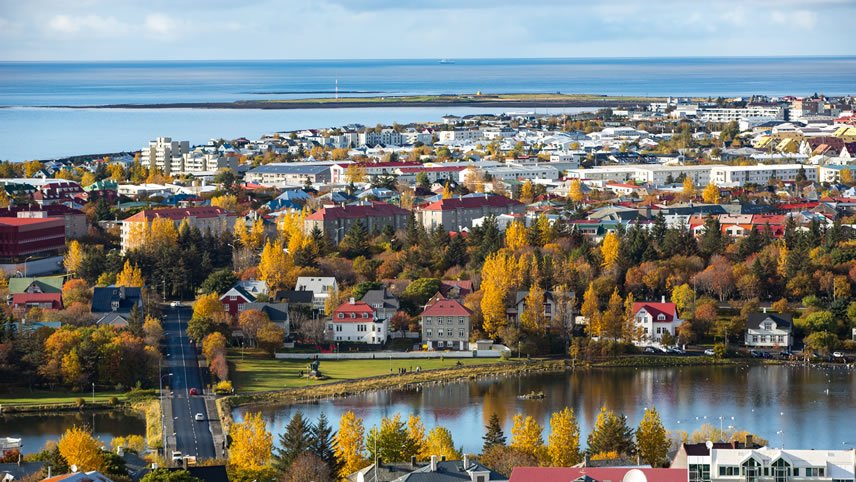 Day 2 - The Golden Circle
The Golden Circle of Iceland is the tour people take when they visit Iceland for a weekend, or a short trip. It is the crème de la crème of nature tours and really captures in short what Iceland is all about. Thingvellir National Park is the first stop on this Circle tour.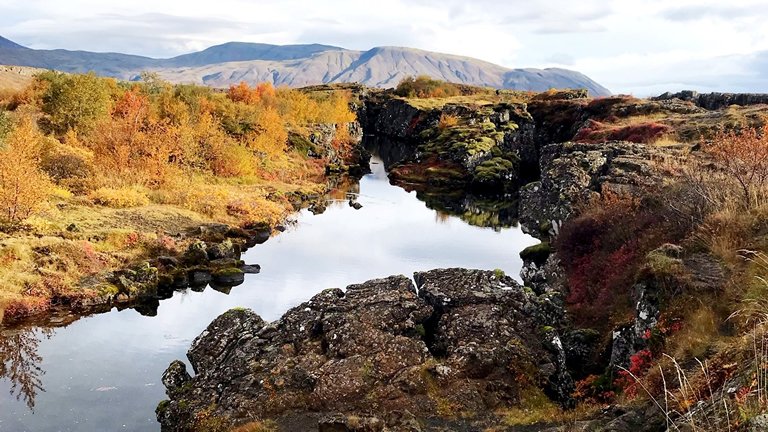 This UNESCO site marks the crest of the Mid-Atlantic Ridge, the meeting point of the North American and Eurasian tectonic plates.
Whilst the time of year I was in Iceland (late September/early October) is considered 'Off Peak', I personally loved the Autumn colours. Whilst it was cold it was manageable. (I also enjoyed that the tourist attractions were a lot less packed than in the peak season summer months).
Next stop on the Circle is Gullfoss Falls, one of Iceland's most iconic waterfalls. Their sheer size dwarfs everyone who comes to check them out (not hard for me, given I am under 5 foot!). But yes, those are little people you see by the falls in the image below!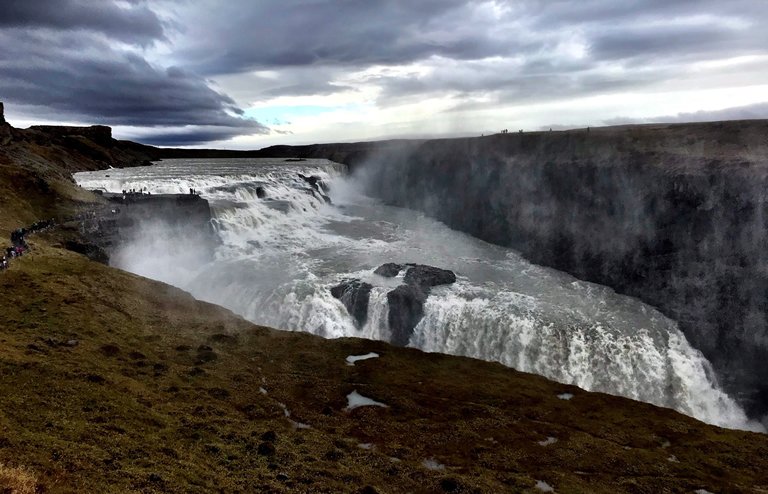 Next stop, the Thermal Area of Geysir. This is a favourite for a lot of travellers making their way around Iceland, with bubbling mud pits and active blow holes. Every seven minutes this hot spring shoots up to almost 30 meters (90 feet) in the air. The Golden Circle is really witnessing mother nature at her finest.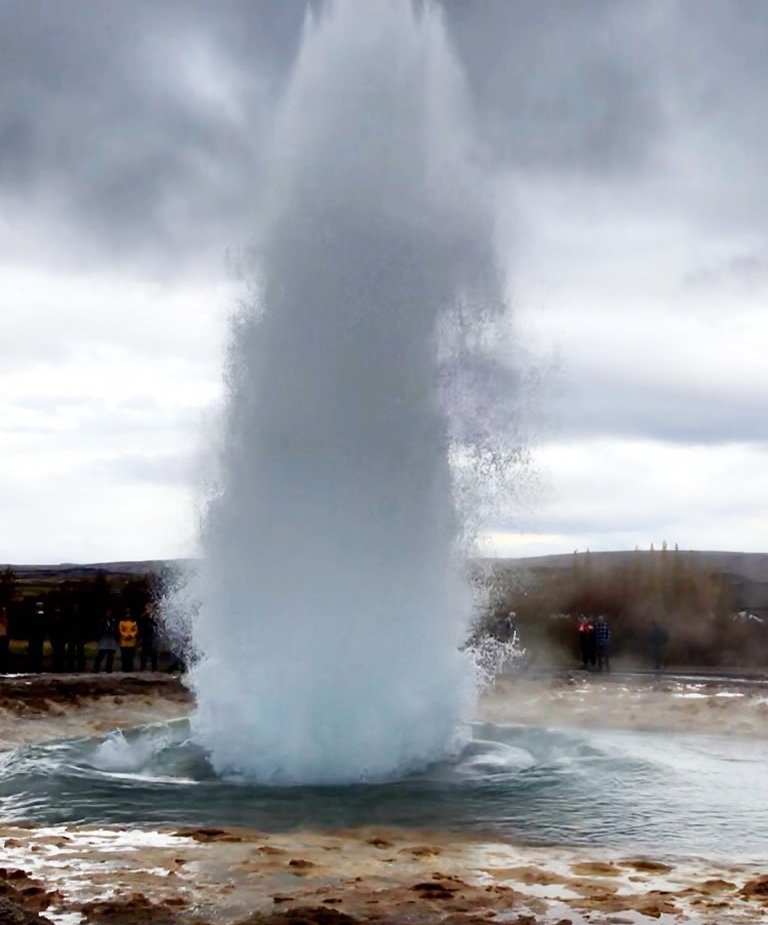 This afternoon we stopped at Friðheimar greenhouse cultivation centre. This place grows tomatoes and other produce in the local greenhouses all year round, thanks to the cheap and sustainable Geothermal energy created in Iceland. No spoilers, but this stop at the greenhouse was an unexpected highlight of my tour!  
Day 3 - On Route to Vik
We started our day en route to visit one of Iceland's largest Geothermal Power Plants and the second largest in the world. This is a fascinating stop. Here we learned about the renewable energy of Geothermal power and how sustainable it is for the environment.
Coming from Australia, I have never even heard of Geothermal power, so it was really very interesting to learn how this works and how they use nature to heat the water that they use to shower, heat the housing and keep the roads from icing in winter.
When you turn on the cold tap in Iceland pure, icy cold water streams out straight from the natural springs that are so readily available (also the most delicious water ever!). Turn on the hot tap and hot water immediately comes from the faucet (no delay at all). This hot water smells slightly of sulphur as they use natural resources from the ground and transport this directly in pipes to villages around Iceland. Really innovative thinking!
In Iceland, you also can no longer buy Petrol powered cars. All new cars are electric or Hybrid and Icelanders are very passionate about sustaining the planet and creating a better future.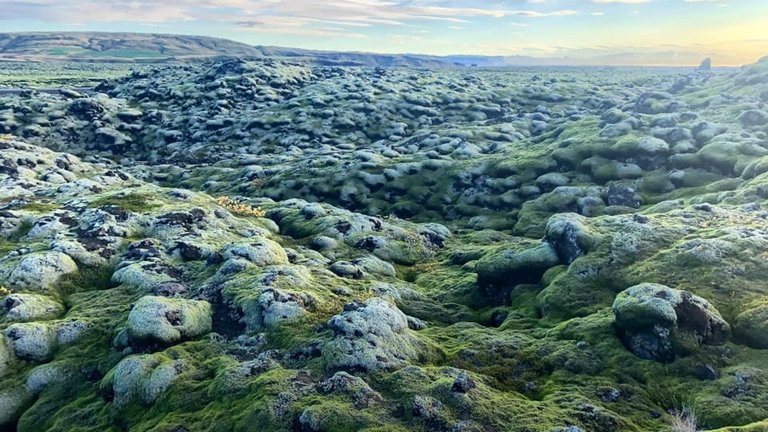 This afternoon we stopped at the Lava Centre and learned about Volcanic eruptions throughout Iceland's history and in fact, how Iceland even came about at all. Very fascinating.
Tonight we stayed in our next hotel in Vik - Hotel Katla by Kea. Where Collette stays in Vik, it is slightly out of town, however strategically chosen to be so. This hotel was a renovated farmhouse and will be undergoing more renovations in the near future.
I loved this place! Whilst the accommodation was somewhat basic for a four star property, the location was authentic and it really felt like I was in the middle of nowhere. Perfection!
The hotel also has its own natural Geothermal spa, so 'naturally' I found myself utilising this daily!
At this hotel, I also had the pleasure of ticking something off my bucket list that has really been at the top of the list for the better half of a decade - The Northern Lights! No words or pictures will ever do justice to this natural phenomenon and I feel truly thankful to have had a chance to see it.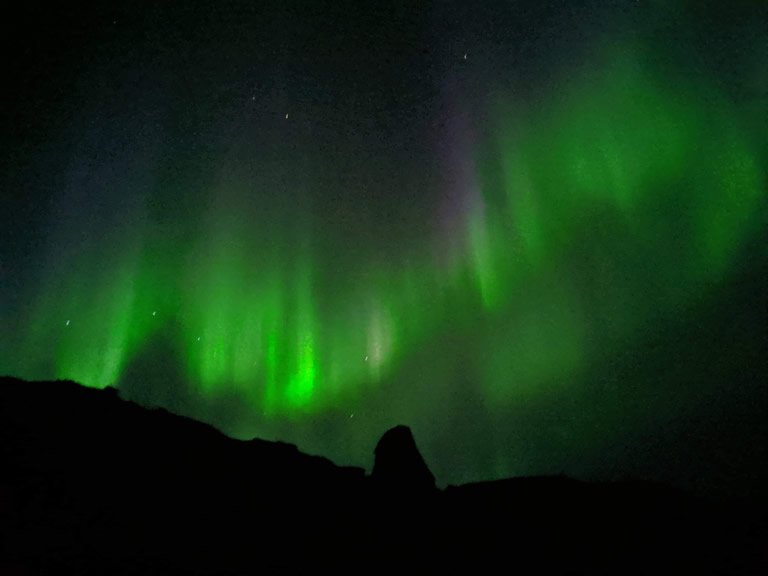 Day 4 - Skógar Museum
Today we travelled to the Skógar Museum to learn a little about the Folk history of Iceland and saw their original grass roofed houses, in which Icelanders used to live.  
Next stop Skogafoss - as usual a picture paints a thousand words.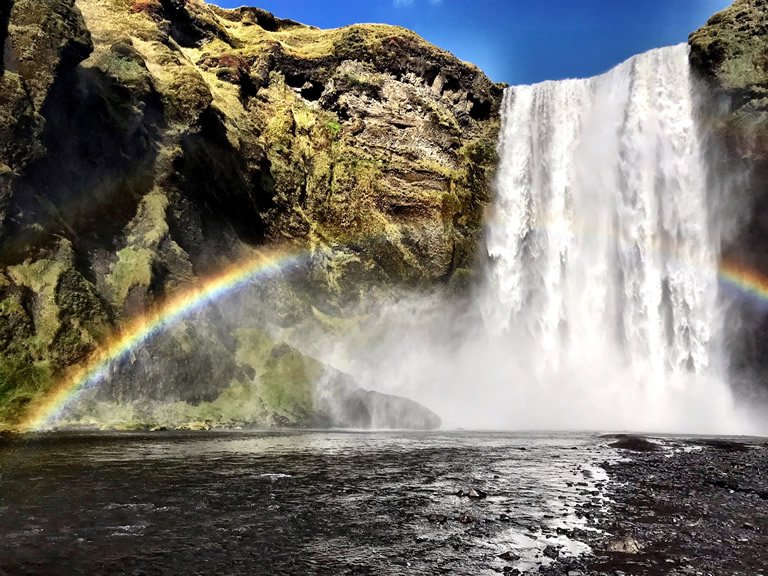 Day 5 - Black Sand and Diamonds

Today we visited Black Sand Beach, Diamond Beach and the beautiful Glacier Bay. This beautiful site features black sand and glacier ice glistening like diamonds. Not to mention the seals feeding in the bay! Spectacular right?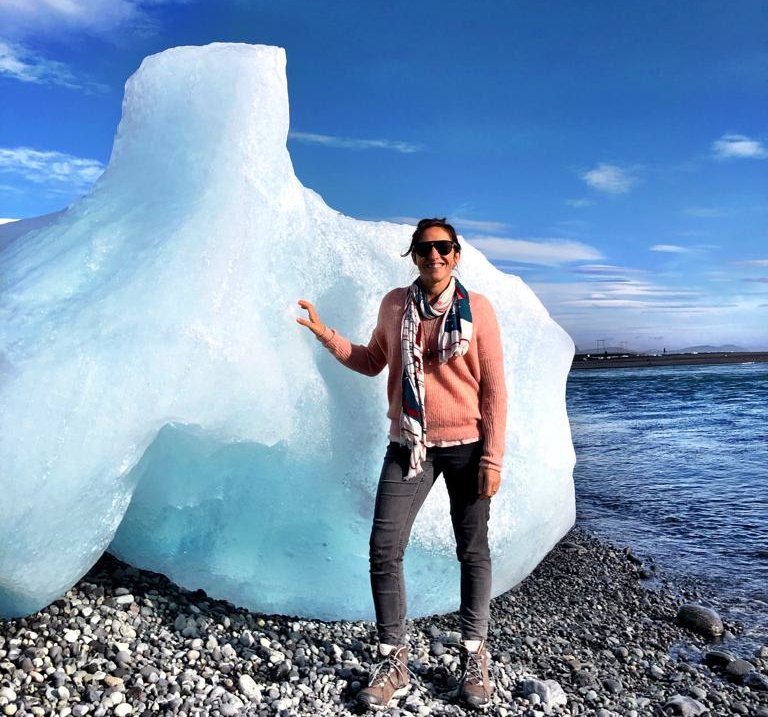 Day 6 - The Blue Lagoon

Sadly, we leave our beautiful little getaway in Vik and head back to Reykjavik for the last night of the tour. Today is the day everyone is waiting for… It's the Blue Lagoon!
I have to admit, I was sceptical I would enjoy this experience. As much as I enjoy all the beautiful pictures I see of the Blue Lagoon, I assumed it would be jam packed with tourists - everyone fighting for that one corner of the lagoon to get a photo where it looks like they are the only ones there.
Surprisingly, the Blue Lagoon is huge! No scrambling for that spot required, so much room to relax and feel alone and soak it all in…I loved it.
This is me getting younger in the Blue Lagoon!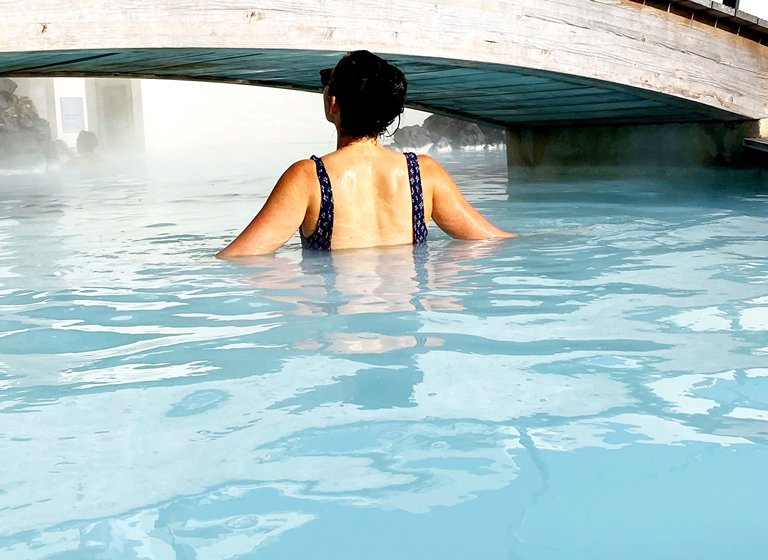 Day 7 - Goodbye Iceland!

Today is our last day, and we head off back home!  
No words can really give Iceland the justice it deserves. There were more marvellous pit stops on our itinerary that I have not mentioned, not from lack of impressiveness but purely because all the stops were just as impressive as the next… waterfalls galore!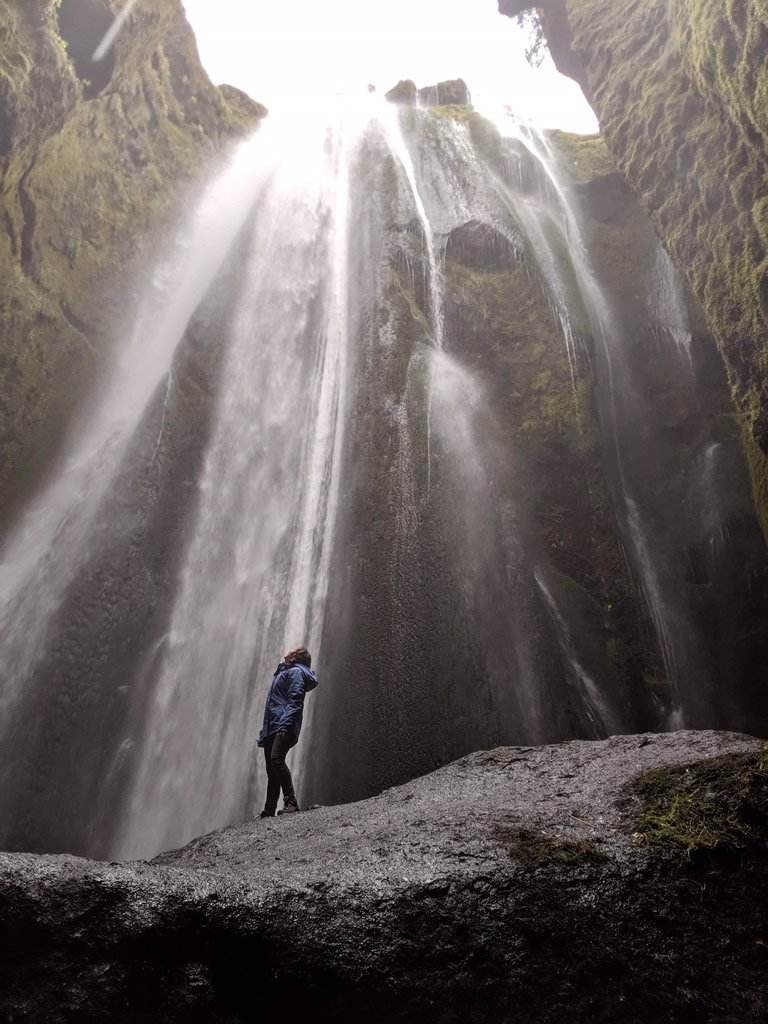 What did I love about Collette?
In comparison to other similar standard premium operators that do a seven day itinerary of Iceland, Collette stay three nights in Reykjavik and three nights in Vik. A lot of other operators spend one night only in each place and circumnavigate the island in seven days. This might get you around Iceland in a week, however I really enjoyed that Collette had the multi night stays, I really could just slow down and enjoy all that Iceland has to offer. I did not think or feel I missed out on anything.
My #1 Tip
I was extremely lucky on my week in Iceland. They say the weather changes ten times in a day and whilst I did not experience much of this, it is best to go and expect rain and then more rain. If you check the weather and the sun is shining on that day, still expect rain! So, pack your rain gear! This is also beneficial for walking behind the powerful waterfalls, you will get wet! Also, pack good waterproof shoes.
Iceland in a Nutshell
If you are a city slicker and love to visit the bright lights and sights of a city, shop, rail and dine around…Well do not go to Iceland. This place is not for you! If you love nature, in all its powerful and magnificent glory, unspoiled as yet by human interference, then Iceland is the number one place I can recommend for you.