21 May, 2019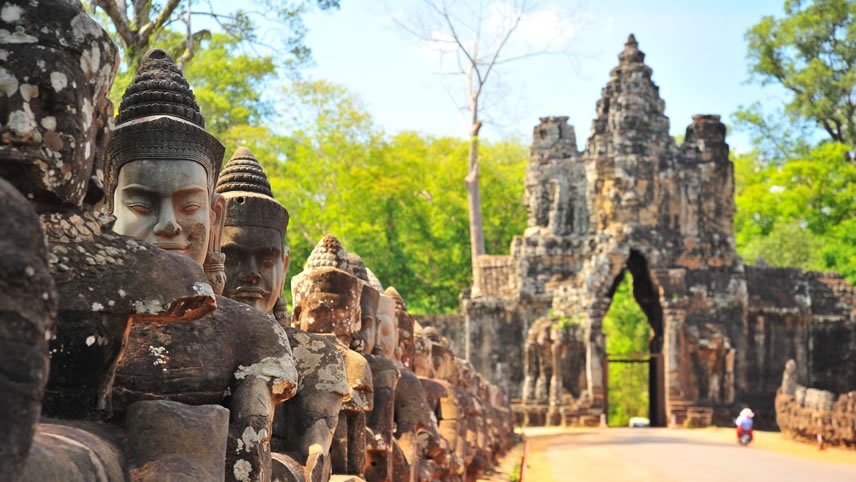 I've always wanted to visit Cambodia, I mean, who doesn't want to see the silhouette of Angkor Wat against a backdrop of an epic sunrise? So, when I saw the opportunity to take some leave and set off on a quick adventure (inspired by a string of public holidays), Cambodia shot straight to the top of my seemingly infinite list.
I weighed up travelling independently and taking a tour and it was a tight race, but with no tours fitting within the dates of my impulsively booked flights, I decided to go it alone (with my partner in tow). Having toured and travelled independently before I found myself making comparisons as I sat on my backpack on the airport floor, slightly bedraggled, looking back on my trip. Here's how my independent travels in Cambodia went, and how it stacked up against my guided touring experiences.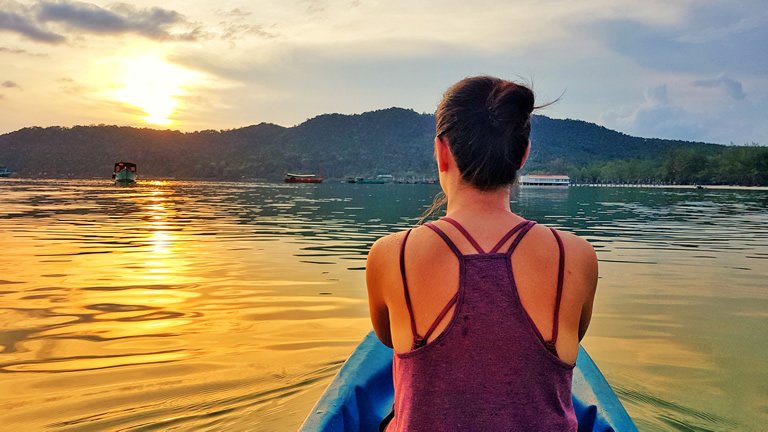 Planning Takes Time if you Go it Alone
It's a no brainer really – it takes more time to plan an independent holiday. It can be stressful, although personally I don't mind the research as I learn a lot about a place while I narrow down what I want to see and do. My partner likes history, I like culture and food. For this trip we had to cut back on some things to work around bus and ferry timetables, something that you don't need to worry about when you are being effortlessly chauffeured around on a tour.
I did miss knowing that there would be a coach waiting for me when it was time to head to my next destination, rather than having to spend an hour getting to a depot and waiting for a bus that may or may not be on time. Touring does save time in that sense and is a very efficient way to explore a destination, particularly if you only have a short window. It also takes a lot of effort out of planning and alleviates the pressures of decision making, so unless you enjoy that kind of thing and have the time to do it, touring may be for you.
I settled on visiting Phnom Penh for some modern history, Siem Reap for some ancient history, the island of Koh Rong Samloem for some relaxation and exploration, Kep for some local life (and seafood), and pretty much everywhere for cheap street eats and 50c beers. To squeeze it all into our calendar and make sure everything fit together was a bit like a game of Tetris, and even though I did a lot of it on a whim, there may still have been a detailed spreadsheet and a few debates over a traditional Amok curry.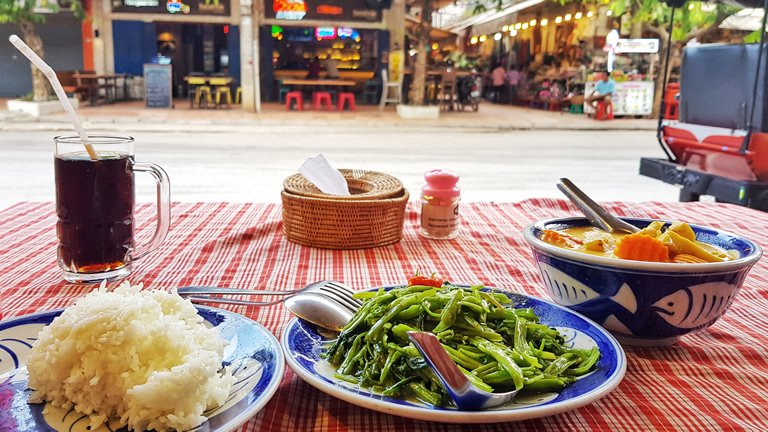 On the Road – The Challenges of Getting Around Cambodia Independently
We had plenty of 'interesting' experiences getting around by ourselves in Cambodia, many good, some not so great. We travelled primarily by bus on long distance trips and, for the most part, were pleasantly surprised. We had comfortable seats, aircon and even seatbelts on our day buses (although when another traveller asked about seat belts on our night bus she was laughed at – safe to say it was not a thing!). While they didn't hold a candle to the coaches we had experienced touring before, we couldn't complain too much about these.
Things did fall apart a little on a couple of our trips where we hadn't pre-planned or adequately researched our buses. Coming off the ferry from Koh Rong Samloem we had the address of a company offering a direct service to Kep so we threw on our backpacks and walked in 39C heat and what was surely 150% humidity to where the depot was meant to be. It was now a casino. We paid an irrational amount of money for a tuk tuk back to the pier, whose driver took one look at us and knew we would pay whatever he asked to not have to walk back up that hill, and we begrudgingly obliged.
After a heat-fuelled discussion and a good 10 minutes of stony silence where a near-breakup ensued, we agreed to book through the pier office on a service to Kep via Kampot. We were assured there was only a quick 10 minute stop in Kampot to let some other travellers off, and we would be happily on our way to Kep – finally.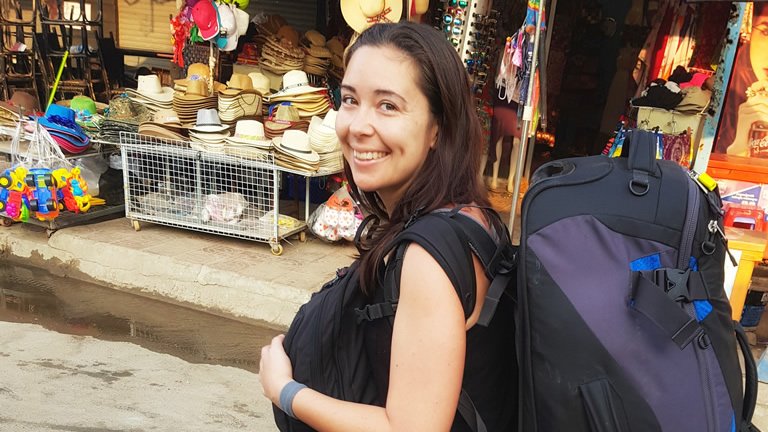 That is when the wheels really came off. Not literally, but I must say on what we now refer to as 'death road' they probably came pretty close. We rattled in an old shuttle with temperamental air conditioning along a road that alternated between bitumen and gravel, with trucks overtaking each other and playing chicken, indifferent to the conditions.
In that moment, I would have taken solace in having a reputable tour coach, and driver. I reflected back to when we toured Morocco and all those windy roads expertly navigated by our driver, and thought longingly for Walid. Instead I was fearing for my life, sharing leg sweat with a random Frenchman and a fraying leather seat, so, touring takes the points here! After seeing said Frenchman nervously checking his Google Maps, I realised that the ordeal wasn't even close to over.
The rest of the busload got off in Kampot when we finally arrived, and we were told to get off and wait for another bus to Kep. We were in a back alley with a half-plucked chicken running around our feet, wondering if there was even another bus at all.
Eventually after more than an hour waiting, a tuk tuk ride to another depot, a pep talk, and a second bus ride we made it to Kep – a seven hour journey that was meant to be three. Oh, and did I mention we both woke up sick after braving a beachside barbecue the night before? That was a rough day. Hilarity in hindsight goes to independent travel, but on the day, this one hands down goes to touring.
All About the Experience - To Sightseeing Independently or Take a Guided Tour?
When you go somewhere new you really want to get to know a place, the history that shaped it and the people that define it. To educate ourselves we used audio guides at sites like the Tuol Sleng Prison and Killing Fields, which were well put together. I can imagine though that the human element of a guide here would add to the experience, which most tours of Cambodia that visit Phnom Penh offer.
For one of the iconic highlights of Cambodia, the Angkor temples, we hired a tuk tuk driver to take us around. Knowing that we wouldn't have a guide here, we spent a couple of hours the day before at the Angkor National Museum absorbing some of the information we wouldn't get on site at the temples. It was well worth it, despite a tuk tuk driver making a detour to his mate's place en route to try and get us to buy tickets from him instead of at the ticket booth – something you don't have to contend with on a tour.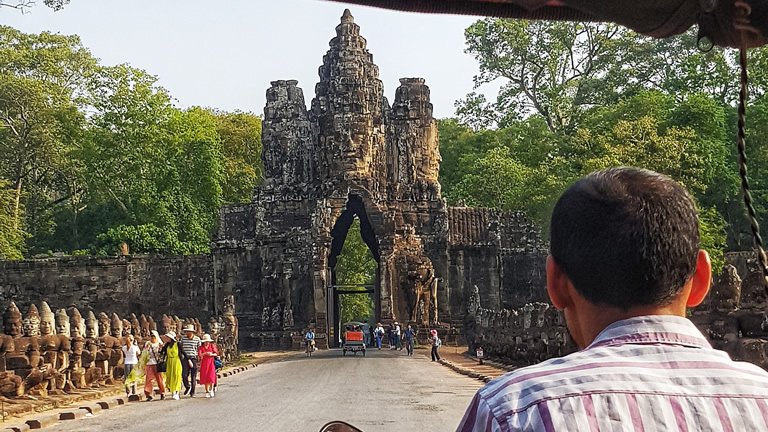 Our tuk tuk driver at the Angkor temples themselves was great, although he would pretend he didn't know the answers to our questions until we were motoring around out of earshot of others. We gathered that only authorised guides are allowed to provide 'guided' experiences here.
I am sure there is plenty we missed, and I vividly remember visiting Pompeii on a previous tour to Italy and walking obliviously over markings on the stone until our guide pointed out that they were worn and imprinted from chariot wheels. He was a storyteller, and I could almost see a horse and cart trundling down the narrow lane. Narratives like these really bring a place to life.
While we were happy with a couple black market pieces of information and the flexibility of going at our own pace at the Angkor complex, if you want the full experience equipped with history and commentary, join a guided excursion as offered by most tour operators.
Aside from the benefit of expert knowledge when it comes to history and the sites, guides can also offer a lot of local insights, cultural etiquette and helpful information like how much is appropriate to tip, what cost is reasonable for a tuk tuk, where to eat, and how to navigate respectfully through the Room of 1000 Buddhas when it specifically says not to point your toes at a Buddha statue – still a mystery to us!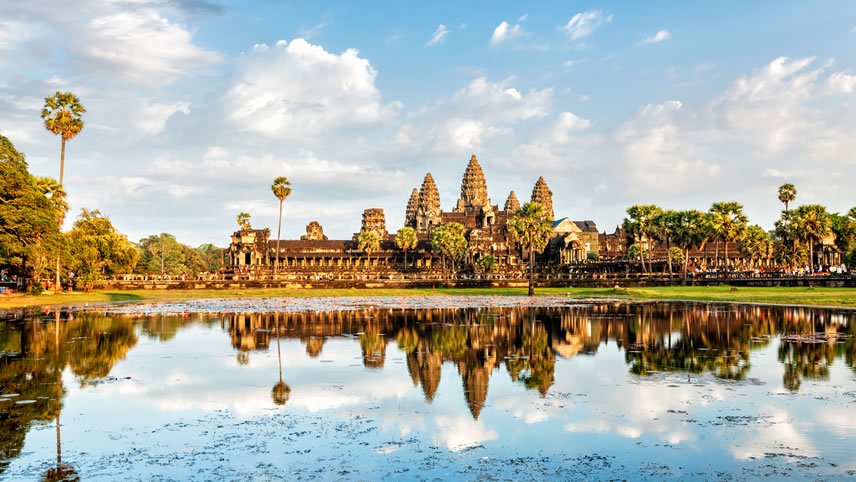 A guide can also really open up opportunities for special social interactions. We were lucky to have shared some great moments with the locals while we were in Cambodia, and found the people to be absolutely beautiful, humble and kind. However, we didn't necessarily get the chance to really connect in as much depth as we have during homestays and local visits organised on previous guided tours.
The language barrier in Cambodia is certainly a factor in building connections locally, as is time. It is sometimes difficult to communicate or find the time or means to foster relationships, and a guide can help bridge the gap between travellers and locals more easily than one can do alone. I wasn't sure how to ask a monk for a Buddhist blessing, something I had wanted to do, and wasn't comfortable approaching a survivor of the horrific Tuol Sleng Prison to share a kind word – as the travellers with a guide were able to do. Both moments that I regret losing my nerve and missing.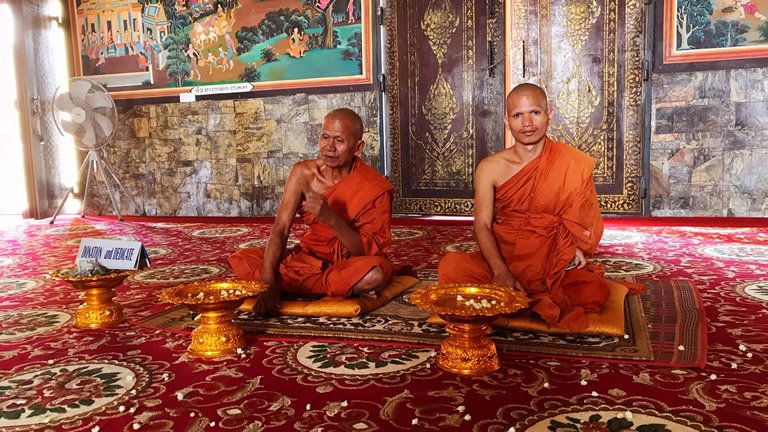 Responsible Travel – How do you Tread Carefully?
I am an avid believer in treading carefully when I travel, however, sometimes it is difficult to know what the right thing to do is and where best to spend your travel dollars. On our trip we tried to navigate these intricacies and ate at a lot of restaurants that are social enterprises to support disadvantaged youth, and similarly had a great night at the Phare Circus with the same goal. The animal-free circus experience was an absolute highlight of the trip, and if you are touring you can enjoy it on many itineraries that spend a night or two in Siem Reap.
Tour operators are very aware of the need to travel responsibly and tailor their itineraries to use suppliers with a sustainable ethos and put their money back into communities through championing local businesses and developing positive projects of their own. Tour leaders are great at being able to educate you on positive practices, and there were certainly times when we were unsure if the money we were donating was going to the best places possible. When travelling you can only hope to do nett good, and a knowledgeable guide and carefully crafted tour itinerary can help steer you in the right direction.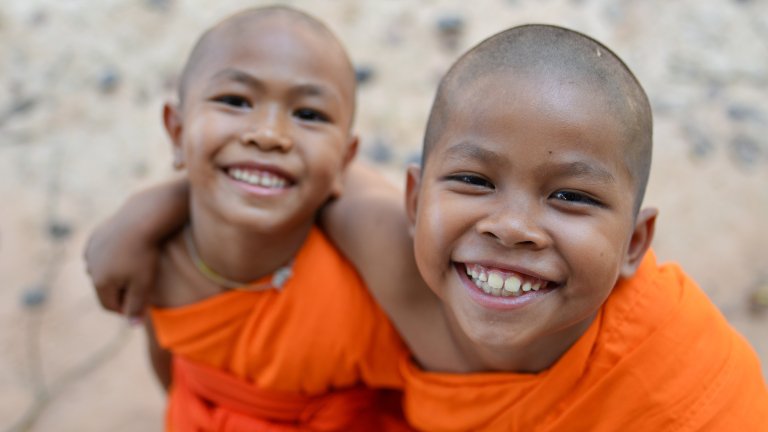 Ultimately, I loved our trip and was comfortable exploring Cambodia independently. Hiccups and all, I wouldn't change a thing (except maybe eating that beachside barbecue). We were able to take things at our own pace, tailor our days to cover off the highlights of Cambodia that we wanted to see, and had the flexibility to change our minds and play things by ear.
However, there were certainly some moments when I longed for the simplicity and ease of a tour. If you are short on time, don't feel comfortable doing your own planning, have specific interests, or don't feel at ease with inevitable hiccups, then perhaps a guided tour of Cambodia is for you. There are a range of operators to choose from, so you can find the balance of guidance and independence that suits you best. However you do it, one thing is for sure – Cambodia is worth a visit.