30 August, 2019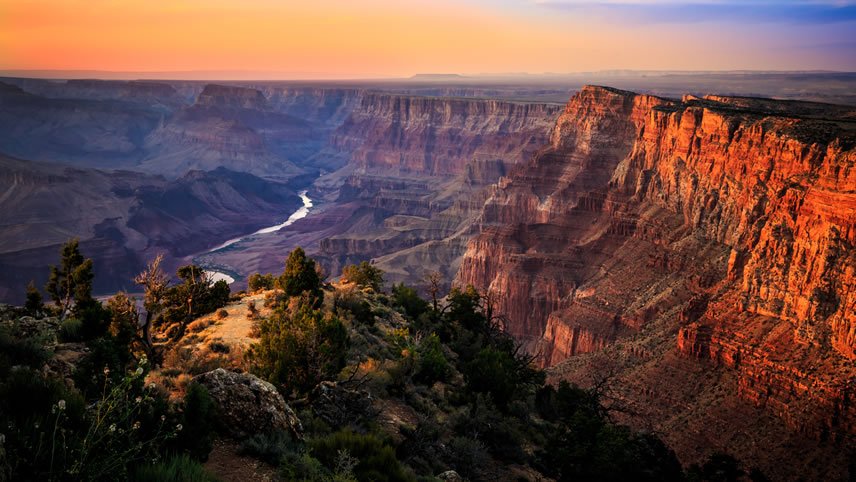 You've seen it a thousand times before on glossy pages and illuminated on your touch screen, a kaleidoscope of deep reds, shadowy ink blues, soft orange, and blue-green pixels telling a story roughly two billion years in the making.
The Grand Canyon wasn't named on a whim. It is utterly beguiling – vast in size and splendour. It has earned all its glory and its superlatives. A distinctive scene of varied rock formations throwing colours and shadows in a well-rehearsed daily dance with the sun.
The Colorado River weaves its way between these rockfaces like a silken scarf draped on an already impressive landscape. It runs 446 kilometres (277 miles) between the canyon walls and offers a whole new base from which to discover this masterpiece of nature.
A multi-day rafting tour along the Colorado River is an incredible way to enjoy the great outdoors, particularly in a place this, well… grand. Travelling through the heart of the Grand Canyon, a sight that most visitors only glimpse from the canyon rim before continuing on their way, is truly special. Camping on the banks of the Colorado River between adventure-filled days not only maximises your time here, but your whole Grand Canyon experience.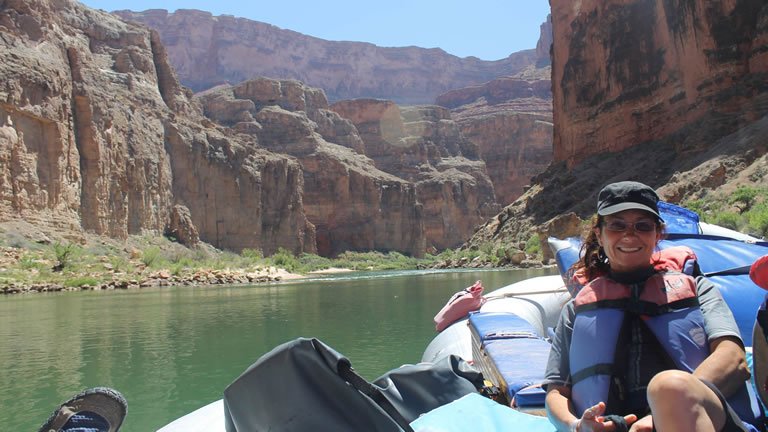 Days on the river reward with exhilarating whitewater rapids, gentle stretches to glide along taking in the awe-inspiring surrounds, and tranquil pools to paddle in. You'll have ample opportunity to get acquainted with solid ground as well, with hiking trails to explore beyond the riverbanks.
Travellers of all fitness levels can enjoy the six days of rafting and sightseeing on offer, as specially designed motorised rafts make it possible to travel the full length of the canyon without being too physically demanding and exploratory walks are offered for all levels from beginner to expert.
Each raft accommodates up to 14 passengers, and often tours are run with two rafts per departure. You don't need rafting experience to join in (although its best to be confident in and around the water) and experienced river guides are on hand to look after all the logistics.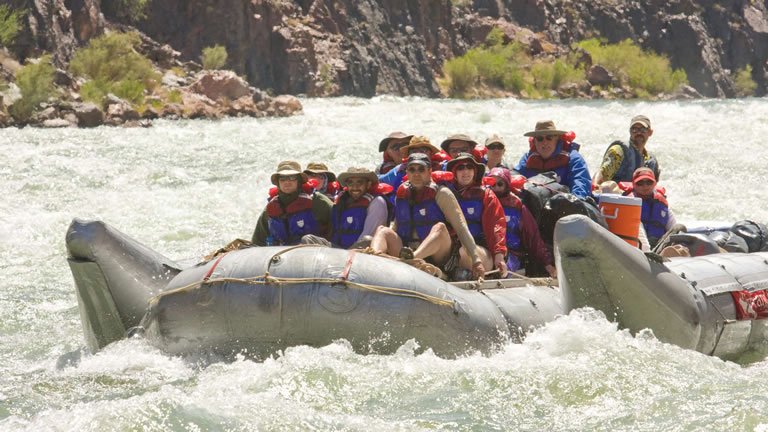 Your river guides will provide instructions on setting up and taking down the camp each day, and everyone is expected to pitch in (it's all part of the fun!). Meals will be prepared for you – imagine waking up to a hearty breakfast and the smell of fresh coffee in the morning (think bacon, eggs, pancakes, fruit, cereal etc.), picnic lunches by the river, and delicious Dutch-oven dinners.
You'll wake to the first rays of the day catching the top of the canyon walls and watch as the warm glow spills down the facades, changing their colour like paint dripping down a canvas. As the sun makes its daily journey across the vast sky above, you'll make yours along the water in its shadow, until that point in the day when the rays erupt through the canyon walls and bask the Colorado River in a radiant blaze.
Stop for lunch in a hidden grotto and refuel with a sandwich and some snacks before hiking through the side canyons that spider leg from the main chasm. The trails are incredible, and you can choose from easy paths to more strenuous ones depending on how you are feeling. Filled with awe and a memory card bursting with reminders of yet another incredible place, you'll make tracks to your next campsite where you'll fall asleep under the starry sky until the sun claims it back to do it all again the following day. What an adventure!