30 July, 2020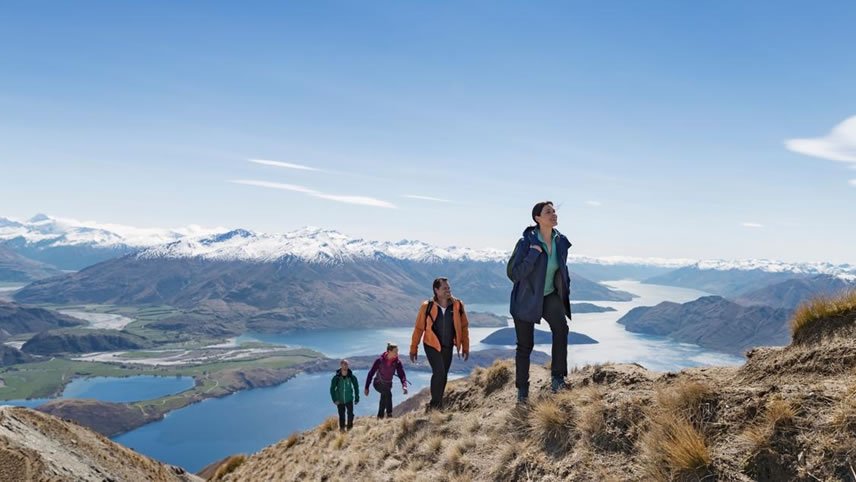 New Zealand's South Island is incredibly scenic. Raw beauty enchants at every turn and visitors are drawn to the impressive displays of nature that unravel between soaring peaks, glistening glaciers, and dramatic coastlines. Surround yourself with these incredible landscapes on a dedicated walking or hiking tour that allows you to linger longer and delve deeper into the South Island of NZ. Here are five epic trails to explore on a walking holiday in New Zealand.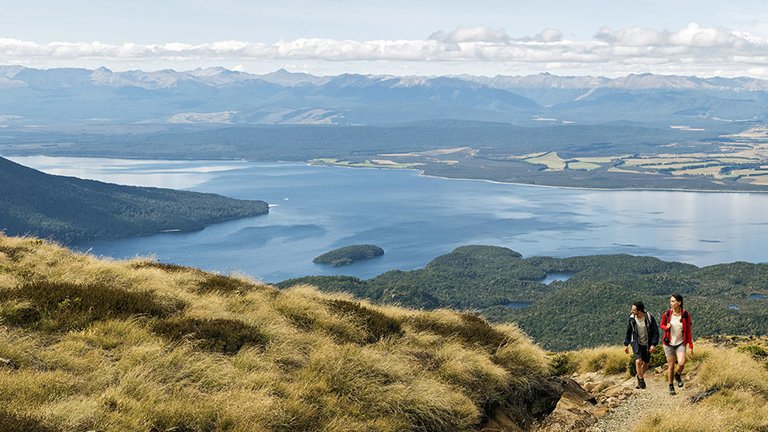 Kepler Track
The full Kepler Track is a 60 kilometre (37mi) loop starting in Te Anau. It showcases the incredible scenery of Fiordland, winding through beech forests and past valleys carved by glaciers and riverways. Walkers will explore tussock high country, pass cascading waterfalls, and take in vast alpine views. The area is also teeming with birdlife so be sure to keep your eyes peeled for various species soaring across the landscape and darting between the trees.
Designed and built for enjoyment and one of New Zealand's Great Walks, the track is of a high standard. Most walkers complete the trail in four days, however, visitors can opt to do day walks on shorter stretches rather than tackle the full circuit.
Walk part of the Kepler Track: Walking in New Zealand with Explore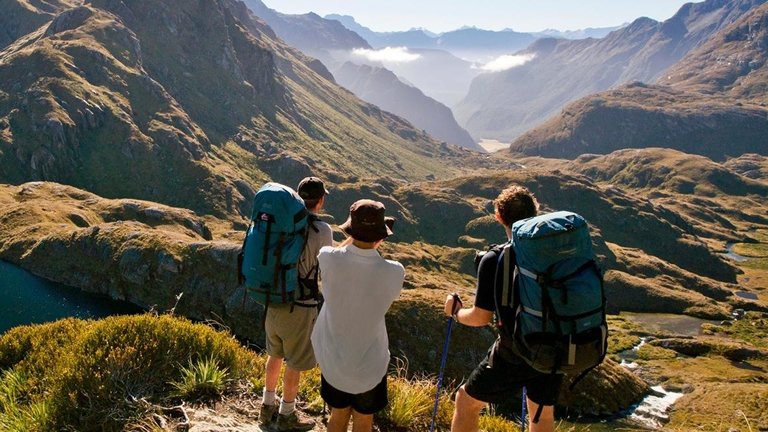 Routeburn Track
Another scenic gem and Great Walk in NZ's South Island, the Routeburn Track connects Mount Aspiring National Park with Fiordland National Park. Walkers can follow the 32 kilometre (20mi) trail in either direction, with most visitors allowing three days to take in the trail and its stunning surrounds.
Along the way walkers are treated to views of vast valleys, tranquil lakes, and towering peaks. At 1,255 metres above sea level at its highest point, the Routeburn Track rewards with incredible vistas. There's nothing quite like this landscape to remind you just how small you are, and just how impressive the natural world is.  
Enjoy a full-day hiking excursion on the Routeburn Track: New Zealand Multisport with G Adventures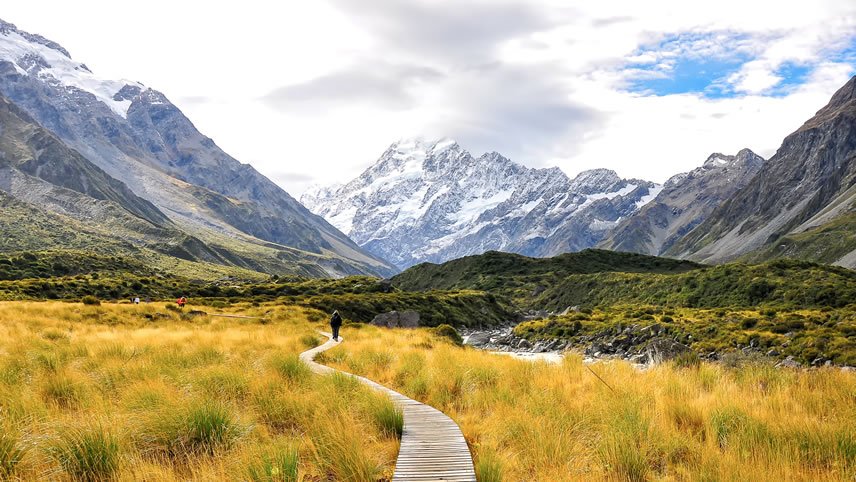 Hooker Valley Track
Nestled in Aoraki Mount Cook National Park is the popular Hooker Valley Track. This short day walk spans just 10 kilometres (6mi) return and takes roughly three hours, although you may want to spend longer in this incredible countryside.
In the shadow of Aoraki/Mount Cook you'll witness views over Mueller Lake, cross the Hooker River, and admire the Hooker Lake flecked with icebergs. Marvel at the scenery framed between high peaks and glistening glaciers as you meander the flat path and cross a series of three swing bridges along the way.
Take a day walk in the Hooker Valley: Trails of New Zealand with Exodus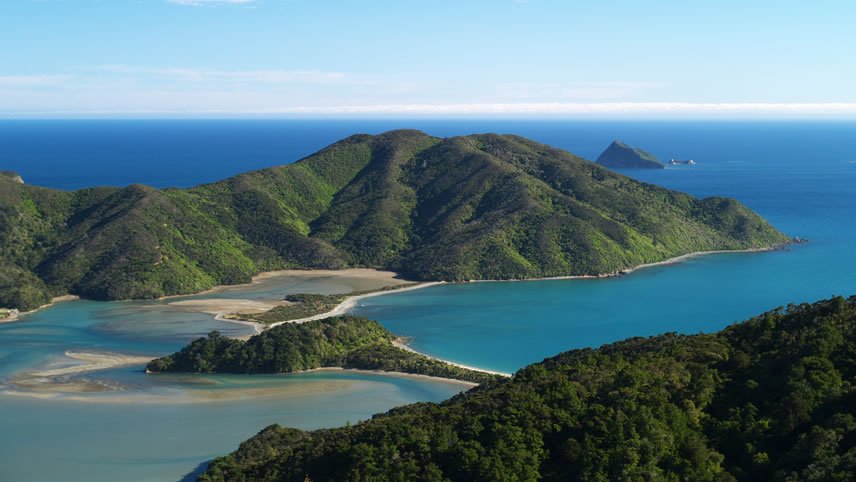 Queen Charlotte Track
The Queen Charlotte Track stretches 70 kilometres (43mi) and boasts unrivalled vistas of the spellbinding Marlborough Sounds. Walkers can admire idyllic bays and ridges that meet the skyline as they make their way from Meretoto/Ship Cove to Anakiwa in the Grove Arm of Queen Charlotte Sound.  
The trail passes through fern and beech forests and native bushland, and the pristine coastline offers the perfect setting for picnic lunches along the way. On this multi-day hike, travellers can put their feet up in the evening and refuel with delicious local produce paired with a glass or two of Marlborough region wine.
Enjoy the full four-day trek: New Zealand's Queen Charlotte Track & Marlborough Sounds with APT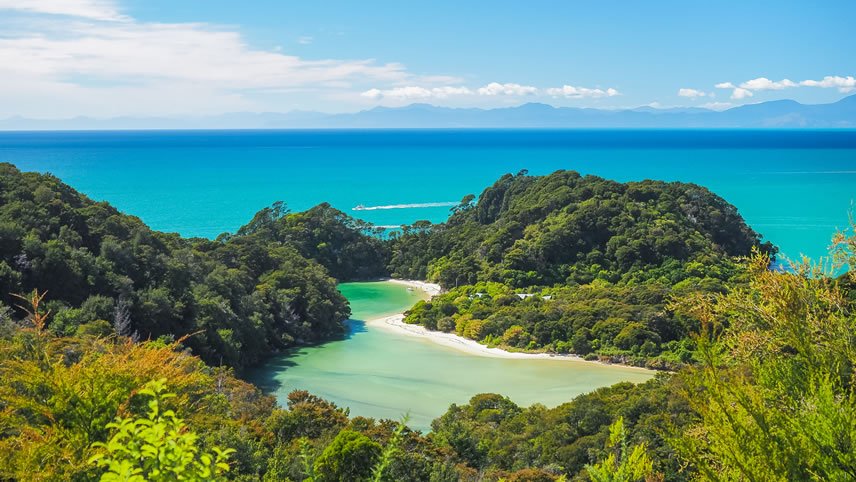 Abel Tasman Coast Track
This spectacular coastal track is certainly deserving of its inclusion in NZ's 'Great Walks' collection. Strewn with golden beaches and teeming with wildlife it is a great way to soak up the natural beauty of Abel Tasman National Park. Wander through beech forests, cross estuaries, marvel at sprawling bays, and discover tumbling waterfalls and hidden rock pools throughout the park.
Spanning over 50 kilometres (31mi) the full trail usually takes three to five days to complete, however, visitors can spend a day trip exploring just a portion of it. The track is easily accessible by boat, so it is popular for day walks as well as for those looking to complete the full journey.
Walk part of the Abel Tasman Coast Track: Walking in New Zealand with Explore