13 August, 2019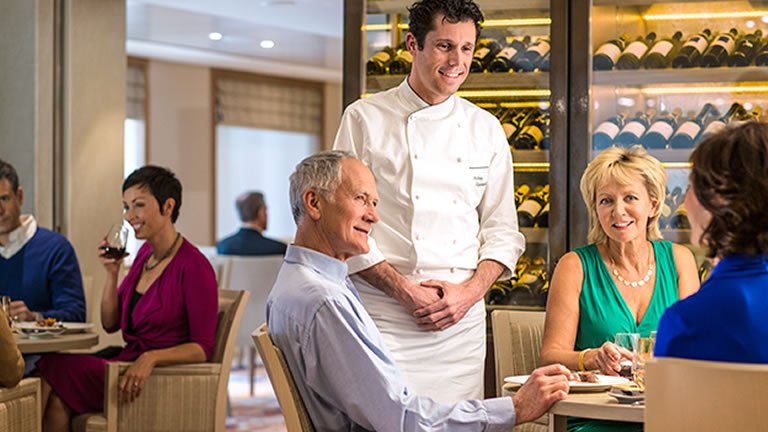 Is the Viking Silver Spirits package worth it?
That really depends on….
how many drinks you're likely to consume each day
whether you're particularly particular about your wine
whether you're the type of person who likes to pay for things up front, so that you can relax and not have to think about the cost each time you order another drink.
So how much is it?
Viking's Silver Spirits Package costs around $USD 20 ($AUD 29) per person per day. We think that's actually a pretty good price, especially considering the cruise drink packages other cruise lines offer. Also note that both guests in the stateroom must buy the package for the entire length of the cruise.
So it's a reasonable price, but is it worth it?
Let's look at it two ways.
What beverages do you get if you don't buy it, and
if you do buy the package, will the cost of $20 pp day make it worth while?
Every passenger receives complimentary house wines, beers and soft drinks with their lunches and dinners onboard. Plus specialty coffees like cappuccinos and assorted hot teas are available 24 hours a day too.

If you're booked in a Penthouse Veranda Stateroom (or higher level suite) your in-room mini-bar is stocked with alcoholic beverages, soft drinks, water & snacks and these are replenished once a day.
Finally, Viking have a relaxed policy of allowing guests to bring alcohol with them, or you can purchase alcohol onshore in destination and bring that onboard during your cruise. This alcohol can be consumed in your stateroom or in public spaces, including the restaurants.
As an added bonus Viking do not charge a corkage fee! So you've got plenty of opportunity to enjoy a drink or three every day on the house, but what if you want a bit more?
Is the upgrade to the Silver Spirits Package worth the price.

Again Viking's bar costs are not exorbitant with the average price of a cocktail, martini or whiskey sitting somewhere between $ USD6 to $ USD8 per drink - including the tip.
Beer sits somewhere between $ USD5 to $ USD6.50 per beverage.
So you'll need to individually purchase 3 to 4 drinks per day (over and above what you'll drink during lunches and dinners) each, to cover the $ USD20 pp per day.
For many, this will be easy – especially during your "at sea days" when you have more time to relax. On days when you're in port sightseeing and enjoying shore excursions you may struggle to reach that quota!
Conclusion

If you've read this far, you've probably already made up your mind, but here are a few other tips and insights that may sway your decision one way or the other.
Viking's destinational house wines are surprisingly good and vary along your cruise.

The Silver Spirits Package allows you to choose from an impressive range of premium wines.
Silver Spirits covers any drinks (excluding champagne) up to $ USD15.00 per drink

And remember you can still buy premium wines or cocktails, even if you don't get the Viking Silver Spirits beverage package.
USD is the currency used for all purchases onboard. (It's Euro's on Viking's River Cruises)
If you decide you want to purchase Viking's Silver Spirits Package, with your Viking Ocean Cruise or River Cruise let your Global Journeys Travel Advisor know when enquiring with us (there is an option for you to tick when you fill out our enquiry form) and we'll calculate the price in your currency and add it to your cruise quote.

You'll have the option to remove it, if you change your mind before paying your cruise deposit.