10 August, 2020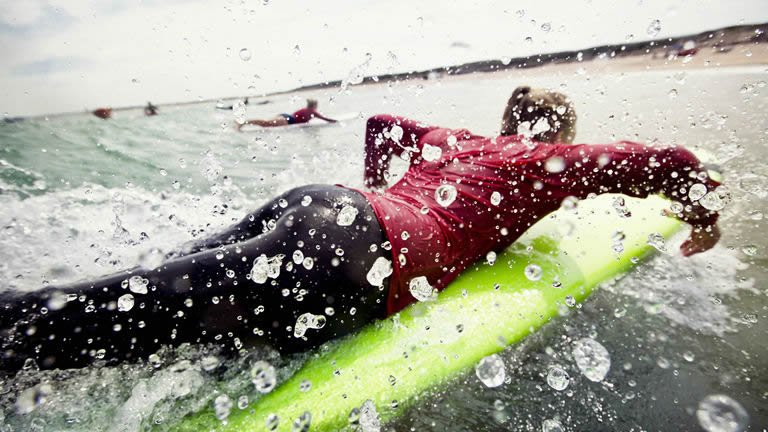 New Zealand is home to many bucket list experiences and iconic sights. However, there are also many hidden gems that you may not have considered for your NZ holiday. Here are some off the beaten path destinations and lesser known experiences you can enjoy on a small group adventure in New Zealand.
Water Sports in Raglan
Raglan sits on the scenic black sanded coastline west of Hamilton on NZ's North Island. It is a surfing mecca with the long left-hand point break on the boulder beach breaks of Manu Bay, highly regarded in the surfing world. To make the most of your time here, be sure to hit the waves and test your board skills. G Adventures' Best of the North Island itinerary includes a surf lesson during your Raglan stay, and you can also opt to join a yoga session, set off on a stand up paddle board, or hit the many hiking trails in the area.
If you're visiting this lesser known gem on Intrepid's Hike, Bike and Canyon small group adventure, you'll get your adrenaline pumping with a glow worm canyoning tour nearby. Accompanied by expert guides, you'll make your way through the streams that wind their way down from the peak of Mt Karioi. Don your gear and rappel down cascading waterfalls, and when the timing is right, you can switch off your headtorch and lose yourself in what feels like a galaxy of glowing (albeit green hued) stars.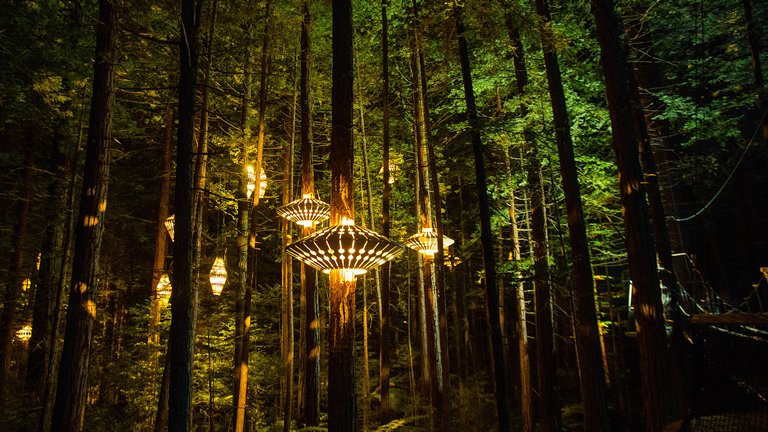 The Redwoods of Rotorua
The spectacular redwood forest is one of Rotorua's most treasured natural assets. Home to redwoods standing up to 75 metres tall, this impressive feat of nature can be admired from the forest floor or from the series of bridges suspended between the 100 year old trees. The forest is a popular attraction for visitors, but did you know you can experience it by night?
As darkness descends, 30 lanterns illuminate the breathtaking scene. These exquisitely designed works of art float between nine and 20 meters in the air and throw a beautiful glow through the trees. There are 28 suspension bridges and 27 viewing platforms to take in the spectacle, and you can enjoy this experience on a North Island adventure with Intrepid.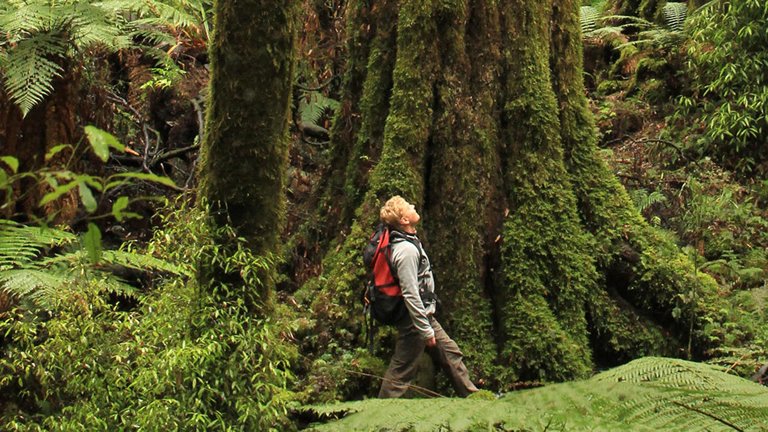 Whirinaki Forest 'Jurassic' Park
Whirinaki Te Pua a Tane conservation park is known for its ancient podocarp trees. Covering an area of 60,000 hectares and dating back more than 150 million years, this incredible ecosystem has many stories to tell. It is said that forests like these once covered Gondwanaland, the supercontinent that existed before New Zealand and its fellow landmasses broke away.
The Jurassic-like rainforest was the setting for the BBC 'Walking with Dinosaurs' series and has been referred to as a dinosaur park and living cathedral by Botanist Dr David Bellamy. You can lace up your boots and take a walk back in time through this fascinating and incredibly beautiful destination on a trekking tour of New Zealand with Exodus.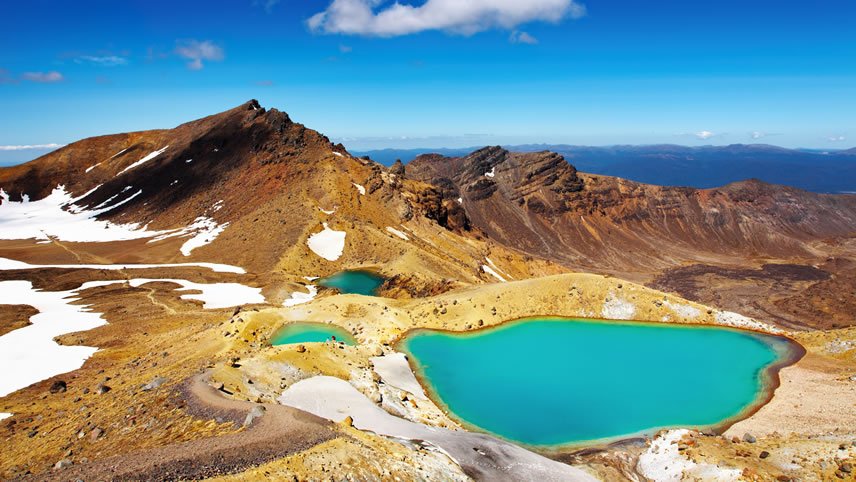 Walk Tongariro Crossing
You may well have heard of Tongariro Crossing. It is often described as New Zealand's greatest day walk, showcasing the incredible scenery of Tongariro National Park. Despite its popularity, this epic walking track still retains a sense of being completely surrounded by nature. Here you'll find a dramatic rocky landscape peppered with emerald lakes and lava flows.
You can take this spectacular 19.4 kilometre (12mi) trail at your own pace on a self guided trek. On G Adventures' multisport trip around NZ's North Island, a transfer will drop you off at the beginning of the trail and collect you at the end, allowing you to stop and take in the vistas as you please.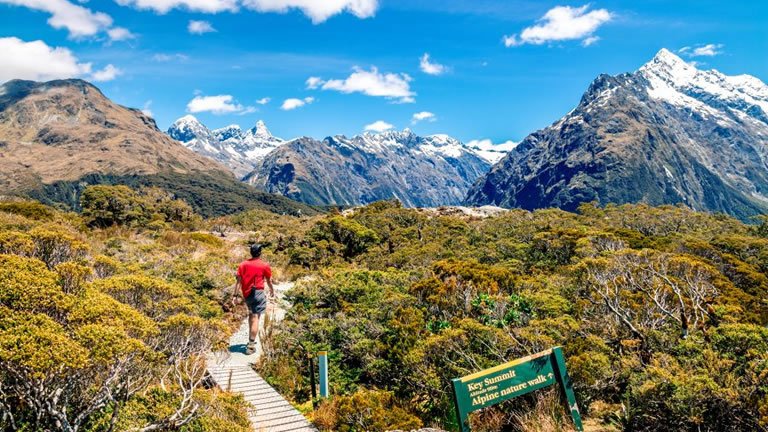 Hike Routeburn Track to Key Summit
Cruising through the waters of Fiordland National Park is an unrivalled experience, however, you can also take in this stunning region from another perspective. Stretch your legs on a walk to Key Summit, part of the Routeburn Track, a New Zealand Great Walk.
This 10 kilometre (6 mi) stretch of the trail will see you walk through lush forest as you ascend to the summit, where a spellbinding alpine scene stretches before you. Enjoy panoramic views over the Humboldt and Darran Mountains and take in the breathtaking landscape of Fiordland National Park in its all its glory. This is just one incredible trail and memorable highlight you can enjoy on a walking holiday in New Zealand with Explore.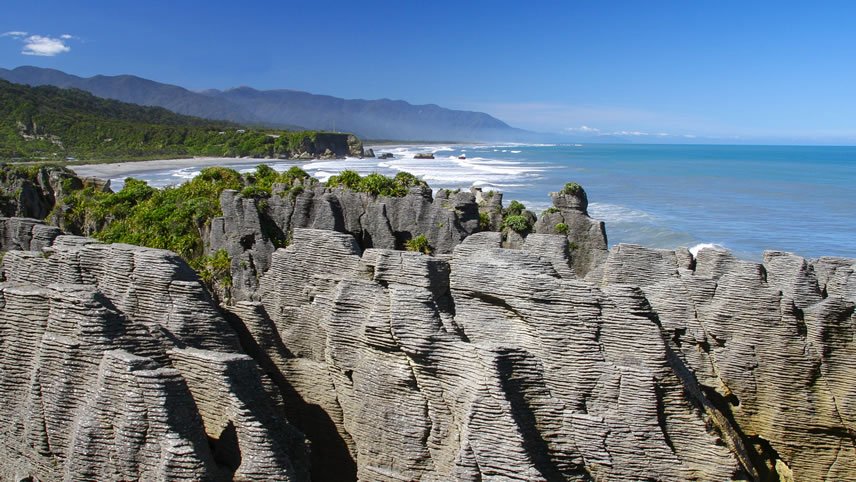 Paparoa National Park
The Paparoa National Park bordering the West Coast of NZ's South Island is home to an array of natural wonders. From coastal forests and cave networks to its intriguing limestone cliffs and deep canyons, there is plenty to discover here. One of the better known attractions is the Pancakes Rocks and Blowholes of Punakaiki, where the unusual limestone layers resemble pancake stacks. Many West Coast NZ tours include a stop here, and if you're exploring the Trails of New Zealand with Exodus, you'll get to visit at sunset for a spectacular viewing opportunity.
Exodus' Trekking in New Zealand trip sees travellers venture further into Paparoa National Park on an overnight hike. By day you will explore the native forest and marvel at the cliffs and caves as you follow the river to the Ballroom Overhang. Sitting above the Fox River, this limestone overhang provides a perfect shelter to set up camp and enjoy an evening by the campfire.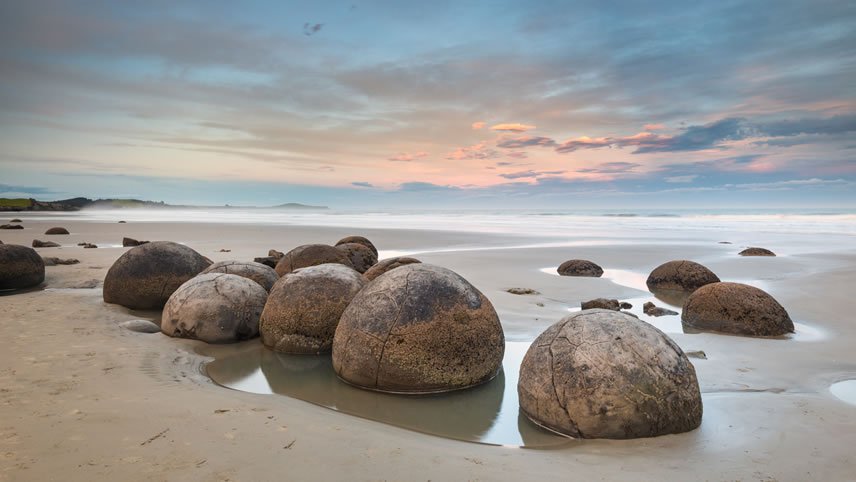 Moeraki Boulders
New Zealand is not short of geological wonders, and the Moeraki Boulders are no exception. These large spherical stones, which weigh up to several tonnes apiece and stand up to two metres tall, are found on Koekohe Beach on the North Otago coast.
Dating back roughly 65 million years they make an impressive addition to the beautiful coastline. Koekohe Beach is the perfect place to stop and stretch your legs as you travel along the east coast, and is just one of the treasures you'll discover on a small group adventure around NZ with Explore.  
These experiences (and more!) await in New Zealand and are showcased on an array of NZ adventure itineraries that you can book today.