01 December, 2022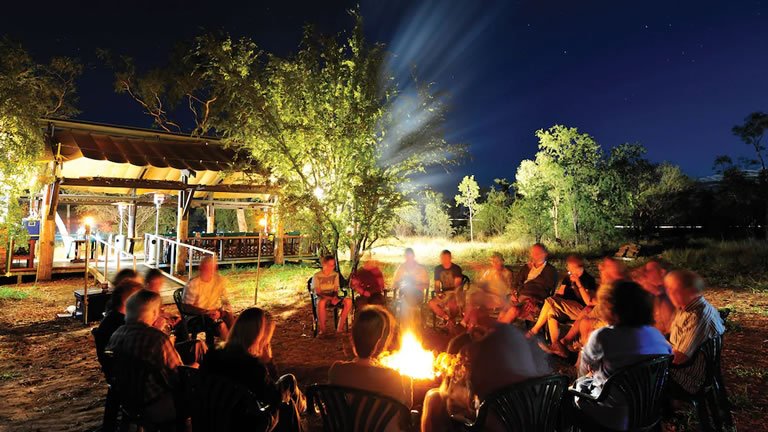 APT Wilderness Lodges
In partnership with the Indigenous land owners, APT's network of lodges are exclusive to APT guests and are used extensively across their range of Kimberley tours. Each lodge is strategically located to place you in the heart of wilderness country. By day, enjoy convenient access to all the highlights and hidden gems. By night, take pleasure in exceptional and often remote locations.
APT's friendly on-site lodge hosts make your stay all the more memorable. From the moment you arrive, you'll notice their exceptional level of personal service and care, ensuring a convivial atmosphere throughout.
Facilities In Your Tented Cabins
APT's Wilderness Lodges include a range of Standard and Superior tented cabins designed to blend into the local surrounds while providing 'a touch of luxury' in the wilderness.
Bell Gorge Wilderness Lodge, Bungle Bungle Wilderness Lodge and Mitchell Falls Wilderness Lodge offer a twin and double bedding configuration.
All tented cabins feature private ensuite bathroom facilities with hot showers. Your bathroom will have a shower, flushing toilet, hand basin, towels and soap.
All tented cabins feature a front deck with chairs and bush views.
Electricity
Please be aware that power point availability at each lodge may be limited and only some tented cabins have accessible points. Each lodge draws electricity from independent power supplies and these systems can sometimes experience 'surges'. Usually harmless, be aware that Sleep Apnea Machines are sensitive to these occurrences. If required, advise your travel advisor or APT at your earliest convenience. Please note at APT's Wilderness Lodges, humidifiers cannot be used in conjunction with Sleep Apnea Machines.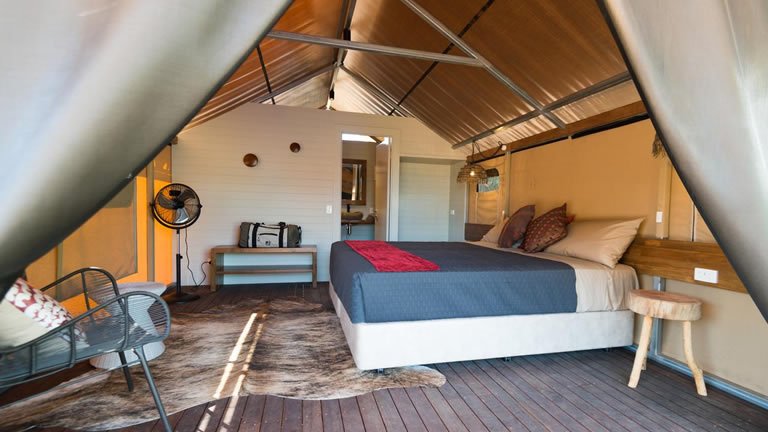 DINING
Each night, enjoy a superb three-course dinner, with a hearty full breakfast served each morning before your next adventure-filled day. Be amazed by the variety and quality of food on offer, using only the freshest ingredients. Regional specialties are often served with a sprinkling of Indigenous herbs for an authentic Outback flavour. All included meals are indicated on your personalised itinerary.
All of APT's lodges have a liquor license which enables you to purchase a select range of alcoholic beverages if you choose. Alcohol cannot be brought on tour with you.

LIMITING OUR IMPACT
As the only major tour operator in the Kimberley to have achieved Advanced Ecotourism certification, APT are passionate about conserving the local environment and sacred Indigenous land. Each lodge is designed and run on a 'leave no trace' philosophy, to ensure a minimal ecological footprint. APT ask for your assistance with this by following these simple guidelines:
Water is a precious commodity in the Kimberley and Outback regions and APT ask that you use this natural resource sparingly and wisely. Due to this limited resource, APT are unable to offer laundry facilities at the lodges.
APT ask that you bring with you biodegradable personal care products, which will not adversely affect the natural environment. Eco-friendly body wash and shampoo are provided at each Wilderness Lodge.
Due to our dry environment, smoking is only permitted in designated areas.
At night, camps are lit by low voltage lighting to enable you to move about with safety and ease.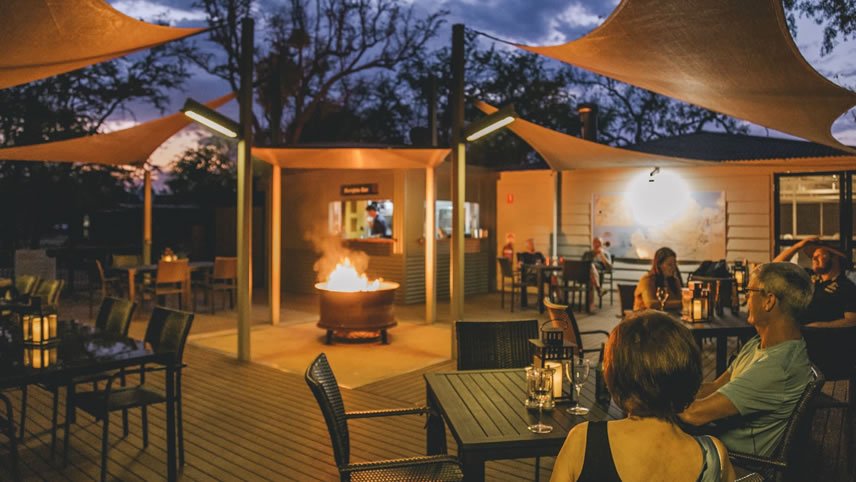 Kimberley Hotels, Resorts & Stations
APT offers an extensive range of hotel, resort and station accommodation throughout the Kimberley. All the properties they offer will enrich your overall experience and give you an authentic taste for some of Australia's most outstanding destinations.
Please note that in very remote regions, choices of accommodation are limited and standards may vary. On rare occasions, shared facilities may replace private facilities at certain hotels due to their unique Outback location.
Check In / Check Out
Australian standard hotel check in time is 3pm and check out time is 10am. This may vary between hotels.
Special Requirements
If you have special requirements such a preference for adjoining or neighbouring rooms, double beds, ground floor room or a room near the main hotel facilities, please advise your Global Journeys travel advisor as early as possible prior to commencing your tour so that we can try to fulfil your request.
Facilities In Your Room
Bedding
Twin bedded accommodation usually represents two single beds, though some hotels present twin share accommodation as one double bed and one single bed. A double room comprises one double bed designed for two people to share.
Bathroom/Ensuite
APT accommodation usually features private facilities (with the exception of some remote locations). Your bathroom will have a shower, toilet, hand basin, towels and soap.
Tea/Coffee Making Facilities
Your accommodation provides tea and coffee making facilities in your room (with the exception of some remote locations).
Mini Bars/Refrigerators
With the exception of some remote locations, most hotels feature a small refrigerator in the room and on some occasions a mini bar. Please remember that these items can be expensive.
Television/Telephone
Some rooms will have a television and telephone, however in-room telephones can be expensive and most hotels have public phones available. In remote areas, these room facilities may not be available.
Laundry Facilities
There are limited hotels along the trip with coin operated laundry facilities.
Dining
The cuisine you will enjoy on tour goes above and beyond the standard meals you would expect in Outback Australia. APT pay careful attention to the negotiation of their menus, to ensure choice and a healthy variety of quality food which caters to all tastes. Meals that are included in your tour price are indicated on your personalised itinerary.
Consumption of alcohol on board vehicles is strictly prohibited. Most hotels in which you stay have licensed restaurants where you can purchase alcoholic beverages with your meal. As Arnhem Land is a dry region, alcohol will only be available in selected places.