07 December, 2022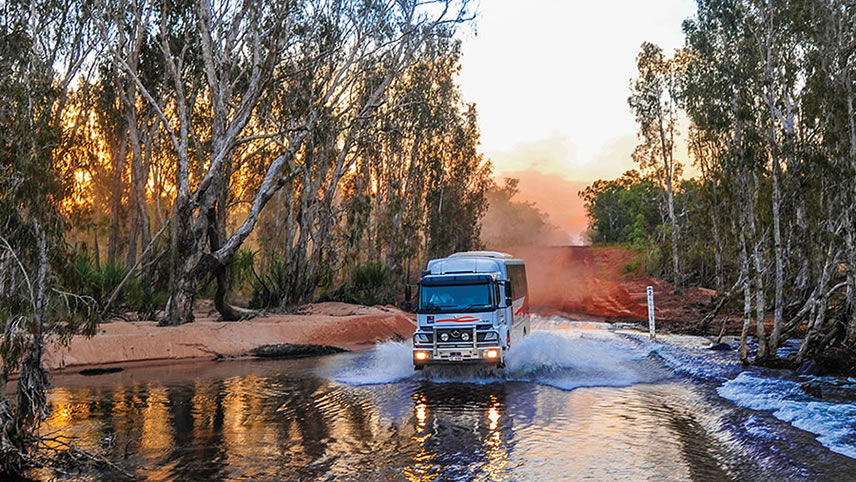 Your APT Crew & 4WD Vehicle
From the moment you join the tour, your friendly crew are on hand to ensure your comfort, take care of all arrangements, answer questions and provide a friendly face. Your Driver-Guide is a highly trained industry professional, committed to making your adventure memorable. Their informed and entertaining commentary will showcase their passion and knowledge of the area, while their organisational skills, backed by APT's dedicated support staff, will ensure that your trip is completely hassle-free.

On each Kimberley Wilderness Adventure your Driver-Guide will be joined by additional guides on most challenging walks.
Seat Rotation
To ensure everyone gets to enjoy front and window seats, a daily seat rotation system will be put in place by your Driver-Guide.
Custom-Built 4WD Vehicles
APT's 4WD vehicles are carefully built to take you over rugged terrain in comfort, safety and style. Designed especially for the Kimberley, the dynamic fleet of custom-built Mercedes Benz and Isuzu 4WD vehicles set a global benchmark. APT's vehicles have an impeccable reliability record and traverse some of the roughest terrain. In the event of a late wet season, APT's 4WD vehicles provide greater reliability on roads which may be closed to larger vehicles.
All vehicles feature air-conditioning, reclining seats, a state-of the- art PA system and large tinted windows to protect you from the sun, while providing unimpeded views of the passing scenery. For your safety and convenience, each vehicle is fitted with a heavy duty bull-bar and also carries a satellite phone.
APT's Driver-Guides are highly experienced in driving across the rough terrains of the Kimberley and Outback.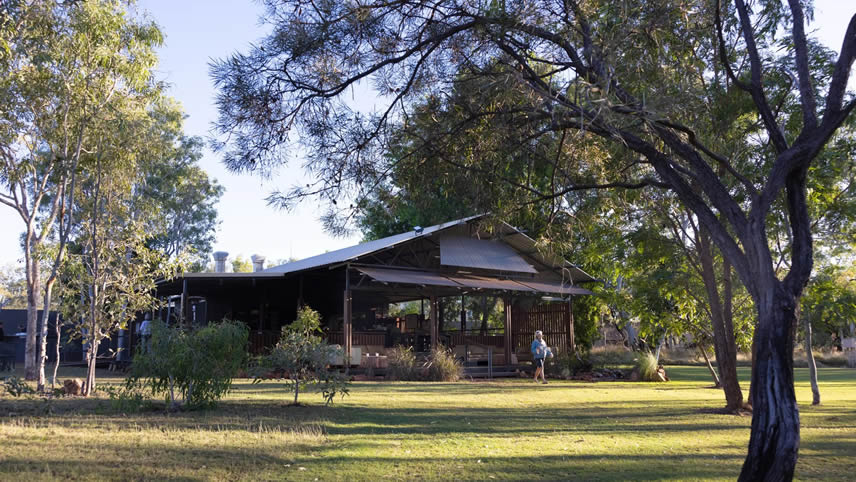 What To Pack
What you should pack depends on personal preference, however below is a list of items to assist you with your packing. Drip-dry, hand washable clothing is recommended. Most people dress very casually on tour, however if the group is going out in town you may want to wear something a little more dressy. When packing, take into account the time of year you are travelling and that it can potentially be cold at night. Layering is recommended.
Dressing For The Climate
Open air dining and campfire evenings are an important part of your Kimberley experience. It can be very cold at night, sometimes dropping to below zero, and during the day the sun can be very hot, so bring clothing to keep you warm and to protect you from the sun, as well as a hat.
Luggage Requirements
Due to the small vehicle size and strict regulations for vehicle weight, there is limited luggage capacity. Please pack your required items into one small bag (no hard suitcases) weighing no more than 16kg (35lbs) and that fits within the dimensions of 66cm length x 35cm width x 32cm height. A small day bag or backpack to be taken on board the vehicle is also required. If you have excess luggage, please arrange for it to be stored or forwarded to your tour's final destination prior to arrival at your departure point.
Air travel within the Kimberley is in a small aircraft, which places further restrictions on luggage allowances for safety and compliance reasons. If your escorted tour entails air travel, please note you will need to pack down your luggage and personal items to a maximum of 10kg (22lbs) per person for the flight. Any extra luggage will be taken on the 4WD vehicle.
Adventure Pack
You will receive a complimentary Adventure Pack four weeks prior to embarking on an escorted tour of six days or longer. You will have the option of either a duffle bag or a backpack to be included in your Adventure Pack. Please advise your Global Journeys travel advisor of your preference.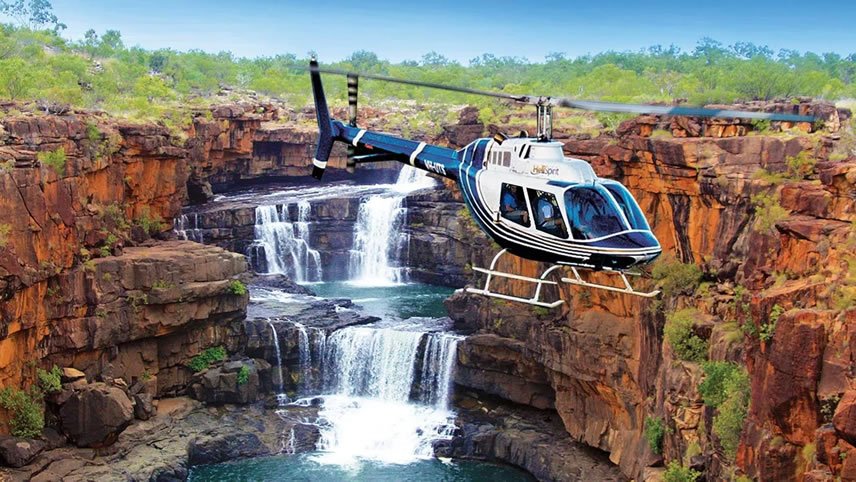 General Touring Information
Communication
APT's 4WD vehicles and our lodges are fitted with satellite telephones, however, these are not available for use by passengers due to high operating costs. Messages to APT's passengers are best conveyed via APT's office. Mobile phone coverage and internet services are limited in the Kimberley. It is recommended that passengers carry small change that can be used at public telephones along the way.
Departure/Return Points & Times
Please check your travel documents for further details of pickup and departure points and times.
Electricity
Power point availability at each accommodation may be limited and only some tented cabins have power points. Power points are not always located next to the bed. Charging stations for camera batteries and mobile phones are available in the common areas at APT Wilderness Lodges.
Itinerary
Although every effort is made to follow the itinerary, there may be times when it will have to be varied due to weather or other conditions prevailing at the time.
Internet & Email Access
Internet is available in some hotels and you can also access your email through public internet cafes located in major centres. There is free limited Wi-Fi access to use the Internet at our Wilderness Lodges.
Late Wet Season
In the unlikely event of a late wet season, touring itineraries will be subject to change due to road closures, weather conditions and circumstances beyond APT's control.
Personal Expenses
APT recommend you bring money or a credit card for incidentals such as refreshments, souvenirs, meals (when not included) and alcohol. You may also wish to budget for optional scenic flights that are available at, but not limited to, the Bungle Bungle Range and Mitchell Plateau (all major credit cards are accepted).
Photography
The unique Kimberley scenery is a photographer's delight. So bring your camera, batteries and spare memory cards. It may not always be possible to charge camera batteries at every accommodation so extra batteries are recommended.
Pre & Post Tour Connections
Some of APT's guests make their own air or extra accommodation reservations. In this case, it's your responsibility to confirm your own arrangements and APT suggest that you reconfirm your bookings prior to starting the tour. Please note that if the return of your tour is delayed for any reason, APT does not accept responsibility for any additional charges that may be imposed by the operator of your ongoing travel arrangements.
Travel Insurance
APT strongly recommend that you take out comprehensive travel insurance, which will cover any unforeseen circumstances that may arise on tour or before leaving home (this includes cancellation fees, medical and curtailment expenses, cover for remote evacuation, loss of luggage, etc). Confirm that your insurance covers you for the whole time you'll be away and check what circumstances and activities are not included in your policy. Ensure all pre-existing medical issues are declared to the insurer so that non-covered conditions are ascertained in advance. Have the details recorded and accessible at all times during travel.
APT recommend your travel insurance includes coverage of events such as itinerary disruption as APT will not be liable for any direct or indirect costs that you incur as a result of such an event or other factors beyond their control.