21 July, 2023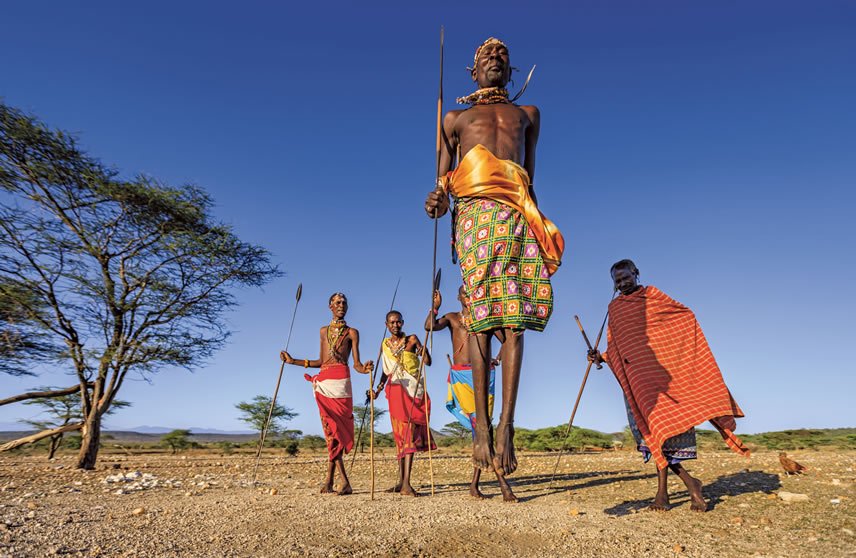 Scenic invite you to seamlessly explore Africa's stunning coastlines, vibrant cities and savannah grasslands to discover the thrilling wildlife of lions, leopards, cheetahs and other fascinating creatures.
Savour Scenic's carefully chosen selection of standout hotel stays, exclusive Scenic Enrich events, and a variety of Scenic Freechoice activities.
Experience thrilling game drives, learn from local guides on unique excursions, and spend more time wandering the wild, diving into the continent's vibrant cultures, and connecting with its warm-hearted people.
With Scenic, the difference truly is in the details. They've taken care of everything, so all you need to do is relax and savor each day's breathtaking discoveries.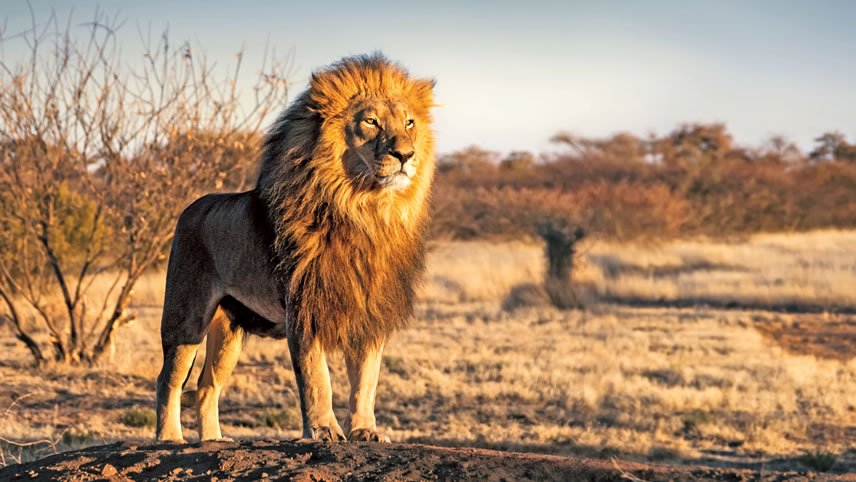 Discover
Explore a place of extraordinary beauty where nature reigns supreme. Discover impressive canyons, and encounter majestic wildlife whilst being immersed in vibrant traditions and diverse cultures as rich as these mighty lands.
South Africa
Unveil the captivating splendours of South Africa, where some of the country's most breathtaking wilderness awaits. South Africa beckons with unique encounters, fascinating stories and ever-shifting scenarios awaiting your discovery.
From the rugged hills of leopard country to the rolling Highveld, home to abundant natural wonders, including the renowned Kruger National Park, delve into captivating history, explore cities rich in cultural fusion, and traverse landscapes that mesmerise as they transition from one province to the next.
VICTORIA FALLS
Behold the extraordinary magnificence of Victoria Falls, the world's largest sheet of falling water, where cascades up to 108 metres plunge into a gorge carved from a vast plateau.
Revered as one of the Seven Natural Wonders of the World, Victoria Falls is both a breathtaking spectacle and an oasis of profound spiritual strength and captivating beauty. Echoing the words of David Livingstone, the first European to witness its grandeur, it is a scene that evokes the grace of angels in flight.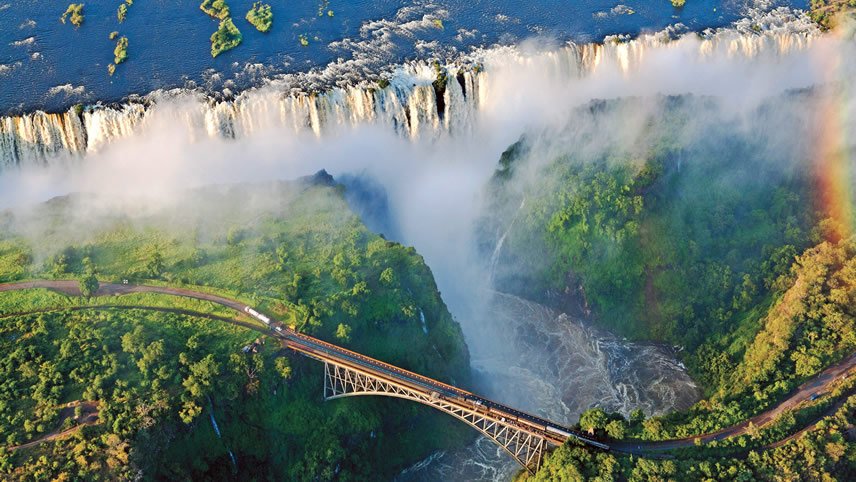 Kenya & Tanzania
Spanning over 1,500 square kilometres, the Masai Mara National Reserve in Kenya is renowned for its exceptional biodiversity and remarkable wildlife sightings.
Home to the famous African Big Five – lions, elephants, buffalos, leopards, and rhinos – it is also where the annual Great Migration takes place, as millions of wildebeests, zebras, and gazelles cross the Mara River in search of fresh grazing grounds.
Awe-inspiring landscapes Marvel at the majestic Mount Kilimanjaro, the world's highest free-standing mountain, and cast your eyes downward to behold the breathtaking vistas of Ngorongoro Crater, often referred to as 'Africa's Eden.' Delve deeper into this natural wonder on a thrilling game drive along the crater floor.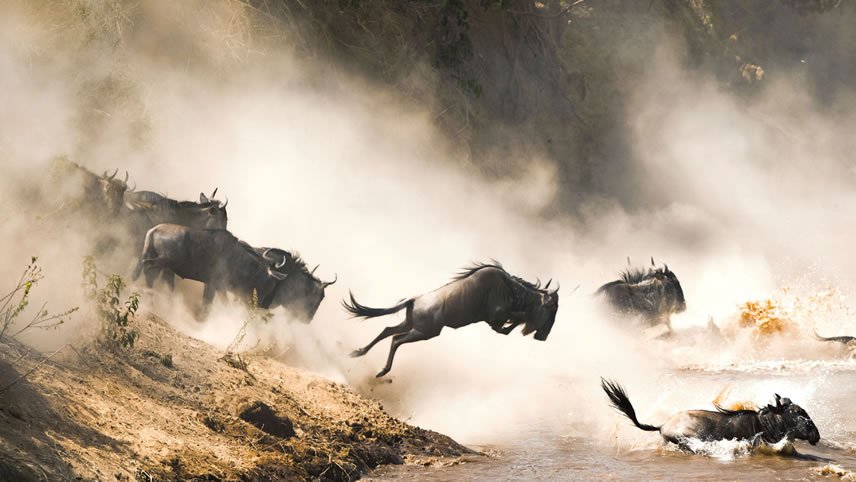 Truly All-Inclusive 5-Star Luxury
With Scenic, you'll enjoy a range of luxurious benefits that will enhance your discovery of Africa's culture, landscapes and wildlife.
Fully escorted small group journeys with a maximum of 30 guests (or 24 guests in East Africa)
Scenic Enrich Events – exclusive, once-in-a-lifetime experiences
Scenic Freechoice – a range of included activities to personalise your journey
Scenic Sundowners – exclusive evening drinks in memorable locations
Scenic Special Stays – unique hotels and safari lodges remarkable for their location, character and heritage
All meals and beverages included in game reserves
Private concession game drives in open-top safari vehicles
Handpicked expert Tour Directors and safari guides
All tipping and gratuities included
A Scenic representative to assist you on your arrival and departure
All internal flights & return airport transfers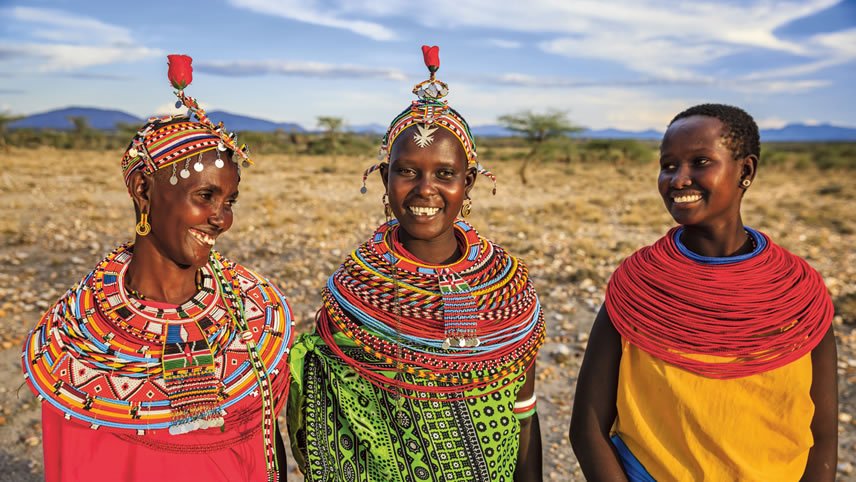 Scenic Enrich
To truly connect with a country and its people, you need to go beyond the sights. Scenic Enrich experiences take you into the heart of the communities you're visiting, transporting you to places and events you can only access with Scenic.
Embrace the profound impact of a visit to the Lake Nakuru Orphanage in Kenya, where your heart will be moved. Engage in meaningful interactions with Maasai and Zulu, two warrior tribes emblematic of the region, during visits to local villages, and gain profound insights into their ancient customs and vibrant cultures.
Indulge in an authentic African-style dining experience with a bush breakfast amidst the open plains of the magnificent Masai Mara and delight in a captivating Boma Dinner under a starlit sky at Kruger National Park, serenaded by the symphony of African wildlife close by. These are just a few of the extraordinary moments that will make your journey truly unforgettable.

Scenic Hotels
During your holiday, few things are more rewarding than checking into a spectacular hotel where you can relax and recharge after a busy day exploring. Discover our handpicked selection of Scenic Special Stays, a choice of remarkable hotels notable for their location, character and heritage, some of which have become destinations in their own right.
Marvel at the breathtaking Victoria Falls Hotel, perched overlooking the mesmerising Victoria Falls Gorge. Delight in the colonial splendour of Durban's renowned Oyster Box Hotel (pictured above), where history and charm intertwine. Experience the urban elegance of Cape Town's Table Bay Hotel, offering unrivalled views of the sea and majestic mountains.
Be immersed in Johannesburg's vibrant Sandton district at the DaVinci Hotel, a fashionable haven for shoppers. Savour the picturesque lagoon views at the Protea Hotel Knysna Quays and step back in time at the iconic Fairmont Mount Kenya Safari Club, capturing the essence of a bygone era in Africa.
At every point of your journey, you can look forward to a luxurious, safe sanctuary and first-class service that will enrich your experience.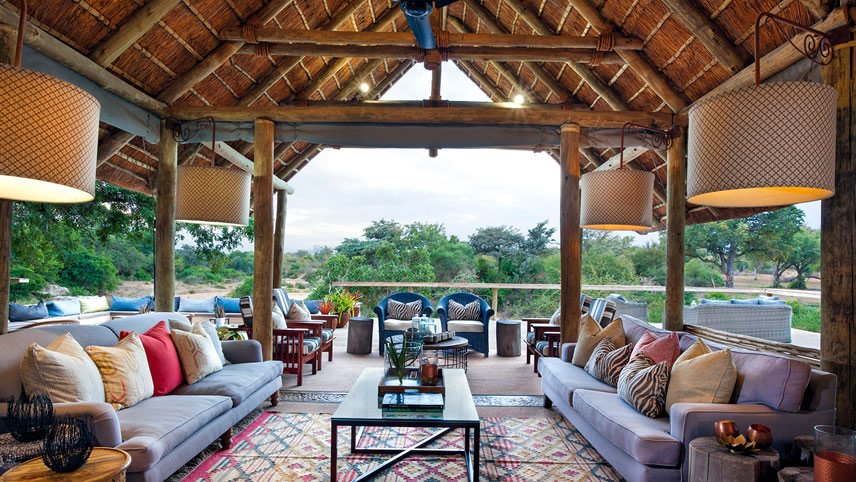 Scenic Safari Lodges
Discover unparalleled excitement as you encounter exotic wildlife in their natural habitat while staying in exclusive game lodges, each chosen to provide luxurious indulgence, breathtaking vistas, and an authentic, unique ambience.
Wilderness Retreats
Enjoy exclusive access to game lodges reserved solely for resident guests. Immerse yourself in the luxury of these magnificent lodges, many of which offer direct access to conservation areas. You'll have unparalleled access to Africa's captivating wildlife with an experience tailored to exceed your expectations.
Unforgettable Experiences
Indulge in extraordinary accommodations at renowned destinations such as Sabi Sabi Bush Lodge in South Africa's Kruger National Park and Thornybush Private Game Lodge (pictured above) adjacent to the park.
Immerse yourself in local culture with a captivating traditional dance performance at Lake Nakuru's Sarova Lion Hill Game Lodge and experience the breathtaking beauty of Serengeti Serena Safari Lodge, offering panoramic views of the South Western Serengeti National Park.
Delight in an authentic safari experience at Sarova Mara Game Camp in Kenya's renowned Masai Mara National Reserve, where you'll stay in luxury tented accommodations and experience an exclusive bush breakfast out on the open plains among the wildlife.
Marvel at the stunning landscape at Tanzania's Ngorongoro Serena Safari Lodge, situated on the eastern rim of the Ngorongoro Crater. From this vantage point, you can witness vast herds of buffalo, lions, zebras, the rare and endangered Black Rhino, elephants, and cheetahs roaming the crater floor. At each lodge, you'll enjoy an unparalleled level of quality and service second to none, rivalled only by the natural wonders surrounding you.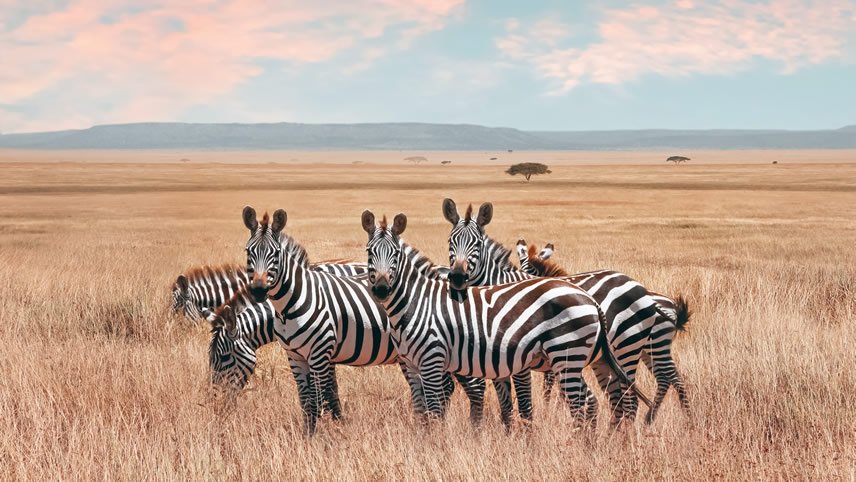 Scenic Game Drives
Finding yourself in the natural environment of exotic wildlife is a once-in-a-lifetime moment. Experience it in unparalleled style, luxury and thrill on a Scenic Africa land journey.

You can look forward to exhilarating game excursions aboard specially modified open-top Toyota Land Cruisers, providing unobstructed views and perfect conditions for photography. Go in search of lions, leopards, buffalo, rhinos and elephants — otherwise reverently referred to as the 'Big Five'— knowing that your chances of encountering these majestic creatures are greatly enhanced with Scenic.
Expert game rangers are everpresent, ensuring that every moment is filled with fascination and wonder as the scenery reveals its captivating secrets at every turn. You'll also benefit from talented local trackers who are experts in the art of reading the African bush and spotting a moment of wonder a mile away.

Explore Scenic's African Journeys View all